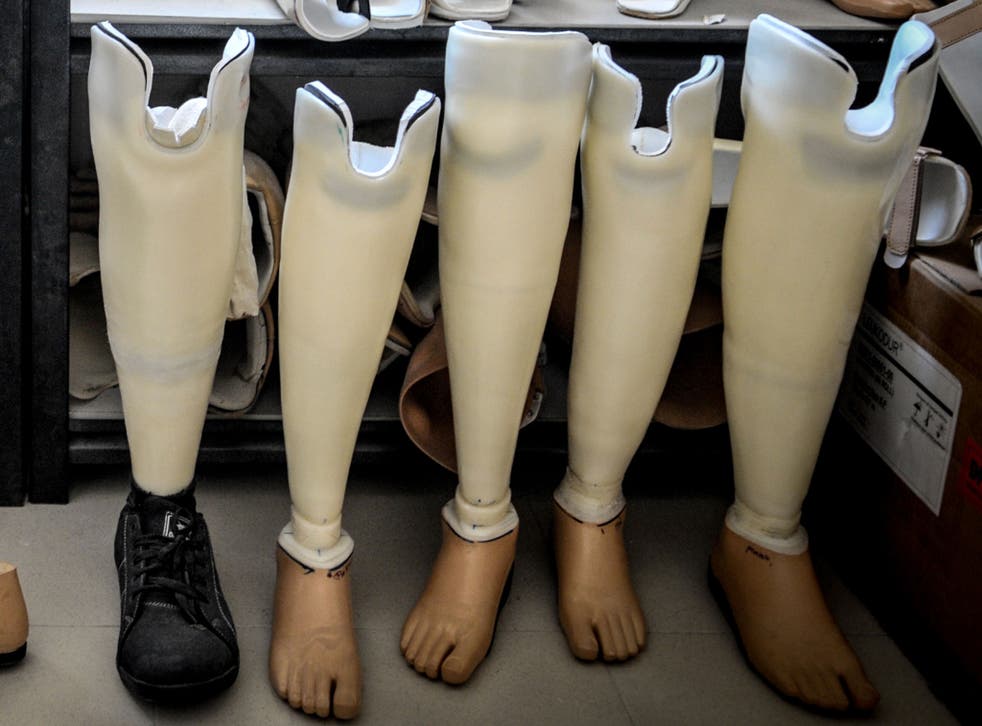 Diabetes causing 'record high' of 135 amputations a week, charity warns
Diabetes UK wants people to tweet Jeremy Hunt with the hashtag '£135shoes'
Victoria Richards
Wednesday 15 July 2015 09:10 Comments
The number of amputations carried out due to diabetes has reached an all-time high of 135 a week, a charity has warned, as it urged the Government to do more to ensure those with the condition are given the care and attention they need.
Diabetes UK said that despite a big focus on preventing these amputations, the rate is rising due to the huge increase in the number of people developing the condition, which is often linked to being overweight.
The charity wants people to tweet Health Secretary Jeremy Hunt about the issue, using the hashtag #£135shoes to highlight the fact that the feet are particularly at risk.
It has calculated the figure using new Public Health England data, which show the annual number of diabetes-related amputations in England is now more than 7,000 compared to the previous 6,677, equating to seven more amputations each week.
The charity added that up to 80% of these amputations can be avoided if people with diabetes were given the necessary care.
Both type 1 and type 2 diabetes cause neuropathy and poor circulation meaning that sufferers are 15 times more likely to have a limb amputated than those without the condition.
Diabetes UK is calling on the Government and the NHS to do more to tackle the problem of diabetes-related amputation by improving diabetes footcare by ensuring everyone with diabetes gets good quality annual foot checks and that anyone who has a foot problem gets the right care to prevent or treat it.
The main symptoms of undiagnosed diabetes include:
Passing urine more often than usual, especially at night
Increased thirst
Extreme tiredness
Unexplained weight loss
Genital itching or regular episodes of thrush
Slow healing of cuts and wounds
Blurred vision
*Data from Diabetes UK
The charity said it is particularly important that anyone with diabetes who has a foot infection gets urgent attention from specialists.
There are 3.9 million people in the UK with type 2 diabetes - the most common kind - which is linked to increasing levels of obesity, unhealthy diets and a lack of exercise, with a further 590,000 people estimated to have not yet been diagnosed.
There is no way of preventing type 1 diabetes, which occurs as a result of the body being unable to produce insulin and usually develops in childhood, affecting 10% of sufferers overall.
To highlight the grisly statistics the charity is displaying 135 shoes to represent the number of diabetes-related amputations being carried out a week.
They have been donated from people who have had an amputation, along with supporters and celebrities including former Spice Girl Mel C and singer Alexandra Burke.
Diabetes UK chief executive Barbara Young said: "The fact that the total number of amputations is continuing to rise is a huge concern because we know the devastating impact they have on people's lives.
The six types of obese individuals, according to research

Show all 6
"As well as the psychological impact, they also cost lives as most people die within five years of having one.
"We have seen some areas making real efforts to improve the poor state of diabetes footcare, but these figures are a stark reminder that there is still so much more to be done.
"For example, not enough people are receiving their annual foot check and those who do often tell us their check was not very thorough. This means they don't understand their risk of amputation, how to look after their feet or the urgency of getting help if their foot deteriorates.
"We need urgent action to address this, and with the shoes on display today we want to send a powerful message about the scale of this issue.
"That's why we're asking people to tweet the Secretary of State for Health, Jeremy Hunt, about this using £135shoes."
Additional reporting by Press Association
Register for free to continue reading
Registration is a free and easy way to support our truly independent journalism
By registering, you will also enjoy limited access to Premium articles, exclusive newsletters, commenting, and virtual events with our leading journalists
Already have an account? sign in
Join our new commenting forum
Join thought-provoking conversations, follow other Independent readers and see their replies