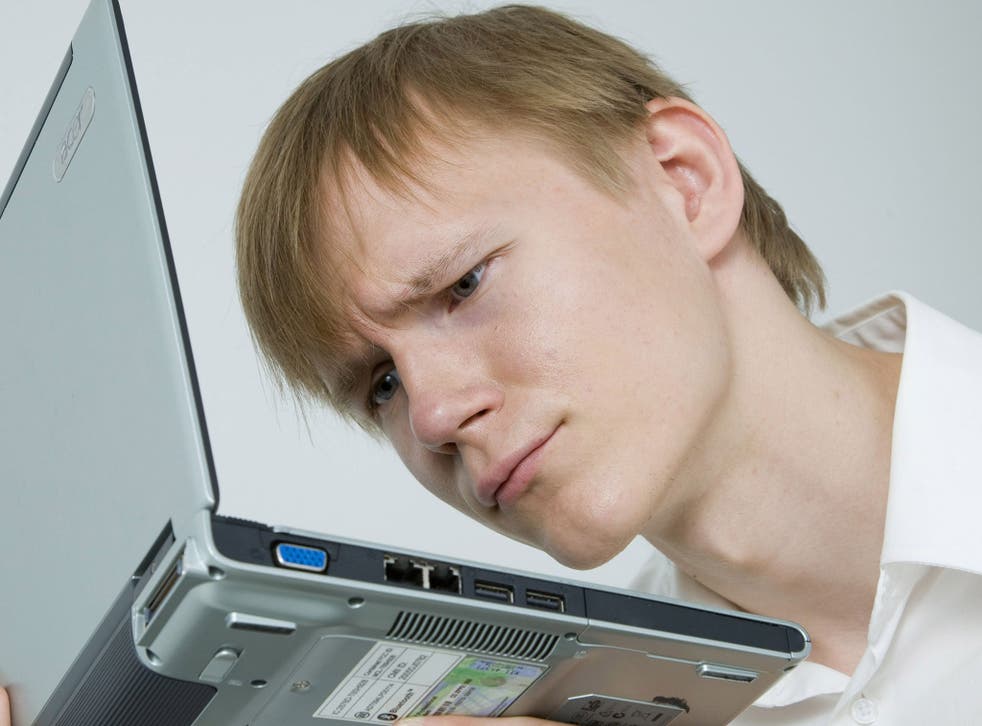 The digital age has helped to create a generation of short-sighted people, research finds
According to the study nearly half of 25 to 29-year-olds suffer from myopia
The advent of the computer and increasingly urban, indoor lifestyles have created a generation of short-sighted young Europeans, new figures show.
Nearly half of 25 to 29-year-olds now suffer from myopia, according to research by Kings College London, which looked at evidence from across the continent.
Short-sightedness usually sets in during childhood, teenage years or in the early twenties, but young people today are much more likely to develop the condition than previous generations.
Europe-wide, around one in four people suffer from short-sightedness.
Long-term exposure to computer screens, prolonged use of the eyes for 'near work' such as reading and writing, and a lack of natural daylight and outdoor activity are all linked to the condition.
In the UK around one in three are short-sighted.
The researchers, who reviewed evidence from 15 different studies, found that people who go to university are twice as likely to become short-sighted as those who leave school as children – a likely consequence of longer time spent indoors studying.
Rates of myopia have, however, risen across all groups since the early twentieth century, possibly as a consequence of more urbanised, indoor lifestyles, and the long-term shift from a predominately manual workforce to desk-bound jobs involving paper-work and, more recently, computers.
Myopia is caused by the elongation of the eye, which prevents light from distant objects from falling directly onto the retina – the light-sensitive tissue at the back of the eye that sends electrical signals to the brain.
Instead the light falls just short of the retina, meaning that the image is blurred.
Studies in China, where rates of myopia are even higher, have shown that children who are exposed to more outdoor light are less likely to develop the condition – suggesting that more natural light, as well as 'training' of the eye to look at distant objects more often, may help to prevent the condition.
Dr Katie Williams, clinical research fellow at the Department of Ophthalmology at Kings, who led the study which was published in the journal Ophthalmology, said that the emergence of higher myopia rates in younger generations was "not related to the natural course of ageing".
"It is something about the latter part of the 20th century and certainly the 21st century as well, about our modern lifestyles. It might pre-date the computer, it certainly pre-dates iPads and iPhones," she said, while adding that early indications suggested children born in the 21st century may have even higher rates.
Research by Ofcom reveals that the amount of time young people in the UK spend online has tripled in the past 10 years, while across the population, time online has doubled.
People aged 16 to 24 now spend on average 27 hours and 36 minutes online each week.
Professor Chris Hammond, senior author of the Kings study, said that more research would be needed to better understand the impact of childhood reading, computer use, education and outdoor activity on eyesight.
"While this study was in adults, we do not yet know the impact of the recent rapid rise in computers, tablets, and mobile phones on visual development in children," he said.
Severe myopia can carry a risk of developing sight-threatening conditions including retinal detachment, glaucoma and retinal degeneration, later in life.
Dr Williams said the new data on myopia prevalence had "major implications for the future burden from this eye disease which can threaten sight in older age, particularly in very short-sighted people."
Rates of myopia have increased in successive generations, from 18 per cent among people born between 1910 and 1939, to 23.5 per cent in those born between 1940 and 1979, rising to 47 per cent in those now in their late twenties.
A family history of myopia can also increase a person's risk of becoming short-sighted, and ongoing research is focused on understanding how the complex interplay of genetic and environmental risks have combined to lead to such a significant increase.
Join our new commenting forum
Join thought-provoking conversations, follow other Independent readers and see their replies