Doctors shocked by spread of swine flu – and its severity
H1N1 virus returns, already claiming lives of 10 British adults with early signs that illness has spread to other European countries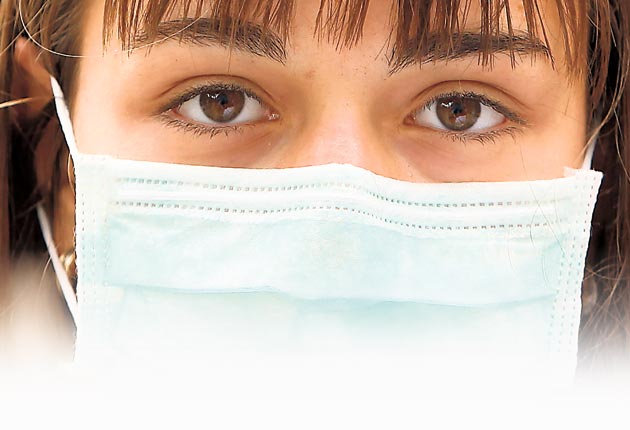 The swine flu virus that swept the world last year causing a global health emergency has returned to claim the lives of 10 adults in the UK in the past six weeks.
The 10 deaths were in younger adults under 65 and associated with H1N1 swine flu. Most had underlying conditions but "a small proportion" were healthy before being struck down by the virus, according to the Health Protection Agency (HPA).
Seasonal flu normally causes severe illness and death in the elderly. The H1N1 swine flu virus targets pregnant women, younger adults, and those with chronic conditions, making it a cause of particular alarm.
No other similar reports of deaths linked with swine flu have been received from elsewhere in Europe. Official figures show GP consultations for flu-like illness in England were at 13.3 per 100,000 population last week, well below baseline levels.
Flu experts expressed surprise at the relatively high incidence of deaths and severe illness in the context of the low consultation rates. John Watson, head of respiratory diseases at the Health Protection Agency, said: "We seem to be in the vanguard on this. Other European countries are just beginning to see some H1N1 activity."
Calls to NHS Direct and other indicators show there is "quite a lot" of H1N1 swine flu about, despite the low GP consultation rate.
Around 30 per cent of those who fell ill, went to their GP and got tested for the virus, were coming up positive for H1N1, which was a high rate. Flu was very difficult to predict, Dr Watson added. "I am a little surprised to see as much activity as we seem to be seeing – both in terms of its spread in the community and its severity. I don't see it as being extraordinary but it is more than I would have expected."
All parts of the country are affected with deaths reported from each region, according to the HPA. There were nine flu outbreaks last week, eight in schools and one in an army barracks in Yorkshire.
Pressure has been building on intensive care in recent days with the worst affected patients treated on Extra-Corporeal Membrane Oxygenation (ECMO) machines which bypass the lungs to artificially oxygenate the blood. "A good many intensive care units are seeing severely ill cases including some using ECMO beds," Dr Watson said.
Swine flu arrived last year from Mexico creating the first flu pandemic for 40 years. In the UK, the first wave of the pandemic struck in the summer - unusually for flu – followed by a second smaller wave before Christmas.
Dr Watson said: "A lot of people were infected through the two waves of the last pandemic. We estimate something like two-thirds of children and a half of adults are likely to have been infected even though they may have had no symptoms.
"We wouldn't anticipate a big epidemic wave of flu activity due to H1N1 this year. "But there are still a substantial number of people who remain susceptible."
Many who caught swine flu last year suffered only minor illness but a small number were severely ill. There were 494 deaths in the year to April 2010.
The fear among flu experts is that the virus could mutate to cause more severe illness or target a different section of the population such as the elderly who are more vulnerable.
But laboratory analysis has shown that the circulating strain of the virus is "very much the same" as last year and has not shown "any significant change", according to the HPA.
Five of the 10 adults who died for whom information was available had not received the flu vaccine, the HPA said. National figures show vaccination rates are lower than in previous years covering 66 per cent of the over-65s and 40 per cent of younger adults at risk (pregnant women and those with chronic diseases such as asthma).
Professor David Salisbury, director of immunisation at the Department of Health said: "These figures demonstrate that the effects of flu are not to be underestimated. It is not the same as getting a cold and can seriously affect your health.
"The seasonal flu jab protects against the dominant strains – this year it protects against three types of flu, including the type known as swine flu. If you are in a risk group, then I would urge you to visit your GP surgery and get the vaccination as soon as possible. It is not too late to get vaccinated for your protection and that of your family."
In addition to H1N1 swine flu, which has become the dominant Influenza A virus in Britain, about 40 per cent of virus strains isolated this winter are Influenza B, which is most common in children, causes mostly mild illness, and has been responsible for several outbreaks in schools in recent weeks.
The last year in which it caused widespread illness was 2005-6. "There is plenty of B about," Dr Watson said.
How do you know if you have swine flu?
*Symptoms of swine flu are much the same as those of ordinary flu but with a tendency to be a little more severe, especially when there is vomiting or diarrhoea.
*Having a high temperature – over 100.4F (38C) – along with two or more other symptoms, is one of the indicators that swine flu is present.
*Other symptoms are a mixture of unusual tiredness, a headache, a runny nose, a sore throat, shortness of breath or a cough, loss of appetite, aching muscles, diarrhoea and vomiting. If you are concerned, the NHS recommends asking a GP for advice.
*For most people, swine flu is a mild illness and the advice is to stay at home, to rest, drink plenty of water and take over-the-counter flu remedies to alleviate the symptoms.
*For a small minority it can develop into a more serious illness and the complications that set in tend to affect the lungs
*Pneumonia is one of the most obvious complications.
*People who are considered to be at high risk of suffering serious illness if they go down with swine flu include patients who already have severe health problems. Among them are chronic heart, liver, lung and kidney conditions, neurological disorders such as chronic fatigue syndrome, Parkinson's Disease and multiple schlerosis. Diabetes also increases risk as does immuno-suppression, whether it is caused by an illness or by treatment.
*Further groups classified as being at higher risk include pregnant women, children under five, the over-65s and asthma patients.
*The NHS recommends people in high risk groups have the 2010-11 seasonal flu vaccination to protect them against swine flu.
Join our commenting forum
Join thought-provoking conversations, follow other Independent readers and see their replies