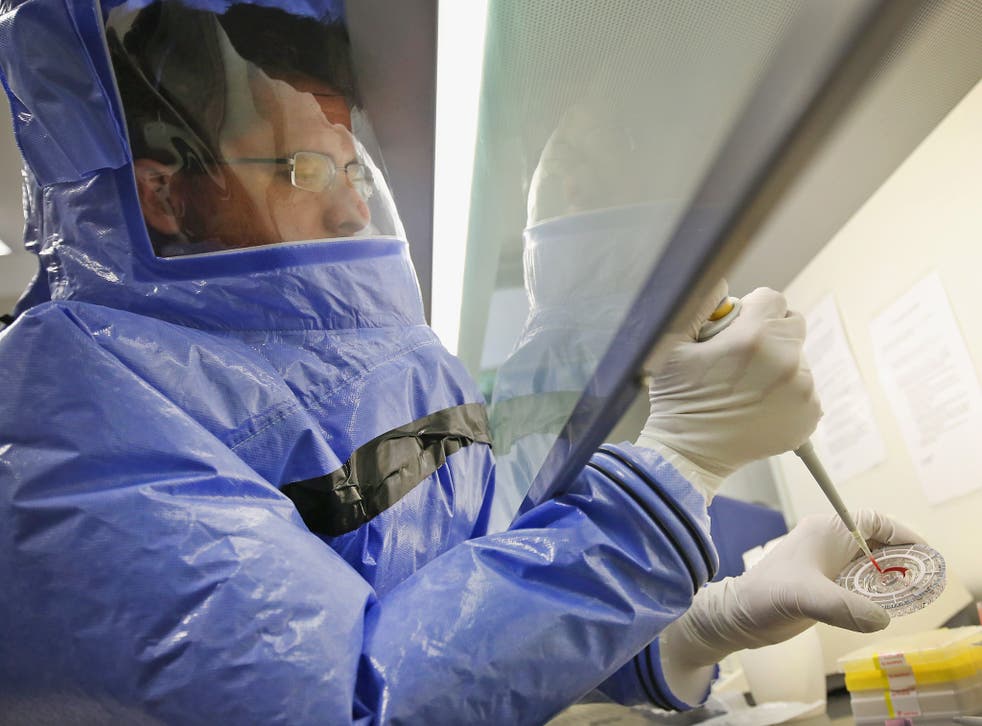 Ebola outbreak: Government begs scientists to come up with ideas on beating deadly virus
The Government has made an emergency plea for scientists and researchers to bring forward ideas for combating Ebola, as the death toll from outbreak in West Africa rises to 1,350.
Research funding worth £6.5m will be made available, with grants going to experts who can provide "strong evidence and analysis" of how the disease spreads, how best to treat it, and how best to educate people about the risks.
Sierra Leone and Liberia, the two countries at the heart of the crisis, have failed to contain the spread of the virus, with experts warning that medical resources, infection control methods, and information services for people at risk have all been inadequate.
The death toll of the outbreak continues to rise on a daily basis, with the World Health Organisation confirming 106 more deaths occurring on Sunday and Monday this week alone – most of them in Liberia. The actual death toll is likely to be higher than official figures suggest. The outbreak began in Guinea six months ago, before spreading to Sierra Leone and Liberia. A small number of cases have also been recorded in Nigeria.
The UK's new research grant, which is part funded by the Department of International Development (DFID) and medical research foundation the Wellcome Trust, comes as the aid agency Médecins Sans Frontières (MSF) accused the international community of making "almost zero" contribution to the response to Ebola.
In pictures: Ebola virus

Show all 62
Justine Greening, the International Development Secretary said that new research would "help us better equip those working on the ground so they can tackle the outbreak as effectively as possible and prevent more people contracting this terrible disease."
The UK has also pledged £5m in aid to the affected countries to combat Ebola.
Earlier this week Brice de la Vigne, operations director of MSF, called on governments around the world to do more to help end the epidemic.
"Globally, the response of the international community is almost zero," he said. "Leaders in the west are talking about their own safety and doing things like closing airlines – and not helping anyone else."
Research applications will be managed by an organisation called Enhancing Learning and Research for Humanitarian Assistance. Its director Jess Camburn admitted that "research might not seem like the most urgent action", but said that health that professionals working on the ground in the affected countries were in "great need of better evidence".
Dr Jeremy Farrar, director of the Wellcome Trust and a world authority on infectious diseases, said that the gravity of the Ebola epidemic required "an urgent response".
"We believe rapid research into humanitarian interventions and therapeutics can have an impact on treatment and containment during the present outbreak," he said. "What we learn could also change the way we approach future outbreaks, providing us with tested tools and techniques that were not available to public health authorities this time."
A number of countries have already sent experimental drugs and vaccines into Ebola-hit areas, after receiving ethical approval for the use of medicines untested in humans.
Register for free to continue reading
Registration is a free and easy way to support our truly independent journalism
By registering, you will also enjoy limited access to Premium articles, exclusive newsletters, commenting, and virtual events with our leading journalists
Already have an account? sign in
Register for free to continue reading
Registration is a free and easy way to support our truly independent journalism
By registering, you will also enjoy limited access to Premium articles, exclusive newsletters, commenting, and virtual events with our leading journalists
Already have an account? sign in
Join our new commenting forum
Join thought-provoking conversations, follow other Independent readers and see their replies