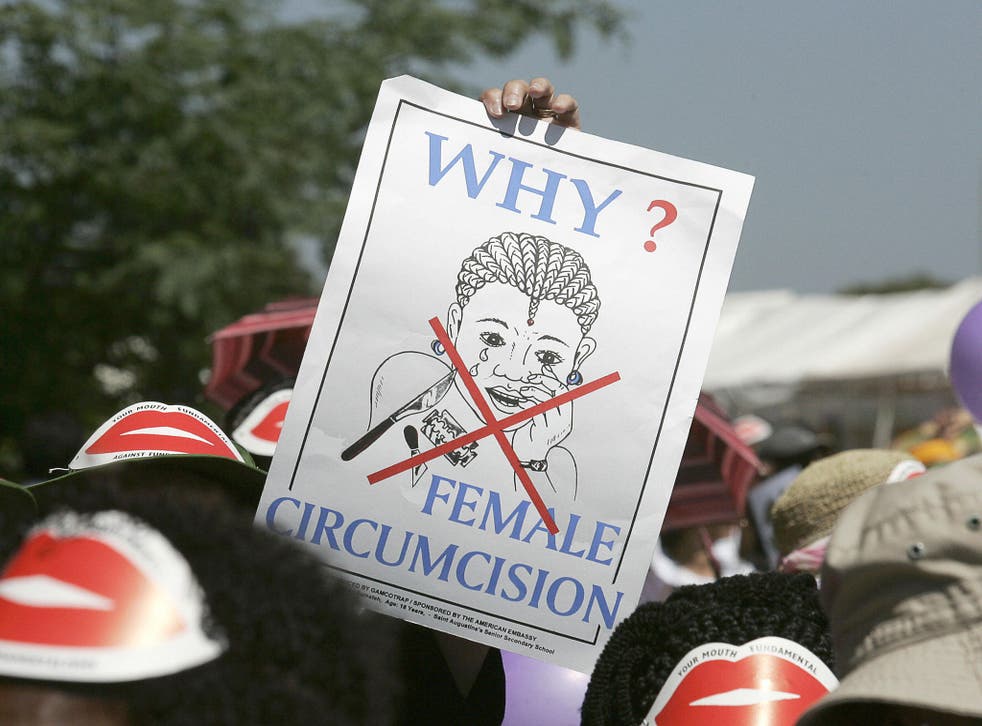 FGM 'parties' where several girls are mutilated at once taking place in England, charities say
Women's organisation Forward says it 'often' hears talk of cutting parties in the UK
Midwives are being flown to the UK to carry out female genital mutilation (FGM) on several girls at a time at specially-organised "parties", charities have said.
The Black Health Initiative (BHI) in Leeds said it was aware of girls being subjected to the horrific illegal practice at gatherings in West Yorkshire and cities across the country.
And another women's health charity told The Independent it "often" heard talk of such events.
Heather Nelson, the BHI's chief executive, said "specialist midwives are now flown over and several girls are cut at the same time, which then leads to a celebration," reported the BBC.
FGM is the partial or total removal, injury or other alteration to the female genital organs for non-medical reasons. It is internationally recognised as a human rights violation.
More than 200 million girls and women worldwide have been affected by FGM, and the practice is mainly concentrated in African countries as well as the Middle East and Asia, according to the World Health Organisation.
Ms Nelson said the BHI recently broke up an event of this kind in West Yorkshire and had stopped another from taking place. West Yorkshire Police said they were aware of girls undergoing FGM in the area.
Women's health charity Forward told The Independent there was "often anecdotal mention" of these so-called "cutting parties" taking place in the UK.
However the London-based organisation said it did not have "hard evidence" of such events as they were often hidden from authorities and support groups.
"The reality is that without effective engagement of communities on the issue of FGM, it [is] very difficult to get effective reporting of such cases of women being flown into the UK for the purpose of FGM," said a charity spokesperson.
Anti-FGM campaigner interview - London Live
There were 5,700 newly recorded cases of FGM in England last year, with 18 of those having taken place in the UK, according to the Health and Social Care Information Centre.
This does not necessarily mean the FGM had been recently undertaken, or that the visit was the first time the girl or woman had seen the doctor for an FGM-related injury, an NHS Digital spokesperson said.
Of these 18 cases, 11 women and girls affected were also born in the UK, and around 10 were known to be genital piercings.
The most common age range for FGM to be carried out was five to nine years old.
FGM has been illegal in this country since 1985 and in 2003 taking a girl to have FGM abroad from the UK was also outlawed. The offence carries a maximum sentence of 14 years in prison.
Around 137,000 women living in England and Wales have undergone the procedure, according to research from City University.
Birmingham was the city with the highest recorded number of FGM cases last year, with 435 victims identified. London boroughs were each counted separately.
Around seven to nine women came to an FGM clinic run by Women's Aid in Birmingham each day it was open, Monika Borchardt, Safety Unit Manager for Birmingham and Solihull Women's Aid, told The Independent.
"We see a lot of women," she said. "Their ages range from 17 to 44 or 48."
Feminist protests demand end to violence against women in Brazil after gang rape of teenage girl

Show all 10
Ms Borchardt said all the women she had worked with had undergone FGM in their home countries, most often when they were children.
However, she recently helped a woman who had had part or all of her clitoris removed as a child – known as "type one" FGM – and had suffered further horrific injuries at the hands of a doctor when she gave birth to her first child.
"Recently a woman told us she had FGM type one: she was cut as a child while she was back home.
"When she gave birth to her first child, also back home, the doctor who took the birth, during the birth, performed FGM type three on her even though she didn't consent," said Ms Borchardt.
"Type three" FGM is the narrowing of the vaginal opening by creating a seal by cutting and repositioning the surrounding genitalia.
"During labour the doctor performed FGM even though she didn't consent, her husband didn't want her to have it, but the doctor just did that," said Ms Borchardt.
"Now she is giving birth to her second child in England, and the midwife has talked to her. The women is traumatised about giving birth again."
The government introduced compulsory reporting of FGM for NHS trusts and GPs in October 2015, and the Health and Social Care Information Centre statistics for 2015-16 are the first to be recorded.
No one in the UK has ever been successfully prosecuted for a FGM offence, which a recent report by the Home Affairs Select Committee called a "national scandal", reported the BBC.
"Reports of FGM are always deeply concerning, as not only is it extremely dangerous, it is a criminal offence," said an NSPCC spokesperson.
"It is a form of abuse which causes appalling damage for its victims. Many of them will have been targeted at a young age, and no child should be forced into this painful and shocking practice.
"It is vital that communities, families and professionals report any concerns, to help eradicate this barbaric act that can have devastating consequences for victims."
Join our new commenting forum
Join thought-provoking conversations, follow other Independent readers and see their replies