Forget networking. Get ready for sweatworking!
Boozy lunches with clients are out – today's executives prefer to conduct their business meetings in the gym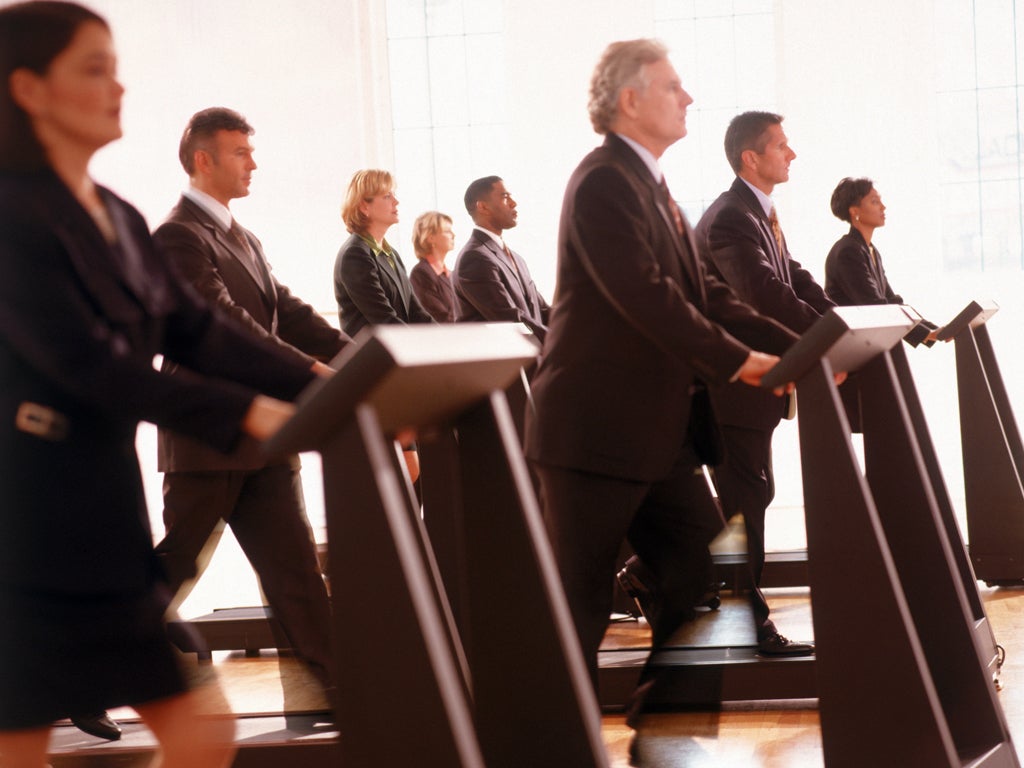 Into the glossary of business buzz phrases – "greed is good", "lunch is for wimps" and the ubiquitous "thinking outside the box" – have come some lean new contenders. Consider the horrors of a "spin-spin situation" or, worse, "earn while you burn". The new corporate lingo has been adopted by dealmakers of the future who prefer, literally, to sweat over the details of a contract.
Despite the gym being a place of refuge from work's strains and stresses, sweating it out in a spinning class (hard pedalling on stationary bikes) or the weights room is increasingly an influential part of the way business is conducted.
The concept of networking while working out – dubbed "sweatworking" in the US where the trend originated – is proving increasingly fashionable in the UK. The New York Times reported last month that business people are taking clients to the gym instead of entertaining them with drinks and meals out. Spinning classes are particular popular because participants can exercise at their own pace. British health clubs, already equipped with cafes and internet access, say they are witnessing a similar trend.
Some informal sweatworking already takes place in inner-city gyms, according to David Petersen, regional manager for Fitness First's London clubs: customers take business associates along to personal training sessions. One member even conducted a job interview at the gym.
Fitness First will soon launch a structured breakfast networking meeting at one central London club. After making introductions, attendees will do a spinning class before heading to the juice bar for more networking. If successful, the idea could be introduced in the chain's other gyms.
The rival gym firm LA Fitness says it has already responded to demand from companies for free guest passes by including them in corporate packages, demand for which increased 60 per cent last year.
Peter Harrington, LA Fitness's sales director, said guest passes mean companies can give clients the option to swap the traditional "boozy lunch" for the gym. While corporate entertaining at gyms was still new, he said, the Olympics could boost its popularity. As people socialise with friends and meet partners at gyms, he said, extending that to professional networks was a natural progression.
Morgan's Group is launching Exec Health Club, a business networking forum with gym membership, at centres in Plymouth and Truro in April. Members will meet for monthly seminars. During "learn and burn" classes, they will pick up tips on improving their business while burning calories on an exercise bike.
"It's fun and time-saving," said Denise Boaden, Morgan's managing director, who said having leaders educated in health, well-being and nutrition was beneficial for workforces.
Michelle Mone, founder of the lingerie brand Ultimo, said that while sweatworking sounded interesting and was a different way of entertaining clients, the gym was a place where a lot of people go to unwind and recharge their batteries.
Working alone gives them the chance to think, she said. "It may not be the best place for a business meeting but a lot of good ideas can come when you're exercising, so it may be worth trying as a teambuilding challenge with colleagues."
Join our commenting forum
Join thought-provoking conversations, follow other Independent readers and see their replies