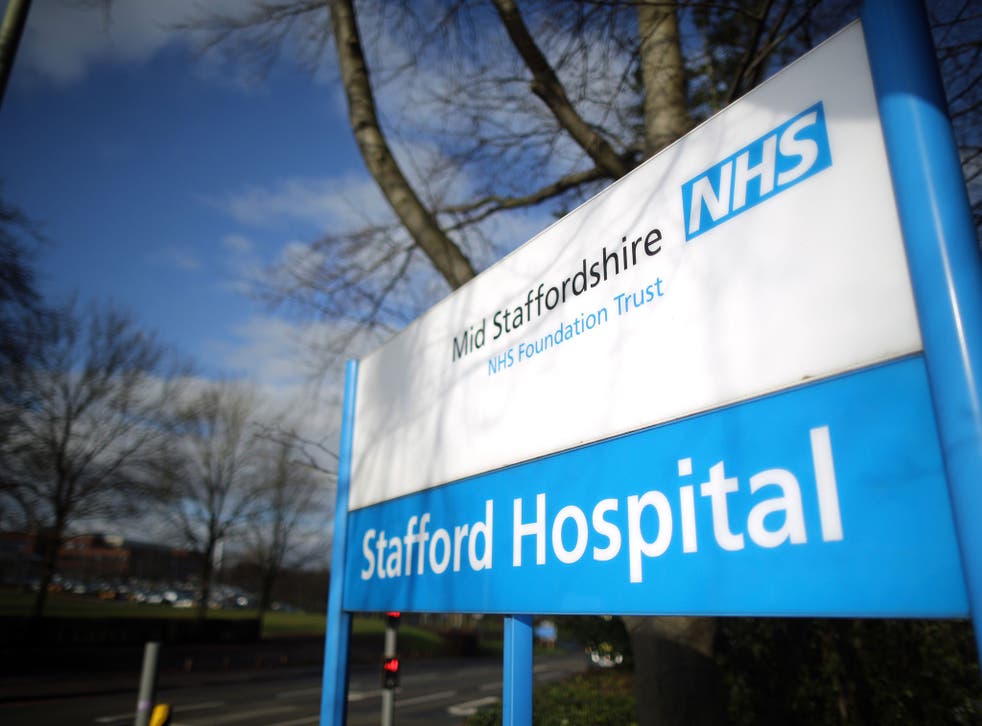 General Medical Council drops cases against four Mid Staffs doctors
Legal advisors said there was 'no realistic prospect' of securing a finding against them
There will be no further action against four doctors who held management positions at the scandal-hit Stafford Hospital.
The General Medical Council (GMC) said it was closing the cases after legal advisors said there was "no realistic prospect of securing a finding against these doctors on the allegations made".
There was "not the evidence" to bring action under impairment or misconduct proceedings, according to advice provided to the GMC from Tom Kark QC, leading counsel to the Francis Inquiry which looked into serious failings of care at Mid Staffordshire NHS Foundation Trust.
The GMC, which prosecutes cases against doctors, had been investigating Dr John Gibson, Dr Valerie Suarez, Dr David Durrans and Dr Diarmuid Mulherin.
Niall Dickson, the GMC's chief executive, said he understood people felt "badly let down" over the fact very few people have been brought to book for failings in basic levels of care which were uncovered at the hospital.
But he said: "The law is clear: we can only prosecute a doctor if there is sufficient evidence of that individual's wrongdoing."
Robert Francis QC found a focus on financial performance over adequate staffing was a significant factor in the poor care at the hospital and in a review published earlier this year, made 290 sweeping recommendations for healthcare regulators, providers and the Government, leading to calls for a shake-up in the culture of the NHS.
However, despite the failings and what the Francis report described as the "appalling and unnecessary suffering of hundreds of people" and a higher than expected death rate among patients, only a handful of clinicians have faced sanction in front of a professional standards board over their roles.
Mr Dickson said the GMC, which prosecutes cases against doctors, had taken the unusual step of publishing its legal advice, given the exceptionally high level of public interest in the Stafford Hospital case.
"He (Mr Kark) advises us in the strongest terms that these cases cannot proceed to a hearing," said Mr Dickson.
"Mr Kark has told us that there is 'no realistic prospect' of securing a finding against these doctors on the allegations made.
"Following the extensive investigations we have undertaken - which Mr Kark acknowledges in his advice - there is not the evidence to establish either misconduct or impairment against any of the doctors.
"We know that many of those who saw and experienced the appalling care at the trust feel badly let down and frustrated that no-one is taking responsibility for what happened.
"However, the law is clear: we can only prosecute a doctor if there is sufficient evidence of that individual's wrongdoing.
"To help explain our decision, we have taken the unusual step of publishing in full the letter from Tom Kark QC which summarises his advice."
The GMC said to date it had investigated 44 doctors in relation to the Mid Staffordshire trust, concluding all but one of those cases - including the four investigations which have been ended today.
In 16 cases it was determined there would be no further action, while in 24 cases, doctors were given advice including two who were also warned.
Another doctor had "accepted undertakings" from the GMC, while another had also agreed undertakings and been issued with advice.
One doctor has been erased from the register.
In the letter, Mr Kark said: "Having reviewed all of the evidence which the GMC has now obtained from witnesses who were able to give direct evidence of the actions and omissions of these four doctors, we have advised that the evidence provides no sound basis for a finding of serious misconduct nor of deficient professional performance such as might lead to a finding of current impairment and accordingly in our view there is no realistic prospect of such a finding."
He added that the weight of the evidence gathered from witnesses was "favourable" to the doctors.
"It provides a picture of well-intentioned individuals doing their best in difficult circumstances to improve poor standards," said Mr Kark.
Mr Dickson said it was now discussing with the Department of Health making changes to its powers to strengthen its ability to hold doctors to account, and had already embarked on "radical reform" of its procedures as the independent regulator of the UK's 260,000 doctors.
He said: "We want to be able to hold doctors to account where they have harmed patients or put them at risk, even if they have subsequently shown insight and can claim they are no longer a risk to patients.
"We also want to have a right of appeal against panel decisions by the Medical Practitioners Tribunal Service - this would allow us to act when we believe the panel has been too lenient.
"We hope these changes will form part of the Law Commission's current wide ranging review of the law governing the regulation of health care professionals."
He added: "It is vital that the public can have confidence in the system of regulation of doctors and hospitals.
"We are committed to working with others to bring about the changes needed to keep patients safe and drive up standards of medical care."
PA
Register for free to continue reading
Registration is a free and easy way to support our truly independent journalism
By registering, you will also enjoy limited access to Premium articles, exclusive newsletters, commenting, and virtual events with our leading journalists
Already have an account? sign in
Register for free to continue reading
Registration is a free and easy way to support our truly independent journalism
By registering, you will also enjoy limited access to Premium articles, exclusive newsletters, commenting, and virtual events with our leading journalists
Already have an account? sign in
Join our new commenting forum
Join thought-provoking conversations, follow other Independent readers and see their replies