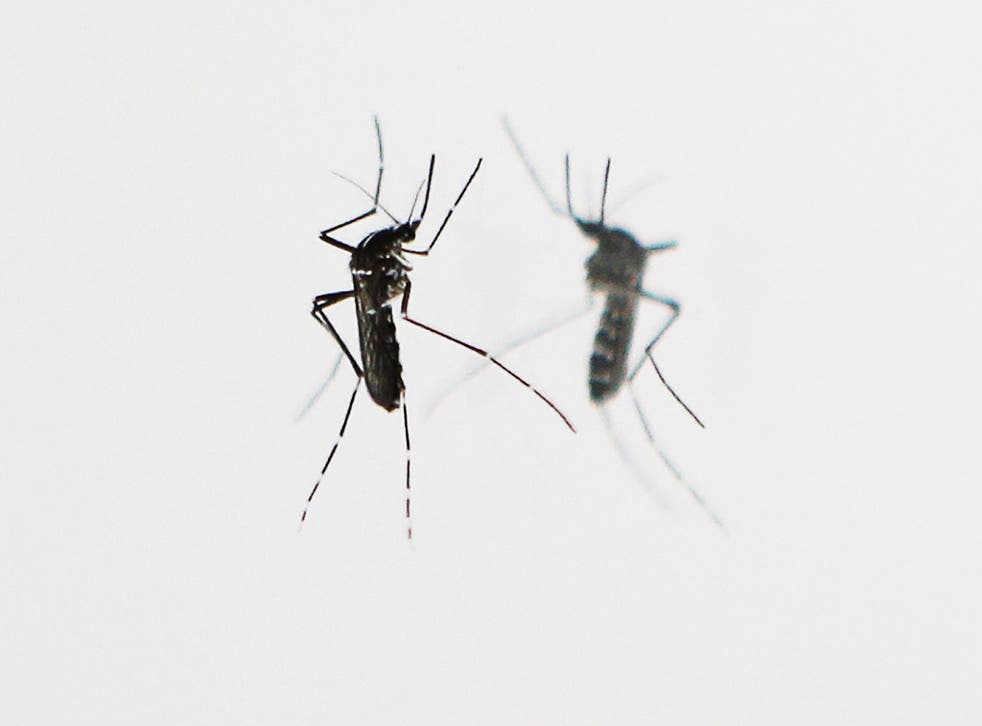 Genetically modified mosquito could eradicate malaria
Between 300 million and 500 million cases of malaria occur annually and an estimated 40 per cent of the world's population live in malaria areas
A malaria-free mosquito has been created by scientists using a genetic technology that causes the disease-free trait to be inherited by virtually all its offspring – raising the possibility of eradicating malaria within a single breeding season.
The genetically-engineered mosquito is incapable of transmitting malaria to humans and can pass on its disease immunity to 99.5 per cent of its progeny, according to a study.
The mosquito carries extra genes for antibodies that block the development of the malaria parasite within the insect and so prevent the disease from being transmitted to people when mosquitoes feed on human blood.
Laboratory experiments have demonstrated a method of amplifying the inheritance of the antibody gene that causes the malaria immunity so that virtually all subsequent generations of mosquito are equally incapable of transmitting the disease to human hosts.
Globally, malaria kills up to a million people each year, mostly children. Between 300 million and 500 million cases of malaria occur annually and an estimated 40 per cent of the world's population live in malaria areas.
The study suggests that it may soon be possible to eradicate malaria from entire regions of the world by releasing genetically modified mosquitoes that are able to pass on their malaria "immunity" to the rest of the breeding population of mosquitoes.
However, scientists and environmental campaigners have warned that releasing GM mosquitoes equipped with powerful "gene drives" that amplify the frequency of synthetic genes within a natural population of breeding insects poses the risks of "unintended consequences" if safety concerns are not addressed.
Previous experiments on fruit flies have shown that gene drives can caused the rapid spread of genes within a breeding population of captive flying insects. Now scientists have demonstrated that gene drives combined with a powerful gene-editing technique called Crispr/Cas9 can cause the rapid spread of genes for malaria resistance in a laboratory population of the Anopheles stephensi mosquito, one of the principal carriers of malaria in Asia.
"This opens up the real promise that this technique can be adapted for eliminating malaria," said Professor Anthony James of the University of California, Irvine, who led the study published in the journal Proceedings of the National Academy of Sciences.
Professor James developed the anti-malaria antibodies from work on laboratory mice. He collaborated with Valentino Gantz and Ethan Bier of the UC San Diego, who have pioneered the development of gene-drive technology using Crispr/Cas9 on fruit flies.
Science news in pictures

Show all 20
Together, they created a "cassette" of genes that including an antimalarial antibody gene and the Cas9 enzyme for cutting and splicing DNA so that the antibody gene was transmitted from one chromosome to another in the same mosquito embryo.
To check whether the gene drive worked, the scientists also attached a gene for "red eye" so that it was easy to see how many of the GM mosquito's progeny carried the antibody trait by simply counting the number of mosquitoes with red-coloured eyes. To their surprise, 99.5 per cent of offspring had been successfully engineered, Professor James said.
"This is a significant step. We know the gene works. The mosquitoes we created are not the final brand, but we know this technology allows us to efficiently create large populations," Professor James said.
When Dr Bier demonstrated the power of gene-drive technology earlier this year in a study on fruit flies he said that the "mutagenic chain reaction" (MCR), as it is called, is a highly effective way of transmitting a new genetic trait through an entire population of breeding mosquitoes.
"MCR offers an obvious solution to this problem since the incorporation of an anti-malaria gene cassette into an MCR element should result in the rapid spread of the gene cassette through the target population," Dr Bier said.
"For example, if one in 100 individuals initially carried the cassette, the cassette should spread to virtually all individuals in as few as 10 generations, which is less than one [breeding] season for mosquitoes," he added.
Register for free to continue reading
Registration is a free and easy way to support our truly independent journalism
By registering, you will also enjoy limited access to Premium articles, exclusive newsletters, commenting, and virtual events with our leading journalists
Already have an account? sign in
Register for free to continue reading
Registration is a free and easy way to support our truly independent journalism
By registering, you will also enjoy limited access to Premium articles, exclusive newsletters, commenting, and virtual events with our leading journalists
Already have an account? sign in
Join our new commenting forum
Join thought-provoking conversations, follow other Independent readers and see their replies