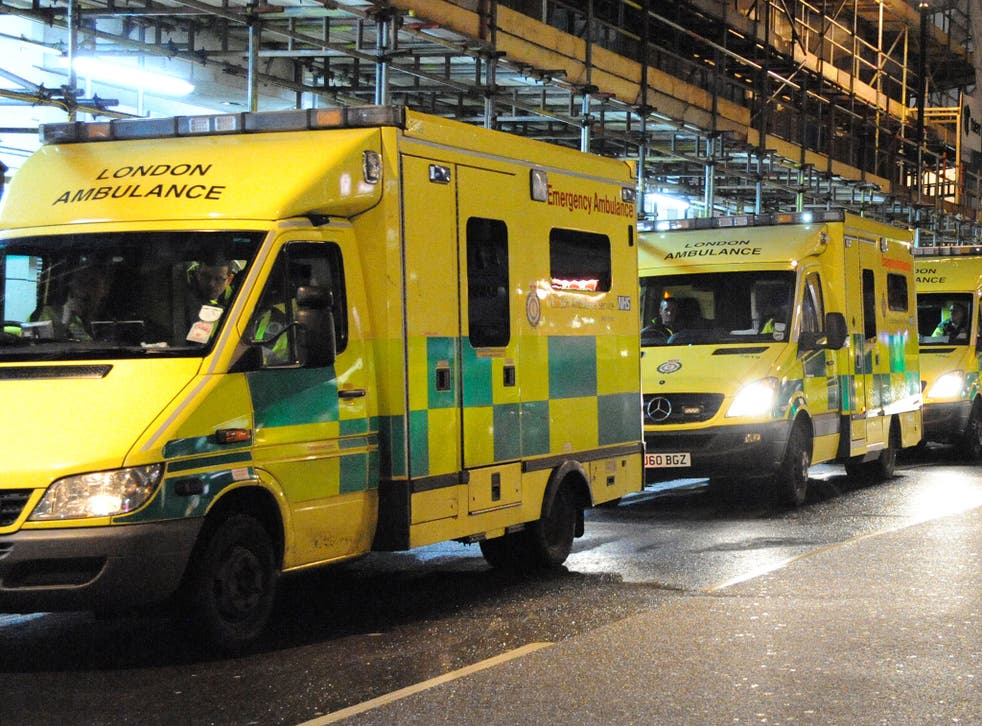 Government told to invest in ambulance services as complaints soar
Paramedics have called on the Government to urgently invest in ambulance services after new figures revealed complaints about delayed emergency responses have soared in the past year.
Demand for ambulance and patient transport services has soared in recent years, and emergency services are increasingly having to leave low-priority patients waiting for hours for a paramedic response. New figures from the Health and Social Care Information Centre show that complaints against ambulance crews increased by more than 28 per cent last year, a sharper rise than for any other medical profession.
General complaints about patient transport including ambulances were up by 43 per cent, totalling nearly 10,000 complaints against the ambulance sector in 2013/14. The College of Paramedics said that the biggest single cause of complaints was delays.
The number of emergency calls to ambulances has increased dramatically in recent years. Despite a small decrease last year, operators still handled 8.5m calls. Martin Berry, executive officer of the College of Paramedics said that he was not surprised by the rise in complaints.
"We have seen a massive increase in demand and there has not been the financial investment to meet that increase in demand," he told The Independent.
"Ambulance services across the board are finding it takes longer to dispatch resources to calls that are of a less serious nature. When a patient or relative is experiencing these long delays of an hour or longer, it is the paramedic on scene who is at the receiving end of this frustration and anger. It is difficult to explain to a patient that they've had to wait because paramedics have been seeing a patient with a more serious problem. We need more paramedics."
NHS organisations around the country have had to tighten their budgets in recent years in the wake of the biggest squeeze in Government spending on the NHS in recent times. Increasing demand from a growing and ageing population has seen calls to emergency services rise quicker than the health sector is recruiting the paramedics required to respond on time.
Rising demand has driven many NHS ambulance trusts to recruit more private providers to plug gaps.
Across the NHS in England, the number of written complaints about all services rose to 114,300 – up by nearly five per cent on the previous year.
Luciana Berger, Labour's shadow Public Health Minister, said that the figures were a sign of "an NHS under pressure and heading in the wrong direction".
"The huge increase in complaints for ambulance crews is particularly worrying alongside lengthening response times and queues of ambulances outside A&E," she said. "Instead of denying there is a problem, ministers need to urgently get to grips with the crisis developing in the ambulance service."
A Department of Health spokesperson said: "There are over 16 per cent more paramedics than there were in 2010. However, we know more needs to be done and that's why all ambulance services are actively recruiting and we are making sure we have enough paramedics trained for the future."
Patient safety watchdog Healthwatch England said that, along with ambulances, non-urgent patient transport services were a source of major concern.
Anna Bradley, the group's chairperson, said: "From Manchester and Liverpool in the north west, to Brighton in the south east, we have been hearing stories of patients being picked up late and missing appointments, of long delays for those waiting to be taken home and in some cases incredibly vulnerable people being told they no longer qualify for the service due to changes in the eligibility criteria.
"In one particular complaint we heard about a patient being told they were no longer eligible after having used the service for nine years because they had said during a telephone assessment, that they used their mobility scooter to get to the local shops by themselves.
"Whilst not a frontline service, patient transport is vital for those who are not able to get to hospital under their own steam. Commissioners need to look carefully at the complaints they are receiving and listen and respond to people's concerns, so they are able to access the health services they need."
Case studies: delays and deaths
Seven 999 calls
William Gouldburn, a 73-year-old Hartlepool man, died from a heart condition two hours after collapsing in his bathroom in April last year.
His family made seven 999 calls, but when paramedics from North East Ambulance Service arrived, he was pronounced dead at the scene.
The coroner said his death was a "sad consequence" of a lack of ambulance resources. It was said after the inquest that calls to the ambulance service had more than doubled in 10 years.
Increase in demand
North West Ambulance Service NHS Trust received considerably more complaints than any other – more than 2,000, compared with the second-highest, London Ambulance Trust, which had 1,060.
West Lancashire's MP Rosie Cooper has condemned the trust over a recent incident in which the service allegedly refused to send an ambulance to a patient despite repeated requests. After eventually being admitted to hospital after seeing a doctor, the patient died 48 hours later, the Labour MP said.
The trust said its high number of complaints could be attributed to a new, more extensive complaints recording system. It said that it had seen a "significant increase in the demand" for services, and would "investigate incidents where there is shown to be an unacceptable delay".
Private operator
Arriva Transport Solutions, an offshoot of a private bus company, was contracted to run Greater Manchester's patient services last year, undercutting the NHS provider.
The company came under fire last year after receiving a high number of complaints. Despite apparent improvements, the local Healthwatch group said this June that it still had concerns about pick-up delays, leading to patients being late for appointments, in some cases resulting in their missing medication and being admitted to hospital.
Register for free to continue reading
Registration is a free and easy way to support our truly independent journalism
By registering, you will also enjoy limited access to Premium articles, exclusive newsletters, commenting, and virtual events with our leading journalists
Already have an account? sign in
Join our new commenting forum
Join thought-provoking conversations, follow other Independent readers and see their replies