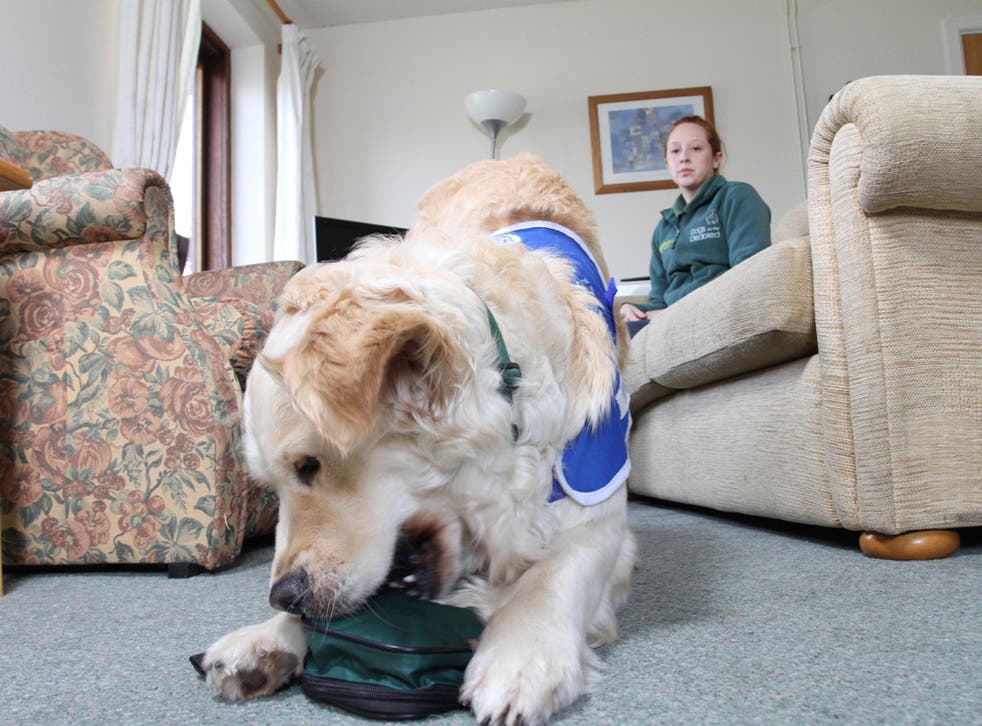 Guide dogs for the mind to fight dementia
Animals will help Alzheimer's patients remember their medicine and steer them through the day
Emily Dugan
Saturday 21 April 2012 23:01 Comments
They already guide blind and disabled people; now dogs are to be trained to help people with dementia. The duties of these "guide dogs for the mind" will include reminding their owners to take medication, as well as encouraging them to eat, drink and sleep at regular intervals.
The dementia dogs will be trained to respond to sound triggers in the home that prompt them to perform tasks. These could include delivering a bite-proof bag of medicine with a note inside reminding the patient to take it, or waking them up in the morning.
The idea was developed by design students at the Glasgow School of Art and will now be put into practice by Alzheimer's Scotland and Dogs for the Disabled. Labradors and retrievers were used to develop the project, and four will begin training soon in Banbury.
The first dogs will be assigned to four Scottish couples in September, where one of the partners is in the early stages of dementia. Some 670,000 people in Britain have dementia and one in three over 65s will develop the condition. By 2021 this is expected to rise to one million.
Alzheimer's can make people confuse night and day or forget basic things such as washing or drinking enough water. The dogs would be trained to help to guide them through the day, encouraging them to open cupboards which would contain food for the animal alongside a note to the owner to feed themselves, or guiding them to the bathroom where another note would remind them to wash.
Joyce Gray of Alzheimer's Scotland said: "People in the early stages of dementia are still able to live a relatively normal life, and dogs help to maintain routine."
The other advantage of using the pets as companions is that conversation can be increasingly confusing for people with Alzheimer's, but dogs can give them a sense of silent support and companionship. Ms Gray said: "The anecdotal evidence we have is that people may forget familiar faces but not pets. It's such a strong bond that people often remember them longest. People light up when they see animals. They don't need to communicate verbally but they can still interact. You can have a speechless bond."
The concept is one of five new ways to help people with memory loss that will be announced on Thursday as part of the Prime Minister's National Dementia Challenge. Funded by the Department of Health and the Design Council, the challenge is designed to make the country a leader in research and care for the condition. Helen McCain, director of training and development at Dogs for the Disabled, said: "There are gizmos on the market to remind people to take medicines, but they have to then go and look for a medicine box and might forget to complete the task, whereas if a dog presents them with a bag with pills in it there's a greater chance of them taking it."
She also said dogs were ideally suited to prompting owners to eat. "Dogs have an ability to say 'it's my feeding time'," Ms McCain said. "There would be a note in the cupboard next to the dog's food reminding them to eat too."
The dog would also encourage the owner to take them out for walks, making sure they keep exercising and interacting with other people. "It forms an anchor for the person and a reason to go out into the community," Ms McCain said. "We did a test with an elderly person walking down the high street on his own. Then we gave him a dog on a lead and he did the exact same walk. That time people would come up to him and chatting or smiling and making eye contact. We hope we'd see this with clients with dementia too, keeping them engaged with the local community."
Register for free to continue reading
Registration is a free and easy way to support our truly independent journalism
By registering, you will also enjoy limited access to Premium articles, exclusive newsletters, commenting, and virtual events with our leading journalists
Already have an account? sign in
Join our new commenting forum
Join thought-provoking conversations, follow other Independent readers and see their replies