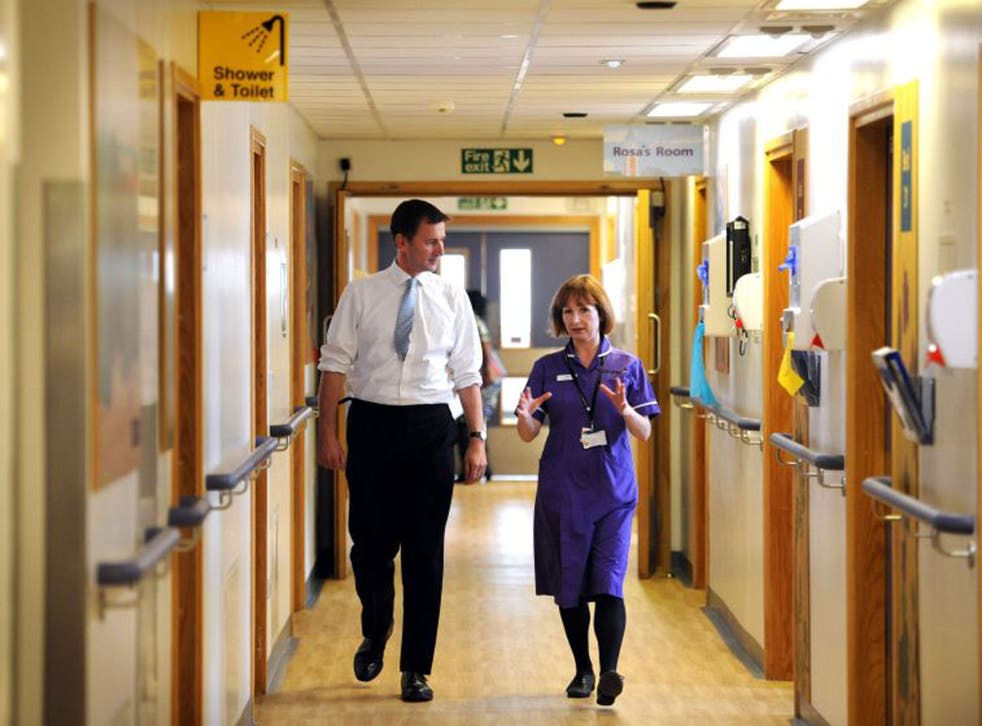 Health experts reject 'friends and family' test
Prime Minister insists patient survey will go ahead amid growing opposition within NHS
The "friends and family" test hailed by David Cameron last week as a means of ratcheting up standards of care in hospitals and GP surgeries had already been given the thumbs down by experts working for the NHS regulator, the Care Quality Commission.
Research commissioned by the CQC at the request of the Department of Health and published in June 2012 concluded that the test, based on one used in the retail industry, was "not appropriate for use in an NHS setting".
Opposition to the test among medical groups has been growing. The NHS Alliance, representing GP commissioning groups, said on Friday it was "useless and meaningless".
Despite the negative verdict, the test, in which patients will be asked if they would recommend a service to a loved one, is being introduced into every hospital in England in April. On Friday, Mr Cameron gave his backing to the move and said the principle should be extended to GPs' surgeries, district nursing and community hospitals. "The test is a simple measure but crucially will show whether there is a basic standard of dignity, cleanliness and respect," Mr Cameron said.
Mr Cameron and the Health Secretary, Jeremy Hunt, have become alarmed at a perceived decline in compassion in the health service, highlighted by scandals such as those at Mid Staffordshire NHS Trust, where hundreds of patients died as a result of poor care. The friends and family test is based on a measure of customer satisfaction called the Net Promoter Score, used in the retail industry to assess brand loyalty. A £50m incentive fund will be available for hospitals to support extension of the test.
The use of the NPS among patients was examined in the CQC report, Overarching Questions for Patient Surveys, commissioned from the Picker Institute Europe. It found interviewees objected to be being asked to recommend a hospital or did not understand the request. They failed to grasp they were being asked to make a choice ("if someone was ill, you would say go to hospital"), were unhappy about recommending an institution after having contact with only a few of its staff and could not see the point of the question ("why would I recommend bladder cancer?").
Experts have criticised the test as "lacking rigour and subject to bias." Roy Lilley, a former NHS manager and independent health policy analyst, said: "As the average NHS patient has little opportunity of switching brands away from the NHS... the whole exercise is hollow." But Mr Lilley said the test could be relied on to produce positive scores that would be "gold dust in the run up to the 2015 election". In addition, by publishing results ward by ward "staff will start to feel proprietorial about performance" which was likely to translate into a "positive impact on morale". A spokesperson for the Department of Health said: "The final way it will work will be slightly different."
Register for free to continue reading
Registration is a free and easy way to support our truly independent journalism
By registering, you will also enjoy limited access to Premium articles, exclusive newsletters, commenting, and virtual events with our leading journalists
Already have an account? sign in
Register for free to continue reading
Registration is a free and easy way to support our truly independent journalism
By registering, you will also enjoy limited access to Premium articles, exclusive newsletters, commenting, and virtual events with our leading journalists
Already have an account? sign in
Join our new commenting forum
Join thought-provoking conversations, follow other Independent readers and see their replies