Hip replacement toxic risk could affect 50,000

Show all 2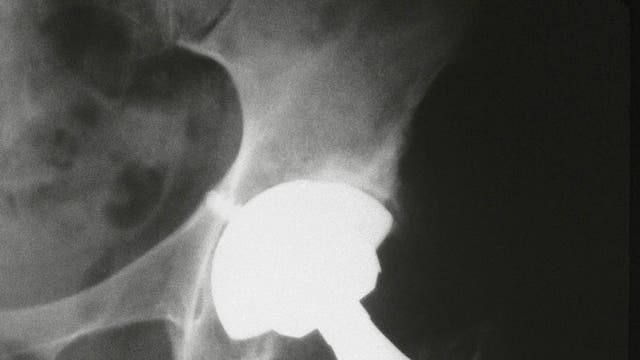 Hip replacement toxic risk could affect 50,000
Patients with metal implants may need to have annual medical checks
Nearly 50,000 hip-replacement patients will need annual medical checks as evidence grows that their metal implants can cause serious health problems, including severe pain and long-term disability. A leading manufacturer of the implants has known about potential dangers to patients since at least 2005, internal documents have revealed. Health regulators and the Department of Health have been aware since 2006.
Yesterday, the Medicines and Healthcare Products Regulatory Agency (MHRA) publicly acknowledged that there was a "small risk" the implants could cause complications and issued an alert to orthopaedic surgeons, who must now contact affected patients.
The regulator said it had received 370 "adverse incident" reports involving metal-on-metal implants, though the actual number is likely to be much higher because the majority of adverse reactions are never reported.
The new guidance came only hours before the British Medical Journal published an investigation that alleges systematic failure in the regulation of medical devices which has left hundreds of thousands of patients with potentially dangerous implants. The beleaguered regulator, already under fire for its response to faulty PIP breast implants, has again been accused of putting industry interests above patient safety.
Possible dangers associated with the cobalt-chrome alloy used to make metal-on-metal hips have been documented since the mid-1970s. Tiny metal ions appear to break off from the implants and leak into the blood, causing local reactions that destroy muscle and bone, cause severe pain and even long-term disability. Studies have shown that the metal particles can seep into the bloodstream spreading to the lymph nodes, spleen, liver and kidneys before being excreted in urine. There are also concerns about damage to chromosomes, leading to genetic changes which could increase the risk of cancers.
Hip implants, like breast implants, have traditionally not had to pass any clinical trials before being used in patients. Instead, the manufacturer is only required to obtain a CE manufacturing mark from a "notified body" that assesses medical devices for European regulation. In America, total hip implants were previously "fast-tracked" for approval, however, all hip implants are now considered "high risk" and undergo greater scrutiny.
The BMJ investigation criticises the US and European regulators for failing to force manufacturers to carry out follow-up studies in patients implanted with devices known to be capable of producing toxic debris.
"This is one very large uncontrolled experiment exposing millions of patients to an unknown risk. We will only find out about the safety of these devices after large numbers of people have already been exposed," said Michael Carome, deputy director of Public Citizen's Health Research Group.
Peter Walsh, chief executive of Action against Medical Accidents, said: "Time and time again we have seen that the MHRA is over-reliant on manufacturers with a vested interest to do a job that should be controlled by the regulator.
The first metal-on-metal implant was designed by a Birmingham surgeon in 1997, who wanted hardier devices than ceramic or polyethylene implants.
Around 65,000 people in England and Wales have received metal on metal hip implants, mainly younger osteoarthritis sufferers, since 2003 when the national joint registry records began. At least 49,000 with a large hip implant (a diameter of 36mm or more) will now need annual blood tests to check their metal ion levels to see whether their implant should be removed. This includes 10,000 people with the DePuy ASR implant which was recalled in September 2010 after a reported failure rate of around 13 per cent – three times the average rate for non-metal implants
The BMJ investigation reveals an internal memo from one of the leading manufacturers, DePuy, which suggests the company was concerned about a cancer risk in 2005.
It shows the MHRA discussed the potential cancer risk with the department of health in 2006. It subsequently appointed an expert advisory group which included three industry members but no statistician or epidemiologist.
The investigation also shows how companies have changed the design of their metal hips over the last decade, without conducting proper trials. Experts believe these design changes are responsible for the release of high levels of toxic metals into the body, yet regulators in the US and Europe failed to spot the changes.
Dr Susanne Ludgate, the MHRA's clinical director of devices, last night said it became aware of problems with the metal-on-metal implants in 2008, and that it was the first regulator in the world to issue advice to clinicians in April 2010.
DePuy said: "The potential reactions to metal-on-metal wear debris have been known and studied for years, and the reported incidence of such adverse reactions is very low... DePuy monitors various sources of data on our products and the documents cited in media reports are part of internal company discussions. We will continue to appropriately monitor and share data with regulators."
Dr Fiona Godlee, BMJ editor in chief said: "Hip replacements are one of the great successes of modern medicine. But a combination of inadequate regulation and untrammelled commercialism has caused actual and potential harm for large numbers of patients."
Case study: 'I can't do normal things, and I rely on painkillers'
Barbara Gannon, 63, a retired GP practice manager from Teesside, has been in constant pain since her first hip replacement in October 2008. She is among 400 metal-on-metal hip replacement patients suing manufacturers with solicitors Leigh Day
"My osteoarthritis progressed very quickly so my surgeon recommended the DePuy ASR resurfacing implant as I was still young," she said. "I quickly started having problems. It felt as if something was moving, and the extreme pain started after six months. The surgeons operated in March 2010 and found most of the pelvic bone and surrounding tissue had been eaten away.
"They replaced the hip implant, which included a bone graft to rebuild my pelvis, but the pain didn't go away. I had a second replacement in February 2011, but the pain is back. I rely on painkillers every day, and can't do normal things like cooking or hoovering. I feel so let down by the MHRA."
Join our new commenting forum
Join thought-provoking conversations, follow other Independent readers and see their replies