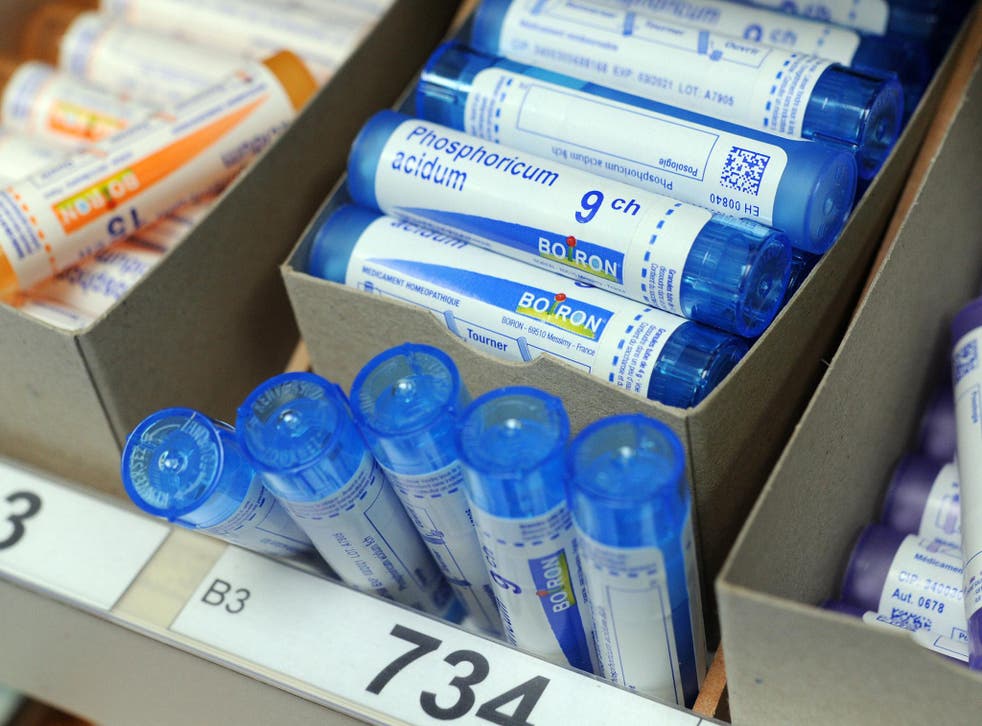 GPs who prescribe homeopathy are more likely to go against medical guidelines, study suggests
NHS England says surgeries should stop prescribing the remedies due to lack of evidence
Jon Sharman
Saturday 21 April 2018 10:59 Comments
GP surgeries that recommend homeopathic remedies are more likely to be rated poorly for their prescribing in general, and to prescribe at greater cost to the NHS and potentially less safely, researchers say.
Scientists collected data from NHS Digital, via the Open Prescribing project, to discover which of 7,618 primary care practices in England prescribed homeopathy between December 2016 and May 2017.
An average rating for each practice was then generated using 36 measures of prescription performance overall, which the researchers said had been "developed [by Open Prescribing] to address issues of cost, safety or efficacy by doctors and pharmacists".
GP surgeries ranked in the lowest quartile were twice as likely to prescribe homeopathy, the study, developed by Dr Ben Goldacre, found. In total 644 practices, or 8.5 per cent of the total, prescribed the remedies.
The authors wrote: "Prescribing homeopathy is rare within NHS primary care, but even a low level of prescribing is associated with poorer practice performance on a range of standard prescribing measures.
"This is unlikely to be a direct causal relationship. It is more likely to reflect deeper underlying features of practices that are harder to measure, such as the extent of respect for evidence-based practice, or the quality of teamwork around optimising treatment while managing the prescribing budget.
"Even infrequent homeopathy prescribing is strongly associated with poor performance on a range of prescribing quality measures, but not with overall patient recommendation or quality outcomes framework score."
Surgeries where homeopathy was prescribed were found to be more likely to prescribe more expensive and more addictive drugs, and fall foul of national guidelines, Dr Goldacre said.
On Twitter he said the group found "higher use of needlessly expensive drugs, higher prescribing of opioids, breaching British National Formulary guidance on safe prescribing of [the arthritis drug] methotrexate etc".
During the six months there were 2,720 homeopathy prescriptions costing a total of £36,532, the study found. It was published in the Journal of the Royal Society of Medicine.
Health news in pictures

Show all 40
Margaret Wyllie, head of the British Homeopathic Association, said: "This is another example of how real patient experience and health outcomes are so often discounted, when in actuality they should be the primary driver for research to improve our NHS services.
"This study provides no useful evidence about homeopathy, or about prescribing, and gives absolutely no data that can improve the health of people in the UK."
Prescribing homeopathy at all on the NHS is controversial.
In 2010, a Commons science and technology committee report found homeopathic remedies performed no better than placebo, and that the principle they were based on was "scientifically implausible".
Homeopaths claim that "like cures like". Remedies are prepared by dissolving a substance believed to cause a given affliction in water, then diluting it many times past the point at which any molecules remain in the solution. A droplet of this water is then applied to plain tablets before they are packaged.
"People who choose homeopathy may put their health at risk if they reject or delay treatments for which there is good evidence for safety and effectiveness," Australia's National Health and Medical Research Council said in 2015 after reviewing 225 studies of the remedies.
There was "no good quality evidence to support the claim that homeopathy is effective in treating health conditions", the body concluded.
Register for free to continue reading
Registration is a free and easy way to support our truly independent journalism
By registering, you will also enjoy limited access to Premium articles, exclusive newsletters, commenting, and virtual events with our leading journalists
Already have an account? sign in
Join our new commenting forum
Join thought-provoking conversations, follow other Independent readers and see their replies