Hospital food needs urgent treatment
Shopping locally would improve food on the wards, say campaigners for the sick and undernourished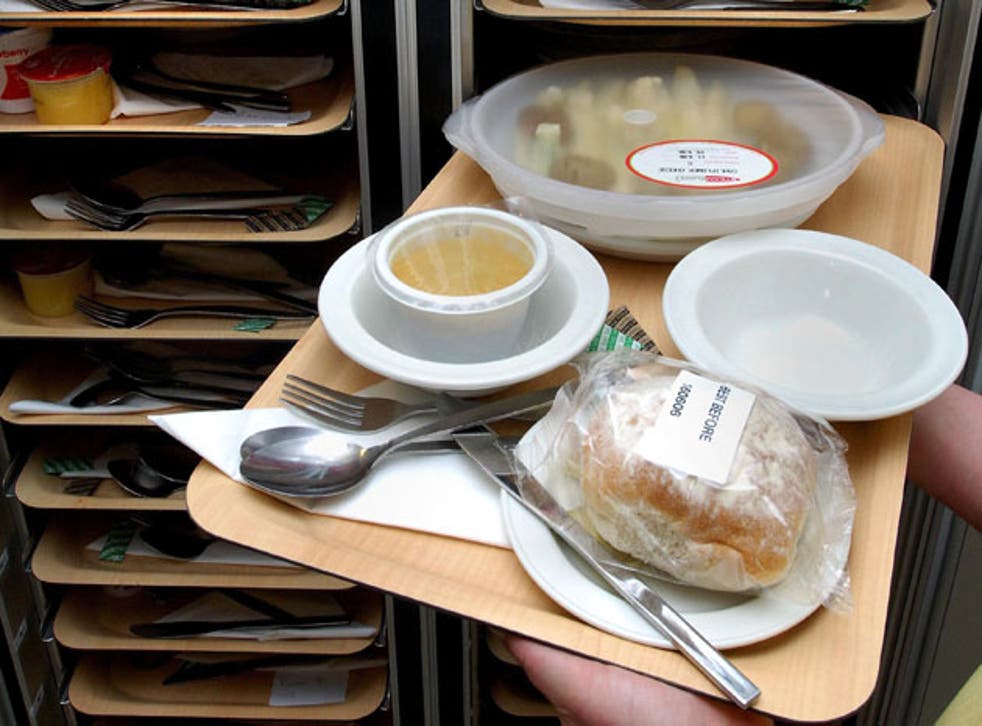 Hospitals deserve their reputations for serving unhealthy, badly cooked food, a report out this week claims. More than two-thirds of people surveyed took their own food into hospital, because the meals served up were inedible, while more than half the patients asked said that they would not be happy serving the food to a child, and more than a third believed hospital food was "unacceptable".
The report, First Aid for Hospital Food, warns the NHS is wasting millions of pounds by failing to source fresh produce from local suppliers. The Soil Association, which commissioned the survey of 1,000 people, said it was "staggering" that hospitals continue to serve poor quality meals to patients.
Peter Melchett, the Soil Association's policy director said: "It's clear there are people running hospitals who don't think what they feed patients matters, hence these extraordinary appalling figures of people going into hospital and coming out more malnourished. Things you really couldn't quite believe could be true. Every hospital that hasn't got decent food should visit one that has. It's the best way to learn."
The report points out that every survey of hospital food since 1963 has concluded that meals given to recuperating patients are unhealthy and barely edible.
It says a handful of hospitals are finding that, in addition to the health benefits, investing in good food saves them millions annually as well as stimulating the local economy. Nottingham City Hospital, for example, saved £6m last year by buying produce locally instead of sourcing its food from expensive multinationals. It buys pork from a local pig farmer, allowing him to make a profit for the first time in 10 years and saving jobs on the farm.
The Cornwall Hospital Food Programme showed that hospitals spending with local suppliers pumped an additional £900,000 into the local economy. Sussex Partnership NHS Foundation Trust gets yoghurt from a local supplier for two-thirds of the price of the nationally approved supplier.
Despite such savings, the NHS currently sources less of its food from UK producers, the proportion dropping to 64.5 per cent in 2008-09 from 70 per cent the year before. The NHS Supply Chain, which buys food for many hospitals, brought just a third of its processed potatoes from British suppliers compared with two-thirds bought by UK families. Only 5 per cent of fish served up by the NHS comes from UK fishermen, compared with 50 per cent served up in domestic households.
Figures released in December by the NHS Information Centre show a record 13,500 patients became malnourished during their hospital stay last year, while a report from within the Department of Health suggests almost 50,000 people could be suffering from malnutrition or conditions complicated by malnutrition in English hospitals.
"It is appalling to know that in this day and age in the UK a third of all adults admitted to hospital and similar care settings are already suffering from malnutrition," said Helen Davidson, the chairman of the British Dietetic Association.
"Without question, this reduces quality of life, leads to longer hospital stays and, in some circumstances, can lead to death for some of our most vulnerable citizens. In addition to the severe health impact, it is estimated that this costs the UK economy £13bn each year."
A spokesman for the Department of Health, said: "It is important that patients are given good quality food to improve their health and overall experience of being in hospital.
"Individual hospitals make independent decisions about what and how food is provided. Since April 2010, it has been a requirement of a hospital's continuing registration with the Care Quality Commission, that patients are protected from the risks of dehydration and inadequate nutrition. The commission assesses trusts against this requirement and has tough enforcement powers for cases where proper standards are not being met."
'Inedible, unidentifiable, diabolical'
Jackie Schneider
St Helier Hospital, Sutton
In 2006, my father, Dennis King, was in the renal unit, and the salt levels in the soup were so high that none of the patients could have it. Most of the patients also suffered from diabetes, and there would be no food on the wards. Doctors were even offering to prescribe meals. It was clear it was all about finances. Management consultants had suggested the hospital drop one hot meal a day. My father died in a ward and had not been given a decent meal for the last week. The staff, who were great, would point out piles of pizza boxes from relatives bringing in food.
* A spokesman for Epsom and St Helier University Hospitals NHS Trust said that this was an old complaint and that the food at both Epsom and St Helier hospital receives very positive feedback and has been rated as 'excellent' (Epsom) and 'good' (St Helier) by patient environment action teams, which include patient representatives and members of the public.
Caroline Hallett
William Harvey Hospital, Ashford
My husband, Dan Hallett, had a cardiac arrest last year and was in hospital for seven days. What really let the hospital down was the God-awful food. You have patients requiring quite specialist low-fat diets and the food was appalling, not just bland but not nutritionally balanced. It looked awful, smelled diabolical. It got to the point where I had to take time off work every evening to cook meal for my husband, to ensure he got something good to eat.
Stacey West
Huddersfield Royal Infirmary
We were offered a starter which was a really watery instant soup dish, which still had powder in the bottom. In one instance, I had potato croquettes that were grey when I cut into them, It wasn't too pleasant. I was taken in with a sickness virus and I'm diabetic so it knocked me for six. There were vegetables on some occasions, but they were just sloppy frozen beans.
Mark Sparrow
Nuffield Orthopaedic Centre, Oxford
As a patient I started taking pictures of the food and putting them on Facebook to ask friends if they could guess what it was: none of them could. You should be able to know what the food is. A friend of mine sent it to a local news agency, and suddenly I had 26,000 visitors a day to my blog.
Michael Turner
Register for free to continue reading
Registration is a free and easy way to support our truly independent journalism
By registering, you will also enjoy limited access to Premium articles, exclusive newsletters, commenting, and virtual events with our leading journalists
Already have an account? sign in
Register for free to continue reading
Registration is a free and easy way to support our truly independent journalism
By registering, you will also enjoy limited access to Premium articles, exclusive newsletters, commenting, and virtual events with our leading journalists
Already have an account? sign in
Join our new commenting forum
Join thought-provoking conversations, follow other Independent readers and see their replies