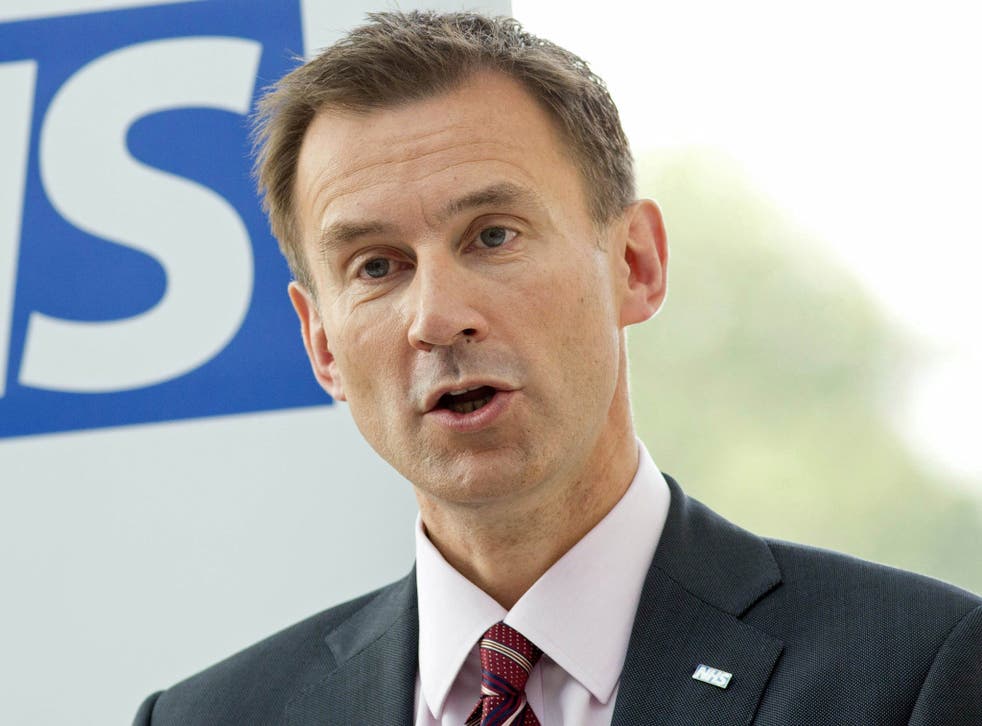 'No more boob jobs on the NHS': Breast enlargements, tummy tucks and nose jobs won't be available, says Jeremy Hunt
The average health authority in England carried out 10 operations of this kind in 2012
Cosmetic surgery such as breast enlargements, nose jobs and tummy tucks should no longer be made available on the NHS, Jeremy Hunt has said.
The Health Secretary insisted that he was against "purely cosmetic work" being carried out for free by the health service. "We should not be doing cosmetic work on the NHS," he said. "The decisions are taken on the basis of clinical need, but I have made it very clear that I am against purely cosmetic work."
Official figures released at the start of the year revealed that nearly 8,000 people have had "tummy tucks" on the NHS in the past six years, at an estimated cost to the taxpayer of over £50 million. According to the figures, released in a parliamentary answer, the number of tummy tucks carried out on the NHS rose by 6 per cent in 2012 to 1,051. Over the past six years, a total of 7,939 operations have been carried out.
The highest number of operations was in Darlington, Co Durham, where 58 patients had tummy tucks in 2012. It was followed by south Birmingham, where 52 people had the surgery on the NHS, followed by Camden, north London, where 44 people underwent procedures. The average health authority in England carried out 10 operations.
On Tuesday Mr Hunt said any cases of state-sponsored cosmetic surgery should be few and far between. "There will be times when there is a mental health need, which the local doctor has said is very serious," he said. "But I do completely understand people's reservations about some of the things that happen."
Speaking during a lunch in Westminster, Mr Hunt also unveiled new financial incentives used to encourage NHS trusts to report treatment of EU nationals, as part of a drive to recoup up to £500 million a year from overseas patients.
Mr Hunt said that the move would "more than pay for itself" because the NHS is able to reclaim the cost of treatment from other member states under long-standing reciprocal arrangements known as EHIC (the European Health Insurance Card).
At present, the UK pays other EU countries more than £800 million a year to cover the cost of Britons receiving health care on holidays and other visits abroad, but receives back only £29 million for European nationals treated in the UK.
The new measures would see trusts offered a premium of 25 per cent on top of the tariff which they receive for providing treatment if they report that it was given to a citizen of one of the 27 other EU member states.
When patients from outside Europe are included, the NHS takes in only £73 million of the £500 million a year which is believed to be due - around 16 per cent of the total, he said.
Register for free to continue reading
Registration is a free and easy way to support our truly independent journalism
By registering, you will also enjoy limited access to Premium articles, exclusive newsletters, commenting, and virtual events with our leading journalists
Already have an account? sign in
Register for free to continue reading
Registration is a free and easy way to support our truly independent journalism
By registering, you will also enjoy limited access to Premium articles, exclusive newsletters, commenting, and virtual events with our leading journalists
Already have an account? sign in
Join our new commenting forum
Join thought-provoking conversations, follow other Independent readers and see their replies