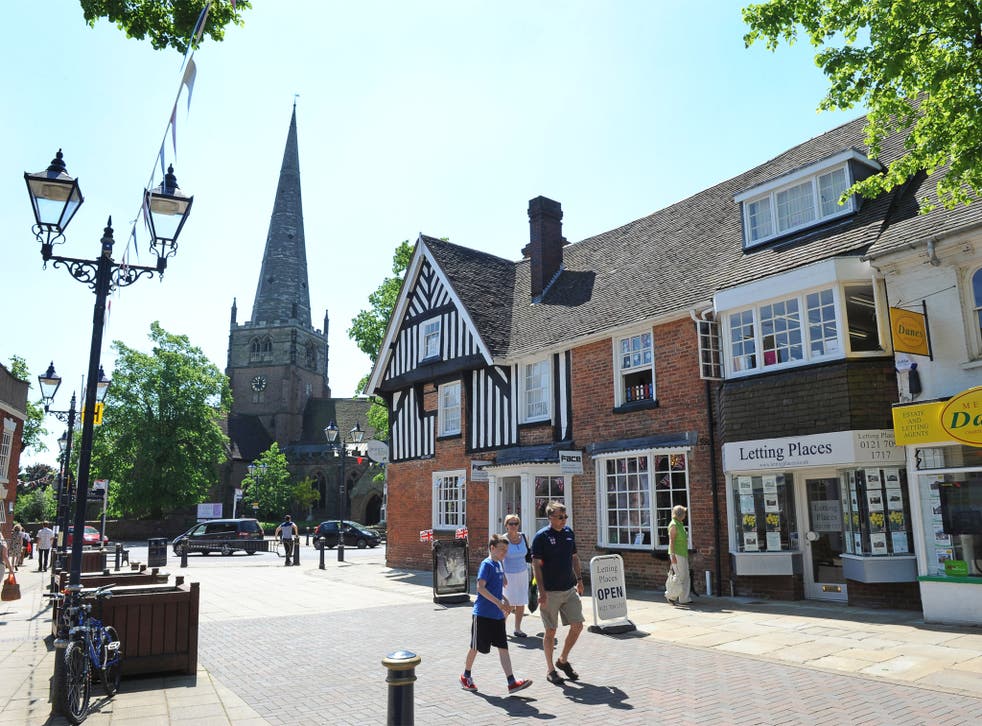 How town planning can make us thin and healthy: Architects show that more green space and less housing density has a clear effect on public health
It isn't hard to find an architect who will tell you that vast swathes of the British urban landscape are ugly, grey and unappealing – nor would you struggle to find people who agreed with them. But could it be that the look and the layout of our cities is actually bad for our health?
A new report from the Royal Institute of British Architects (RIBA) sets out to prove just that. Comparing rates of physical activity, childhood obesity and diabetes in England's nine most populous cities, RIBA have found a clear correlation between the amount of green space, density of housing in urban areas, and the overall health of the local population.
They have also pinpointed the cities with the best and worst records on these key public health measures. Birmingham has the fewest physically active adults, while Liverpool has both the largest number of obese children and the highest rates of diabetes.
On the other end of the spectrum, the citizens of Leeds can boast the highest levels of activity while Bristol has the best outcomes for obesity and diabetes.
All four cities have plenty of parks – but it is the quality as well as the quantity of green space that counts, if people are to be encourage to walk around their city, go for a run, or let their children play outdoors, RIBA said.
Their report, "City Health Check", found that the local authority (LA) areas which had the least physically active adults in the country – which included Birmingham's Sandwell district, Brent in London and Gateshead in Newcastle – had on average twice the housing density of the most active areas and also 20 per cent less green space.
The pattern repeats itself even within an individual city. 69 per cent of land in Birmingham's leafy suburb of Solihull is green space, and sure enough, the area has the lowest levels of childhood obesity of any LA in the study – 14.1 per cent. In Sandwell meanwhile, only a third of land is green space, and a quarter of children are obese.
A significant factor behind the gulf in health outcomes identified by RIBA is explained by the different levels of social deprivation across the country and across cities. Greener, leafier areas with a lower density of housing and well-maintained parks and pathways come with a house price premium. Richer people who can afford to live there can also afford to buy better food, pay for gym memberships and generally fit within a national pattern of health inequality – the richer the area you live in, the more likely you are to be healthy.
Nevertheless, it's clear that physical inactivity – a key cause of obesity and the catalogue of associated health risks – is a national problem. RIBA reports that 75 per cent of people living in the nine cities surveyed do not meet the Government recommended 150 minutes of physical activity every week. However, three quarters of people surveyed by RIBA said they could, in the right circumstances, be encouraged to do more walking each week.
Citing estimates suggest that the risk of heart disease, stroke and diabetes could be cut by 50 per cent if people were to meet physical activity targets, RIBA believes that the key to that encouragement – and an estimated £1bn saving for the health service – is better town planning.
"With responsibility for public healthcare devolved now from central Government to local authorities, it's vital that planners and developers take the lead in ensuring healthier cities," said. RIBA's president, Stephen Hodder. "At a time of austerity and increased concern with physical and mental wellbeing, it's shocking to discover that just by making public health a priority when planning cities, we can save the country upwards of £1bn annually through reduced obesity-related healthcare costs."
But it isn't simply the amount of green space a city has, according to his report, it's the way it uses it.
Architects and urban designers could play a key role in " mitigating the impact of a lack of green space and creating environments to support walking," the report states.
Their practical recommendations include the creation of attractive, safe walking routes between green spaces, to encourage people to travel around the city by foot. Parks and recreations grounds themselves can be made more attractive as places to walk, run and play through simple measures such as improving walkways, letting in light by lowering any high walls or heavy vegetation and installing more bins and benches.
Residents in different cities responded to RIBA's survey with different priorities. Citizens in Birmingham said they wanted more attractive parks and green spaces – and 40 per cent of those who weren't getting enough exercise said that such improvements would make them want to walk more. People in Manchester said that the aesthetics of the city's streets were more important, while in Sheffield and Liverpool, safer pathways linking key areas of the city with green spaces were emphasised.
Dr Ann Marie Connolly, director of healthy equity at Public Health England, the Government agency which oversees local authorities health interventions said that RIBA's recommendations were welcome.
"We support closer working of public health and planners at a local level. We have, for example, produced two briefings on obesity and the environment: one on the regulation of fast food outlets, particularly near schools and the other on encouraging physical activity and active travel. The briefings provide local authorities with ideas for action on how to reduce the adverse effects of the built environment on peoples' health," she said.
Tale of one city: Birmingham's big divide
Only separated by a few miles geographically, the districts of Sandwell in the north-west of Birmingham, and Solihull in the south-east, could not be further apart in terms of public health.
Nearly 26 per cent of children in Sandwell are obese – the highest level of any local authority area across England's nine largest cities. Nearby Solihull, meanwhile, has the best rates – only 14.1 per cent. Income-related health inequalities play their part, but a glance at the maps of each area immediately suggests another underlying reason for the difference.
Whereas 69 per cent of Solihull's land is taken up by green space, including two large parks, and only 3.4 per cent of the area is covered by housing, only one third of Sandwell's land is green space – parks are smaller and housing density is 7.8 per cent, double that of Solihull.
Sandwell Council said it would look closely at Riba's report, adding tackling childhood obesity through leisure programmes and improving access to green space.
Register for free to continue reading
Registration is a free and easy way to support our truly independent journalism
By registering, you will also enjoy limited access to Premium articles, exclusive newsletters, commenting, and virtual events with our leading journalists
Already have an account? sign in
Join our new commenting forum
Join thought-provoking conversations, follow other Independent readers and see their replies