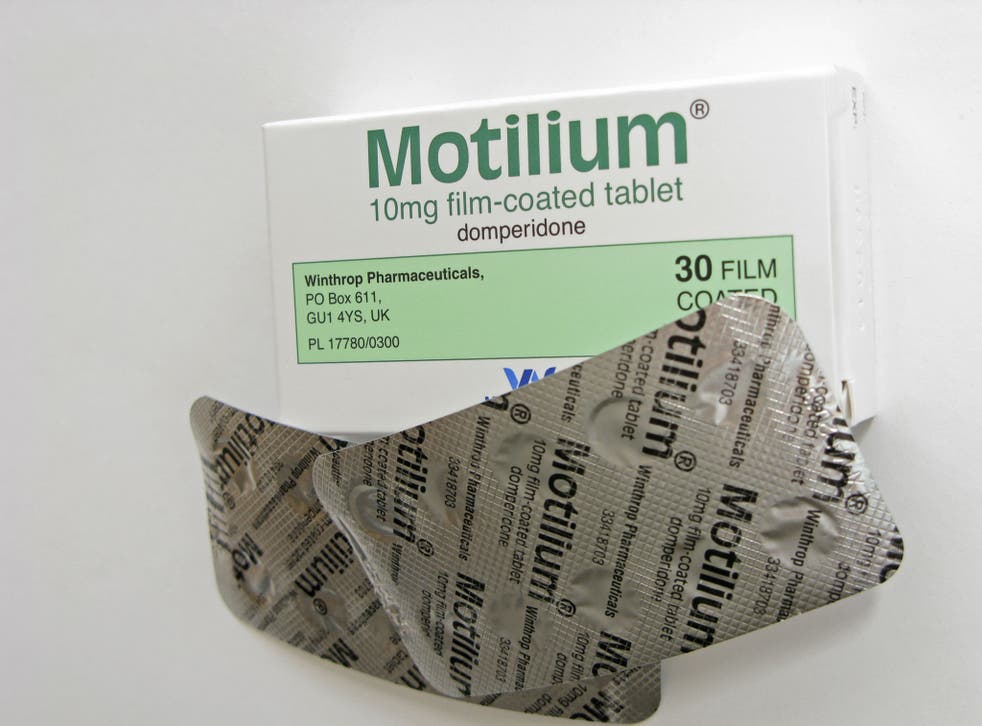 Independent journal calls for domperidone to be removed from market after medication linked to premature deaths
Patients taking drug sold under the brand name Motilium and used to treat nausea and vomiting 'would be better off either taking a placebo'
Margot Huysman
Wednesday 19 February 2014 19:42 Comments
Prescrire (Prescribe), an independent journal, is calling for the European Medicines Agency (EMA) to remove domperidone from the market, claiming its effectiveness is "too modest to justify the exposure to premature deaths."
Domperidone, sold under the brand name Motilium, and which can be found in pharmacies in the UK, is used to treat nausea and vomiting. The medication has been linked to cardiac rhythm issues. In 2004, the French Transparency Commission (Commission de la transparence française) noted it was of "modest effectiveness" as a treatment.
Patients taking domperidone would be better off either taking a placebo or turning to proton pump inhibitors such as Omeprazole in cases involving acid reflux, according to the the publication.
Prescrire is described as a "registered organism for the continuous training and evaluation of professional practices" on its website. The monthly publication which was set up in 1981 and which "aims to bring clear information to health professionals and, through them, patients about medicines and diagnostics and therapeutics strategies."
It cites Dutch and Canadian studies which found links between cardiac rhythm issues and antipsychotic drugs, a group which domperidone is linked to - in fact Prescrire refers to it as a "hidden" antipsychotic. Sudden deaths caused by cardiac problems are "1.6 to 3.7 times more frequent in the case of exposure to domperidone."
According to the publication's hypothesis, the number of sudden deaths connected to domperidone could have been between 25 and 120 in 2012 in France.
In 2011, the risk of sudden death was flagged up by the French Medicines Agency (Agence Nationale de Sécurité du Médicament et des Produits de Santé, ANSM) and the primary firm who market the product in France. the ANSM also warned against the unauthorised use of Motilium to ease breastfeeding.
According to the periodical, which used medical insurance data, approximately seven per cent of adults, which translates to about three million people, received a prescription for the medicine in France in 2012. It is estimated that 23 million people in France received at least one prescription for domperidone between 2003 and 2013.
Prescrire, which blacklisted the domperidone back in January, published on 19 February a paper calling for domperidone to be taken off the market completely.
In March 2013, a review of all domperidone-containing medicines was launched by the EMA at the request of Belgium. The Belgian Medicines Agency raised concerns over the safety of the medicine for patients with heart problems. Domperidone-containing medicines could be purchased over-the-counter in Belgium until the end of 2013, when a new law came into action, making it available only with a prescription.
The EMA has started a full review on the effects of domperidone, evaluating its benefit-to-risk ratio. The conclusion to the review is expected to be published in March of this year.
Register for free to continue reading
Registration is a free and easy way to support our truly independent journalism
By registering, you will also enjoy limited access to Premium articles, exclusive newsletters, commenting, and virtual events with our leading journalists
Already have an account? sign in
Join our new commenting forum
Join thought-provoking conversations, follow other Independent readers and see their replies