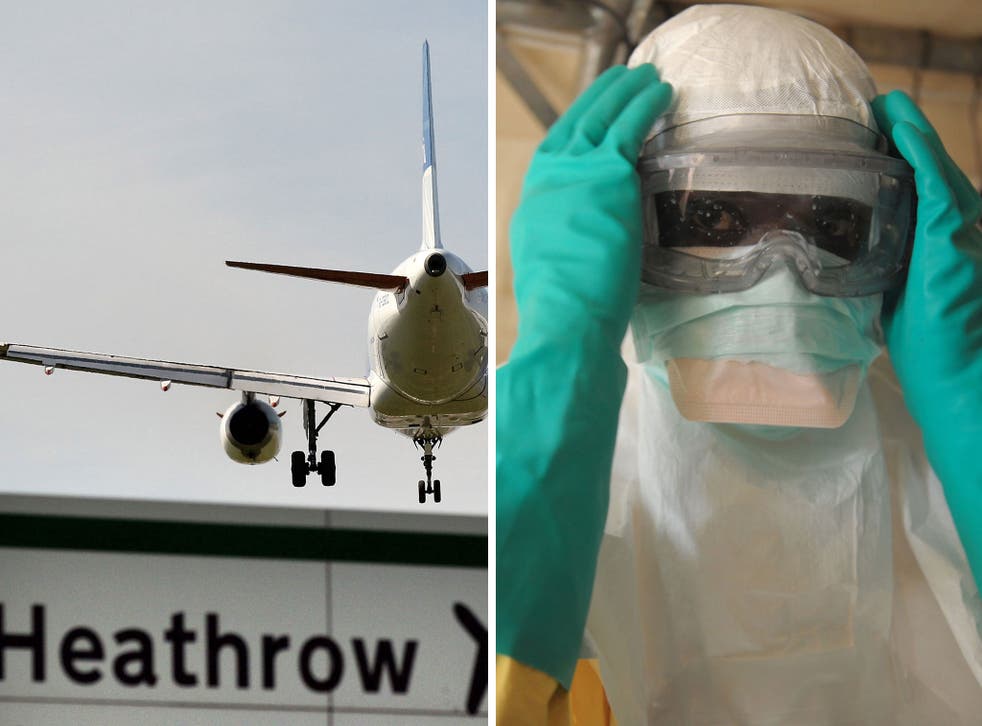 Ebola virus: UK health officials issue warning to doctors as experts admit the outbreak 'is not under control'
One of world's deadliest viruses – which makes people bleed from their eyes, nose and mouth – has now been flown out of main affected countries
Adam Withnall
Wednesday 30 July 2014 09:14 Comments
Public health experts have issued urgent warnings to British doctors and border officials to watch for signs of the Ebola virus arriving in the UK.
It comes after an infected man in Liberia was allowed to fly from disease-affected West African country to the major international travel hub of Lagos, Nigeria.
Experts from Public Health England (PHE) are meeting with representatives from the UK Border Agency and individual airports to make sure they are aware of the signs to look for and what to do if "the worst happens".
The disease, which can be fatal in as many as 90 per cent of cases, causes both internal and external bleeding and has no cure, has now killed more than 670 people across Guinea, Liberia and Sierra Leone.
Questions remain as to how Patrick Sawyer, whose sister had just died from Ebola and who had started presenting symptoms, was allowed to board multiple international flights.
Vomiting and suffering from diarrhoea, he flew from Liberia, had a stopover in Ghana, changed planes in Togo and then died in Nigeria – and experts say he could have passed on the disease to anyone sat near him or who used the same toilet on one of the planes.
Dr Brian McCloskey, director of global health at PHE, said his team had been briefing David Cameron on the status of the Ebola virus, which he described as the most "acute health emergency" currently facing Britain.
He told The Independent: "We have been talking to all levels of Government, including the Prime Minister's office, on the West Africa situation.
"When these things start to escalate we work with everybody to ensure they are aware of what needs to happen."
The UK's international airport staff were also being briefed on what they need to do if they suspect a passenger to be carrying Ebola, Dr McCloskey said.
And in the last couple of weeks PHE has used its national medical alert system to advise all UK doctors to "remain vigilant for unexplained illness in those who have visited the affected area".
Professor David Heymann, head of the Centre on Global Health Security at Chatham House, London and the chairman of Public Health England, was critical that an Ebola victim had been allowed to fly out of the affected zone.
He told The Independent: "There has been a lack of international cooperation as to the recommendations of what needs to be done [to stop the disease spreading] – and much greater collaboration is needed.
"But at the same time its false to say that border controls can stop infections from spreading – you can be not showing symptoms or even travel when you have symptoms and keep them hidden, as has happened with doctors in the past."
Professor Heymann, who worked as an epidemics expert in sub-Saharan Africa during the first ever Ebola outbreaks in the 1970s and '80s, said this would not be the first time the virus had reached a major European aviation hub.
But he said the UK was "well-prepared" to deal with new infectious diseases - right down "from the Prime Minister to local authorities".
"We should be watching out for this, as we should be watching out for all emerging infections. The UK and other EU countries are on constant alert, and many exercises are carried out to know what to do if Ebola does emerge. The UK has prepared for this scenario."
Dr McCloskey said that because it is not respiratory and airborne, the risk of Ebola being passed on within the confines of a plane were not "on the same scale as pandemic flu".
In the case of Mr Sawyer, someone would have had to get his vomit or saliva on a sore, cut or in their eyes - or come into contact with his bodily fluids after using the same toilet - in order for the disease to be passed on.
But he added that people needed to be aware of the "worst case scenario" where several people ended up landing in Britain having contracted the virus.
In that case, he said, we would still be unlikely to suffer an outbreak on the same scale as Sierra Leone, Liberia or Guinea because of established containment and contact tracing systems - isolating anyone who may pass the disease on further.
"This is easily the biggest Ebola outbreak we have ever seen," Dr McCloskey nonetheless warned. "And it is clearly not yet under control."
Common Ebola symptoms include:
Fever
Headache
Joint and muscle aches
Weakness
Diarrhoea
Vomiting
Stomach pain
Lack of appetite
Register for free to continue reading
Registration is a free and easy way to support our truly independent journalism
By registering, you will also enjoy limited access to Premium articles, exclusive newsletters, commenting, and virtual events with our leading journalists
Already have an account? sign in
Join our new commenting forum
Join thought-provoking conversations, follow other Independent readers and see their replies