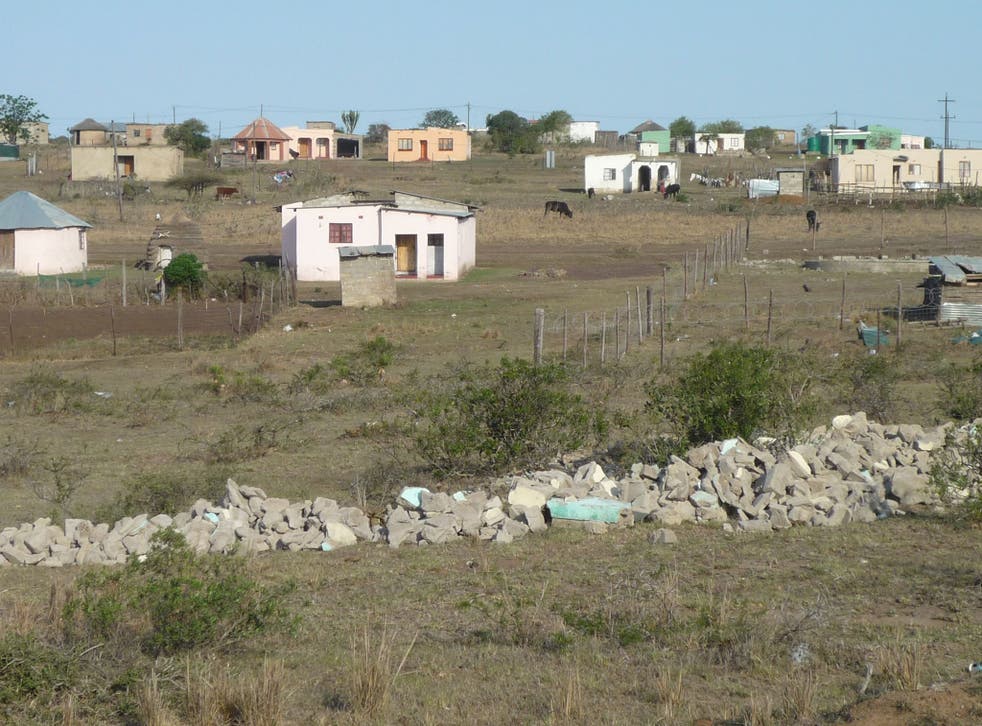 Is this the silver bullet at last? A new treatment regime could stall Africa's Aids epidemic
In the fifth and final part of his 3,000-mile trek through the Aids-scourged continent, Jeremy Laurance finds hope; but it all depends on the patients...
Day Five: Kwa Zulu Natal, South Africa
The Phakama Tavern stands isolated in a cinder car park on a hillside, a grimy beacon to the pleasures of alcohol. Around it, concrete shacks, each with its own fenced compound, stretch across the scrub-covered hills to the horizon.
There is no furniture of any kind inside. Half-a-dozen figures stand or sit on the bare concrete floor in the gloom, bottles of Castle beer around them. Behind the counter, the bartender is imprisoned by a heavy iron grille.
As I enter, a man with silver earrings levers himself unsteadily to his feet, grasps my hand and shakes it vigorously. "Can you get me a job?" he asks, thickly.
The coastal province of Kwa Zulu Natal (KZN), where 60 per cent of the population depend on government hand-outs, has the highest rate of HIV in South Africa, itself the country with the highest HIV rate in the world. More than five and a half million people are infected – and in KZN the virus has spread to more than one in four (29 per cent).
But the province now has a new, more optimistic, claim to fame – it is also the first place in the world to demonstrate that by rolling out treatment with anti-retroviral drugs (ARVs) to those infected, it is possible to cut the rate at which the virus spreads through the population.
The drinkers at the Phakama Tavern in Hlabisa, a mainly rural area with a 90,000 population, have a 38 per cent reduced risk of contracting HIV if they live in a community where treatment coverage is high (at least four out of 10 people with HIV on ARV drugs) compared with those communities where coverage is low (fewer than one in 10 of those infected on drugs).
The discovery by Frank Tanser and colleagues from the Africa Centre, a couple of kilometres from the Phakama Tavern, published in Science last March, created ripples around the world. It followed the landmark 2011 trial in The New England Journal of Medicine (NEJM) showing that treating couples where only one sexual partner had HIV reduced transmission to the other by 96 per cent. The question the NEJM trial raised was: could a similar effect be achieved across a whole population? Dr Tanser's work proved that it could.
That in turn raised an extraordinary prospect – the possibility of halting the Aids epidemic.
"We were so excited when we saw the results. The response has been overwhelmingly positive," Dr Tanser said, sitting in the Africa Centre's airy building, where sparrows pick crumbs from the tables and an owl has taken up residence in the ceiling – to the consternation of the more superstitious African staff. "It's the first time that anyone has shown in the real world in sub-Saharan Africa that treatment reduces the risk of acquiring HIV infection."
Now other groups are racing to confirm the findings. On these studies global hopes of an end to the Aids epidemic rest.
In a dusty, windblown field, bordered by a sugar cane plantation and a copse of eucalyptus trees, the first attempt is under way a few kilometres from the Africa Centre. Launched in March 2012, the Treatment as Prevention (TasP) trial has begun to enrol 10,000 patients at mobile clinics such as this one at Egedeni (with a further 12,000 to follow next year, subject to funding) who will be offered testing and immediate treatment with anti-retroviral drugs.
Typically, this will mean that patients start treatment while they are still in their 20s and at their most sexually active, (sooner than in the Tanser trial), with a potentially greater effect in halting the spread of the virus.
But there are huge challenges. It is one thing to prescribe a pill that could end Aids. It is another to identify those who are infected and persuade them to take it. Stigma, long queues at clinics, and travel distances all act as barriers
Nonhlanhla Okesola, standing beside the vehicles that serve as consulting rooms for the Egedeni mobile clinic which she manages, said: "It could be we will have a problem with adherence. It is a challenge for any treatment. When patients feel well they stop taking it."
Five patients were sitting on plastic chairs under a canvas that flapped in the hot wind as she spoke. In the Tanser study, one in five defaulted during its seven-year course. More recent figures from the Africa Centre suggest that as the numbers on treatment have grown, adherence has declined – possibly as a result of growing pressure on the clinics.
Collins Iwuji, project co-ordinator for the TasP trial, said that early indications were good, with 80 per cent of patients accepting an HIV test.
"We have an opportunity now to bring down new infections so they are less than the numbers going on treatment. We have to try. Otherwise you are constantly chasing something you can't catch."
An even bigger test of the treatment-as-prevention approach began last month. The $133m study at 21 sites across South Africa and Zambia involves almost one million people who will be offered testing at home and immediate treatment with ARVs.
Helen Ayles, director of the research group Zambart, in Lusaka, who leads the trial called PopART (Population Effect of Antiretroviral Therapy) in Zambia, has made meticulous preparations. But she is steeled for failure.
"I am mildly sceptical, which I think is appropriate for a researcher in my position. The crucial factor is the level of coverage – can we persuade enough people to buy into this?"
The trial is being run from existing government clinics (unlike that in Kwa Zulu Natal) so that if it works it can be easily adopted. But at the Chipata Health centre in Lusaka on a Monday morning – already treating 19,000 patients with ARVs – the scale of the challenge is apparent. Patients jammed every clinic, every bench, every corridor; exhausted mothers clutching their babies, sickly children, hollow-eyed youths.
I joined community workers going from house to house to explain what was to happen. The prospect of home testing for HIV was welcomed – but people were sceptical whether the service would last. They have seen too many come and go. At the Chipata community centre, two dozen neighbourhood representatives, mopping their brows in the heat, said that, with proper explanation, the scheme could succeed.
But when I asked what would happen if, during a home visit, a woman tested positive and her husband negative, doubts surfaced. Many men would be angered by such an outcome.
"There is a loss of trust. Counsellors need to be there," said a woman wearing a yellow "Stop TB" T-shirt.
Sitting beside me, Dr Kwame Shanaube, study manager, whispered: "How do you sensitise a whole population? We have a limited number of people we can hire. But we believe this is definitely the way to go."
Dr Clement Chela, director general of Zambia's National Aids Council, backed the trial. New infections have come down but are still running too high. "We have to switch this off," he said.
But he has personal experience of the difficulties. "My own niece died of Aids after she stopped taking the drugs. She was still in her 30s, she had a child, she had money and family support. She was a treatment advocate – unfortunately she was not able to apply those things to herself."
"To keep people on treatment, we have to involve everyone. The community must come in, the chiefs must come in, the neighbours must come in, to try to sustain this."
Almost 500 community health workers have been trained to roll out the message across Zambia. The trial is due to run for five years but Dr Ayles said she would know in as little as six months whether the approach would work. It will be a critical moment for the fight against HIV.
"When we go out into the community in the first sweep we will see what happens. We will have some big answers to whether we can do it or not."
The writer's trip was funded by a no-strings grant from the European Journalism Centre
Community is the key
"It is a huge challenge to get people who feel well to take drugs," says Ashraf Grimwood, the chief executive of Kheth'Impilo, an HIV charity in Cape Town.
His own results show that almost 80 per cent of patients are still in treatment after five years if they have the support of a community worker. But funding restrictions mean only a fifth of clinics can afford to hire such workers.
Ntontle Nomnkelo, 34, is testament to their value. In July, the mother of two was terminally ill with tuberculosis-meningitis, a complication of HIV. Today, sitting in her sister's tiny breeze-block bungalow, surrounded by corrugated iron shacks in the Kraaifontein suburb of Cape Town, she is subdued but well. She has put on 4kg since July after a community worker from the nearby Wallacedene Primary Health Clinic managed to get her stabilised, on drugs.
"When people test positive they are shocked by the result and can't absorb the information," says district manager Michael Phillips. "That is when we send a community worker."
Register for free to continue reading
Registration is a free and easy way to support our truly independent journalism
By registering, you will also enjoy limited access to Premium articles, exclusive newsletters, commenting, and virtual events with our leading journalists
Already have an account? sign in
Register for free to continue reading
Registration is a free and easy way to support our truly independent journalism
By registering, you will also enjoy limited access to Premium articles, exclusive newsletters, commenting, and virtual events with our leading journalists
Already have an account? sign in
Join our new commenting forum
Join thought-provoking conversations, follow other Independent readers and see their replies