IVF test could more than double success rate to over 80 per cent
The current success rate of the treatment stands at around 35 per cent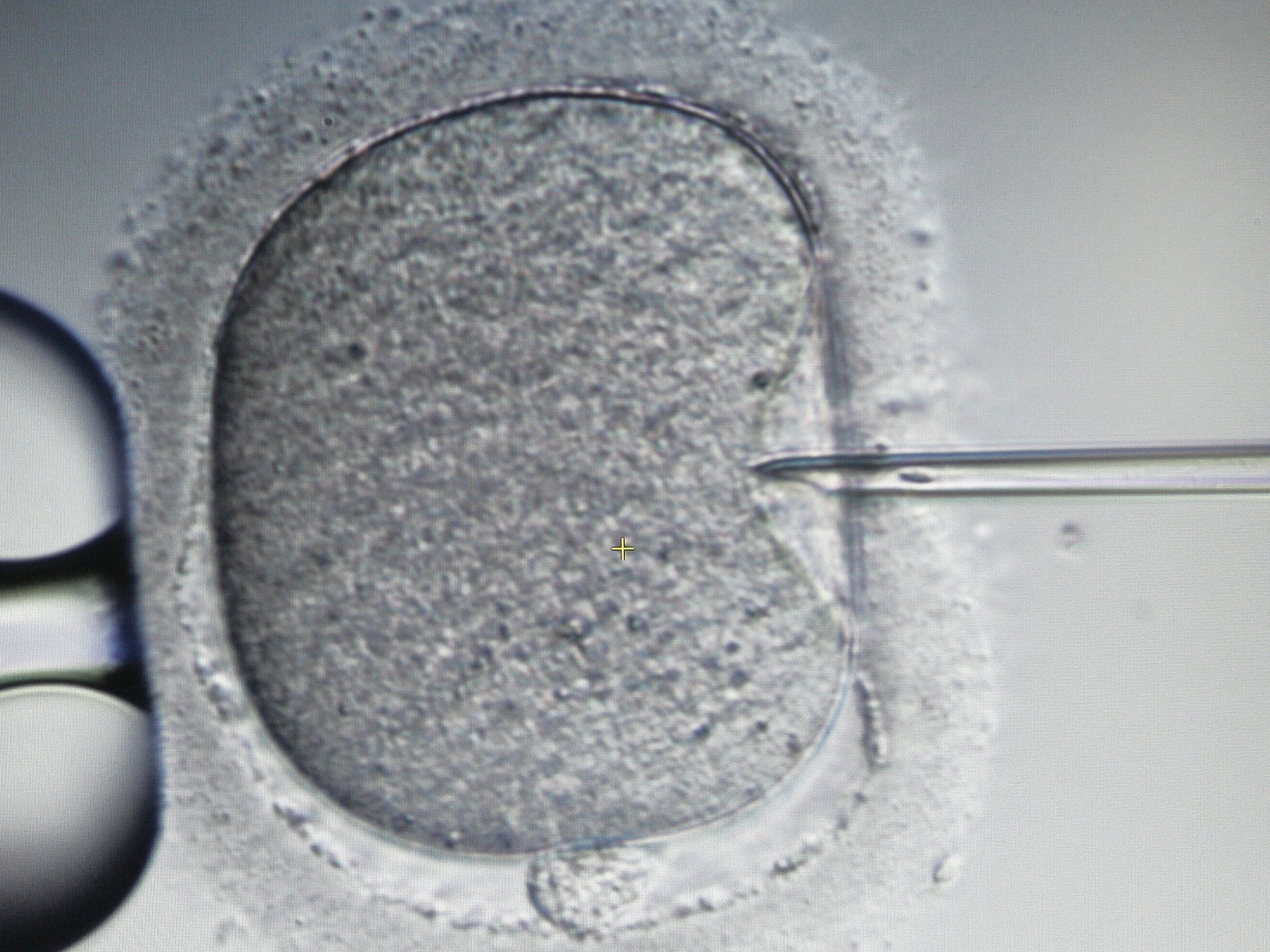 A new test developed by British scientists could more than double the success rate of IVF treatment to 80 per cent, it is claimed today.
Experts have discovered that the levels of a particular type of DNA in a developing embryo are a crucial factor in whether a pregnancy will be successful and a simple test can be used to select the most viable embryos.
The development has the potential to revolutionise the success rate of fertility treatment, which currently stands at about 35 per cent of IVF cycles resulting in a pregnancy. Some 50,000 women undergo IVF treatment in Britain every year.
Clinical trials conducted in New York using the new technique, which was developed by researchers at Oxford University, resulted in a pregnancy success rate of around 80 per cent.
Professor Dagan Wells, the Oxford specialist who led the research team, told the Press Association that the test could be hugely beneficial for would-be parents who often face multiple disappointments and considerable expense going through repeated IVF treatment cycles.
The new technique focuses on mitochondria, the part of the cell that is its main energy provider and plays a key role during the development of an embryo.
The Oxford researchers, who have been shortlisted for two prizes in the field of fertility research as a result of their work, found that some embryos have excessive levels of mitochondrial DNA - or mtDNA - and will consequently not produce a viable pregnancy.
Prof Wells said those undergoing IVF treatment already faced an uphill struggle because the majority of embryos created in the process of harvesting eggs and artificially fertilising them with sperm have "no chance at all" of becoming a baby.
The success rate for IVF is rising by about one per cent a year but Prof Wells said that progress was "painfully slow" and woman who, for example, produces eight embryos may have only one that will result in pregnancy.
He said: "You are potentially putting your patient through eight embryo transfers before you get to the one embryo that is viable. For the patient repeatedly having negative pregnancy tests, that's brutal.
"Any test of the embryo that will result in a baby is therefore highly desirable."
Health news in pictures
Show all 40
The new test, which could be available in the UK from next year, involves embryos known as blastocysts that have been grown in the laboratory until they are five days old.
At this time, embryos are made up of around 100 cells, of which five are removed for testing. Scientists first test to see if the embryos are chromsomally abnormal - a flaw which affects about half of all embryos.
Of the resulting embryos, a third will not implant and it is this phenomenon that the Oxford scientists have been examining.
Prof Wells said: "What we have found is that a significant number of embryos have unusually high levels of mitochondrial DNA and have too much of it. Having mtDNA above a certain threshold seems incompatible with implantation of an embryo."
Prof Wells said it is still unclear why the embryos produce too much mtDNA. New work will try to find out why this is.
But the new technique allows scientists to pinpoint embryos with levels of mtDNA below a certain threshold and implant those, resulting in the very high success rates seen in the New York trial.
He said he hoped that at some point in the future, chromosomal testing plus the new mtDNA test would be available on the NHS rather than just through private IVF clinics, where it can cost a minimum of £2,000.
Prof Wells said: "It is very high benefit."
The research has been shortlisted for the main prize at the American Society for Reproductive Medicine (ASRM) conference being held this week in Baltimore.
Stuart Lavery, consultant gynaecologist and honorary senior lecturer in reproductive medicine at Imperial College London, said: "This important research sheds more light on our understanding of early human embryo development. IVF remains a very inefficient process, with many embryos generated not leading to a pregnancy."
Join our commenting forum
Join thought-provoking conversations, follow other Independent readers and see their replies