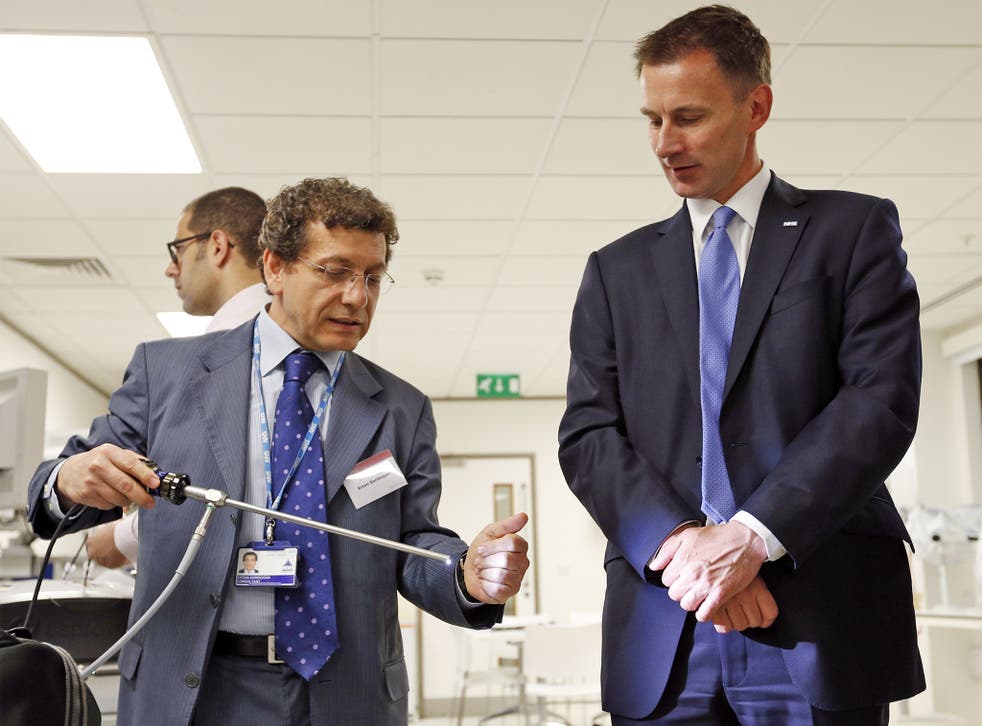 Jeremy Hunt promises whistleblowers 'safe spaces' and legal cover
 Mr Hunt will set out new measures, including the creation of an independent Healthcare Safety Investigation Branch and legal protection for whistleblowers
NHS whistleblowers are to be given "safe spaces" so that they can speak up with legal protection, the Health Secretary, Jeremy Hunt, will announce.
This follows the embarrassing resignation of Dame Eileen Sills, who was due to start next month as the national guardian to support NHS staff worried about patient safety.
The post had been created by Mr Hunt in the wake of a report by Sir Robert Francis QC, into the scandal at Mid Staffordshire hospital, in which he said there was a "serious problem" about the protection of whistleblowers.
Dame Eileen planned to combine the role with her jobs as chief nurse at Guys and St Thomas' Hospital in London, but relatives affected by the scandal objected to it being part-time.
Speaking at a conference of experts on patient safety this morning, Mr Hunt will set out new measures, including the creation of an independent Healthcare Safety Investigation Branch and legal protection for whistleblowers.
He will also say that from April 2018, all hospital deaths will be independently reviewed.
"It is a scandal that every week there are potentially 150 avoidable deaths in our hospitals and it is up to us all to make the need for whistleblowing and secrecy a thing of the past as we reform the NHS and its values and move from blaming to learning," he will say.
"Today we take a step forward to building a new era of openness."
Register for free to continue reading
Registration is a free and easy way to support our truly independent journalism
By registering, you will also enjoy limited access to Premium articles, exclusive newsletters, commenting, and virtual events with our leading journalists
Already have an account? sign in
Register for free to continue reading
Registration is a free and easy way to support our truly independent journalism
By registering, you will also enjoy limited access to Premium articles, exclusive newsletters, commenting, and virtual events with our leading journalists
Already have an account? sign in
Join our new commenting forum
Join thought-provoking conversations, follow other Independent readers and see their replies