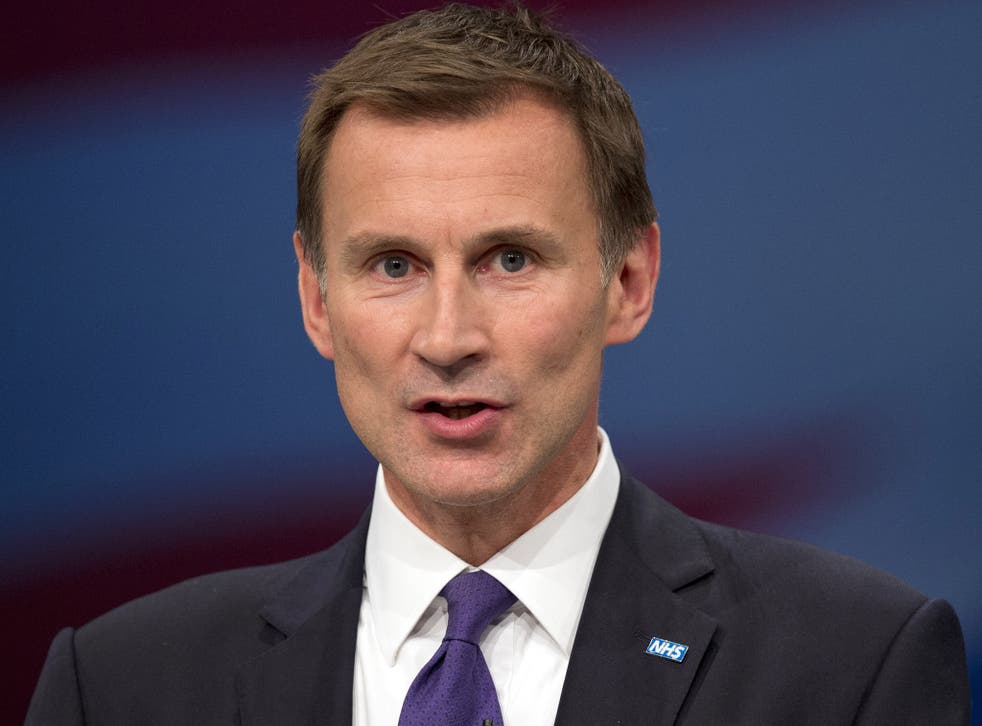 Jeremy Hunt told sugar tax would cut childhood obesity as review Government tried to suppress is published
Review that the Government tried to suppress is finally published
Charlie Cooper
Tuesday 20 October 2015 21:11 Comments
Jeremy Hunt has been told a sugar tax will help cut childhood obesity, it has emerged, after a senior public health official went public with the contents of a report the Government has refused to publish.
Crackdowns on price promotions and advertising of junk food to children – including the use of cartoon characters like the 'Coco Pops' monkey – should also form part of a radical plan to bring down the UK's soaring obesity rates and protect children's health, Public Health England's (PHE) advice to Government says.
Details of a major evidence review were revealed to MPs by PHE's director of diet and obesity, Dr Alison Tedstone on 20 October, after weeks in which officials at Public Health England and the Department of Health had declined requests to publish the findings.
Video: Jamie Oliver on sugar tax
The Government has previously resisted calls for a tax on sugary drinks or other products, and the Health Secretary has faced allegations of political interference to delay the publication of PHE's evidence.
Appearing before the Health Select Committee on 20 October, Dr Tedstone said the review had concluded that "universally all the evidence shows that tax does decrease purchases"
"PHE does see there is a role for a fiscal approach in reducing sugary drink consumption. The higher the tax increase the greater the effect," she said. The evidence review, said to be the most comprehensive carried out anywhere in the world, highlights evidence from Mexico, where a soft drinks tax has led to a six per cent reduction in purchases.
"The point of the tax is to nudge people away from purchasing these things towards purchasing things that are more consistent with a healthy balanced diet," Dr Tedstone said.
She said other measures to bring down sugar consumption could be even more effective.
"We think there could be bigger impacts from getting a handle on promotions, and of getting a handle on the deep, consistent advertising our children are exposed to on unhealthy foods," she said.
Promotions and discounts were more commonly used to sell junk food than any other products, she said, adding that PHE was calling on the Government to "restrict and rebalance" their use. Sponsorships of sports events by soft drinks companies should be targeted, as should the use of "sports heroes" to advertise junk products. Limitations on junk food advertising on TV meanwhile were "not deep enough" she said. "The evidence is that things like those Coco Pop monkeys do engage children and affect food preference and choice," she said.
The amounts of sugar in food and drink

Show all 6
Appearing before the same committee less than 24 hours earlier, Duncan Selbie, PHE's chief executive, had been accused of setting a "dangerous" and "patronising" precedent by refusing to publish the report. He told MPs there had been "no conspiracy" around the failure to publish and said he had reached "an agreement" with the Health Secretary, Jeremy Hunt to publish the evidence review at the same time as PHE's advice to Government, which is by convention private until the Government has published its own plans.
Health committee chair Dr Sarah Wollaston has said the failure to publish could "cause immense" damage by blocking independent experts from seeing the full evidence and contributing to the Government's childhood obesity reduction strategy, which is due to be published in the coming months.
Dr John Ashton, president of the independent Faculty of Public Health told The Independent: "It's very difficult to see what reason there could be for this being withheld, other than a political reason.
"It's essential that it should be in the public domain. It's important for Public Health England to be seen to be uninfluenced by Government and able to play an honest broker on these public health matters," he said.
Dr Wollaston said that the Health Committee and wider public still needed to see the full evidence behind PHE's advice. "Everybody we've asked whether they want to see the evidence base has said they do.
"It is an odd paradox that you're told you can't have the document because you can't be told what advice is to Government, but at the same time you have somebody coming to committee saying what the advice to Government is, but not able to publish the full evidence base."
Giving evidence to the Health Committee on 19 October, chef and campaigner Jamie Oliver said that his discussions with David Cameron had led him to believe a sugary drinks tax had had not been ruled out, and called for the Prime Minister to be "brave" and introduce the measure.
The UK has some of the highest childhood obesity rates in Europe, with one in five children obese by the time they leave primary school. Government nutritionists recently recommended we cut our sugar consumption in half, amid growing evidence of its contribution to illness such as diabetes.
The Department of Health spokesperson said: "This Government is committed to turning the tide on childhood obesity. That is why we are developing a comprehensive strategy looking at all the factors, including sugar consumption, that contribute to a child becoming overweight and obese. This will be published in the coming months."
Register for free to continue reading
Registration is a free and easy way to support our truly independent journalism
By registering, you will also enjoy limited access to Premium articles, exclusive newsletters, commenting, and virtual events with our leading journalists
Already have an account? sign in
Join our new commenting forum
Join thought-provoking conversations, follow other Independent readers and see their replies