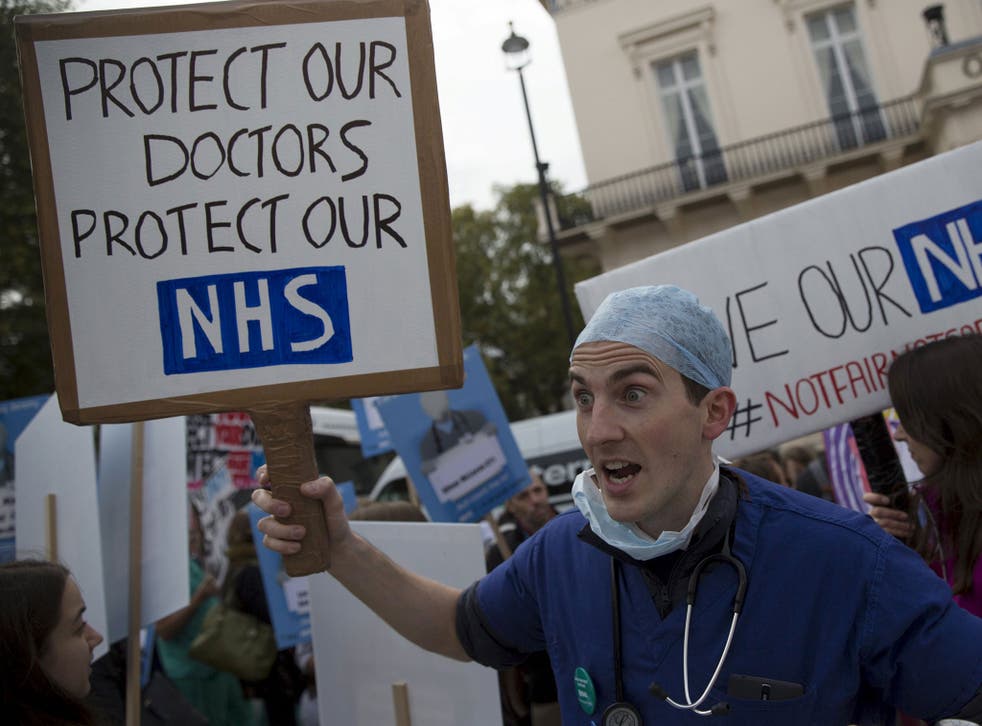 Junior doctors offered 11% pay rise as Jeremy Hunt bids to avoid NHS strike
Thousands of doctors marched through London last month to protest against the planned contract changes
Health secretary Jeremy Hunt is set to try to ward off strike action from junior doctors at one of the NHS's busiest times of the year, by offering major concessions.
Furious at his threat to impose a new contract on them, the junior doctors committee of the British Medical Association (BMA) is preparing to ballot its members about potential walkouts tomorrow.
Were England's 45,000 trainee doctors to strike, it would probably affect a wide range of NHS services and potentially lead to the cancellation of planned operations.
But in a bid to avert industrial action, Mr Hunt is expected to offer significant concessions. Although details were unclear, it is understood the new offer might remove a clause that would have re-classified Saturdays as ordinary working days with no extra pay.
In numbers: the NHS crisis

Show all 7
Under the previous proposals, juniors were offered an increase in basic pay of up to 15 per cent in exchange for losing out-of-hours pay for Saturdays and weekday evenings. The new proposals will emphasise that the increase in basic pay will be on average 11 per cent.
The BMA has also expressed serious concerns around the loss of safeguards that ensure junior doctors are not over-worked. It is thought Mr Hunt's new offer could give new powers to the Care Quality Commission, the NHS regulator, to ensure this does not happen.
The has described the current junior doctor contract arrangements as "outdated" and "unfair".
Ministers drew up plans to change the contract in 2012 but the talks broke down last year with doctors protesting against proposals that would see evenings and weekends counted as "regular working hours."
With no sign of the stalemate ending, the Government indicated that it would impose the new contract in England next year.
The BMA had warned the deal could mean pay cuts of up to 30 per cent, with "normal hours" reclassified as being from 7am to 10pm, Monday to Saturday.
Mr Hunt has claimed that the BMA was "misleading" it members of over the planned reforms and said he could understand how thousands of medics had been convinced to oppose the contract.
Thousands of doctors marched through London last month to protest against the planned contract changes.
Were the junior doctors to back a withdrawal of labour then BMA plans would see trainees providing only emergency care.
The union has also warned that it would hold "a withdrawal of all junior doctors' labour unless Mr Hunt makes further concessions.
Mr Hunt will also promise the average working week of 48 hours will remain the same – and say the top limit would be brought down from 91 hours to 72.
Responding to reports of new concessions, Dr Johann Malawana, chair of the BMA's junior doctor committee said:
"Junior doctors need facts, not piecemeal announcements and we need to see the full detail of this latest, eleventh hour offer to understand what, in reality, it will mean for junior doctors."
Register for free to continue reading
Registration is a free and easy way to support our truly independent journalism
By registering, you will also enjoy limited access to Premium articles, exclusive newsletters, commenting, and virtual events with our leading journalists
Already have an account? sign in
Register for free to continue reading
Registration is a free and easy way to support our truly independent journalism
By registering, you will also enjoy limited access to Premium articles, exclusive newsletters, commenting, and virtual events with our leading journalists
Already have an account? sign in
Join our new commenting forum
Join thought-provoking conversations, follow other Independent readers and see their replies