Junior doctors strike: Jeremy Hunt calls in senior medical leaders for talks as industrial action looms
Pressure is mounting on the Health Secretary to avert what is likely to be the biggest doctors' strike since the 1970s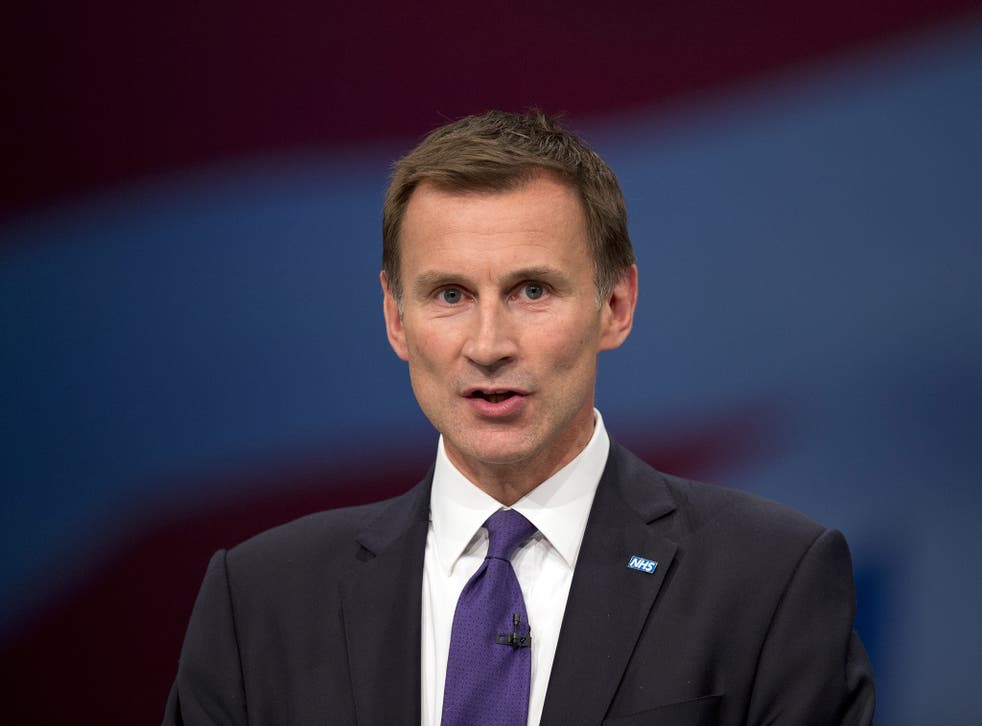 Jeremy Hunt has called in Britain's most senior medical leaders for talks on looming industrial action by junior doctors.
The heads of the respected medical royal colleges have begun being called for meetings with the Department of Health.
With junior doctors currently being balloted for strike action, pressure is mounting on Mr Hunt to avert what is likely to be the biggest doctors' strike since the 1970s.
Dr Jane Dacre of the Royal College of Physicians and Dr Neena Modi of the Royal College of Paediatricians and Children's Health were among those meeting the Health Secretary on Friday, in what officials said were talks aimed at assessing the impact of any strike action on the NHS.
However, Mr Hunt faced accusations from junior doctors that he was trying to put pressure on the royal colleges to publicly discourage a strike. The royal colleges, unlike doctors' union the British Medical Association (BMA), do not typically intervene in industrial disputes.
However, a number of them have already warned over the patient safety implications of a new contract which it is feared could lead to longer hours and tougher pay settlement for many doctors.
The heads of the 22 Royal Colleges are due to meet shortly before the ballot closes, to discuss their stance on possible strike action.
The Department of Health strongly denied suggestions on social media made by the BMA's junior doctor committee chair, Dr Johann Malawana, that the colleges were "effectively having their royal charters threatened if they don't back the government".
The Health Secretary does not have the power to revoke a royal charter, a spokesperson said, branding the claim "absolutely ridiculous".
Strike ballots have been sent to around 40,000 junior doctors, with an 18th November deadline. Any industrial action would involve a walk-out from all but emergency work, but the union has said it may ballot on a full walkout at a later date. Support for a strike among junior doctors is thought to be widespread, with the BMA refusing to return to negotiations until the Government removes its threat to impose a contract. Senior doctors are also understood to be losing patience with Mr Hunt, whose handling of the junior doctor dispute has led to what one senior medic called "a complete breakdown in trust".
However, the extent of political support for a strike remains unclear.
Senior Labour MP Chuka Umunna said on Thursday that while he would not condemn junior doctors, he did not support a strike. Jeremy Corbyn, who many junior doctors will look to for backing, has said he will wait for the result of the ballot before speaking out on the issue.
"Junior doctors are in the process of deciding democratically what industrial action they would be prepared to take. It is not for politicians to interfere in that process, but it is clear the government is in a crisis of their own making," Mr Corbyn's spokesman told The Independent.
Register for free to continue reading
Registration is a free and easy way to support our truly independent journalism
By registering, you will also enjoy limited access to Premium articles, exclusive newsletters, commenting, and virtual events with our leading journalists
Already have an account? sign in
Register for free to continue reading
Registration is a free and easy way to support our truly independent journalism
By registering, you will also enjoy limited access to Premium articles, exclusive newsletters, commenting, and virtual events with our leading journalists
Already have an account? sign in
Join our new commenting forum
Join thought-provoking conversations, follow other Independent readers and see their replies