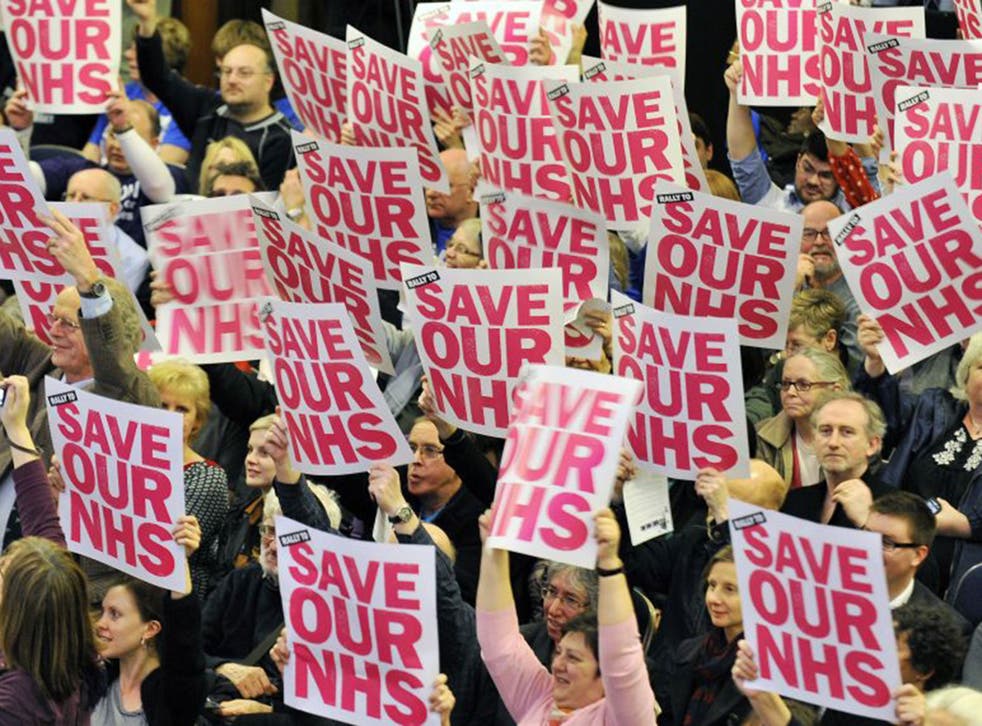 Labour conference: NHS could face 'total crisis' under Ed Miliband without urgent new funding, doctors warn
Doctors say 'significant, immediate injections of funding' are needed to address the deficit. Health Correspondent Charlie Cooper reports
Ed Miliband has been warned he could become the Labour Prime Minister who lets the NHS descend into "total crisis", if he does not introduce "significant, immediate injections of extra funding" for the health service.
In a letter delivered to Mr Miliband on the eve of the Labour Party conference, which opens today, doctors leading the National Health Action Party (NHA) urged a temporary rise in income tax to plug the NHS's growing funding gap.
Figures released at the end of last week revealed that the NHS has worked up a £500m deficit in the first three months of this financial year. Two-thirds of hospitals are in the red, squeezed by pressure to recruit extra staff to cope with unprecedented patient demand.
Analysts believe the looming NHS financial crisis could hit before the May 2015 election, potentially forcing emergency bailouts from the Treasury. Under current spending plans, the gap between the cost of NHS services and the funding allocated to the health service is estimated to be as large as £30bn by 2021.
The letter, signed by Dr Clive Peedell and Dr Richard Taylor, co-leaders of the NHA, said that spending would have to increase by 4 per cent a year to keep up with demand. Ed Balls, the Shadow Chancellor, has ruled out extra taxes to fund the NHS, and indicated that a Labour government would stick to the current government's spending plans in the first year of the next Parliament, but has not excluded increased spending after 2015/16.
However, last week's figures, alongside evidence of declining NHS performance, indicate that the health service may need extra cash sooner. The influential think-tank the King's Fund has cautioned that an NHS financial crisis is inevitable as things stand, and that the "crunch" may come before next year's election.
Richard Murray, the director of policy at the fund and a former Health Department economic adviser, warned last week that "patients will bear the cost" of a failure to act on the deficit, as hospitals would be forced to cut staff, increasing waiting times and reducing care.
In their letter, Dr Peedell and Dr Taylor urge Mr Miliband to overrule those within his party urging restraint on NHS funding.
"The NHA Party believes that without significant, immediate injections of extra funding the NHS, already reeling from five years of frozen spending and rising pressures, will run into total crisis under Labour's watch," they write. The letter also urges Labour to free up funds for the NHS by a crackdown on tax avoidance, coupled with a temporary rise in income tax.
Labour is putting the NHS centre stage at this week's conference, with Shadow Health Secretary Andy Burnham expected to lay out plans for its long-term future on Wednesday.
However, without concrete spending commitments for 2015-16, the party's plans may be met with scepticism by NHS managers and frontline health professionals who say that the NHS cannot wait another year. Key waiting times targets are being consistently missed in A&E and cancer care and for routine operations.
At an NHS England board meeting held at the end of last week, senior managers expressed particular concern at the state of A&E performance. Pressures driven by a lack of available beds in hospitals, which creates delays in admitting patients from A&E departments, have led to targets being missed in spring and summer when activity is usually lower. Unusually low rates of winter flu last year helped the NHS to avoid long queues at A&E, but there are fears that this year's flu season may be more difficult.
In Wales, which has a separate healthcare system, the Labour government has come under fierce criticism over its handling of the NHS. Health spending in Wales was cut by 1 per cent between 2010 and 2013, a decision which analysts say has contributed to a deterioration in the quality of services.
The cutbacks were blamed last week for the death of a 73-year-old grandmother in an ambulance queuing outside A&E. Sonia Powell was taken to the Morriston Hospital in Swansea on Wednesday after suffering a suspected heart attack, but died in the ambulance while waiting to be admitted.
Join our new commenting forum
Join thought-provoking conversations, follow other Independent readers and see their replies