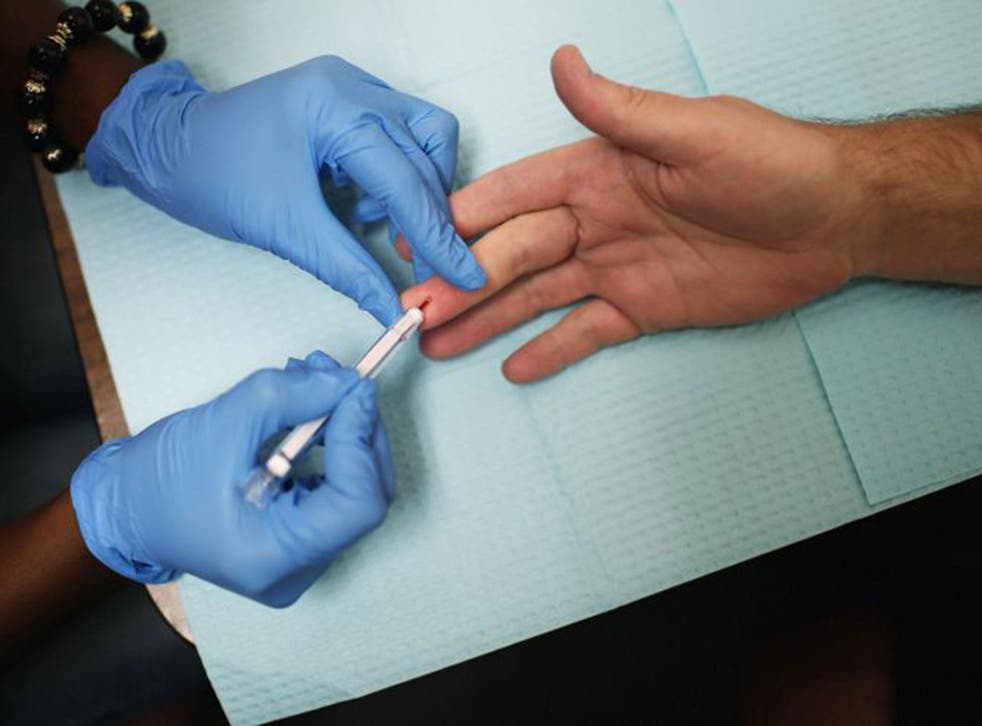 Late diagnosis of HIV blamed on Coalition's health reforms
Fragmented sexual health services mean slower testing and more Aids deaths, say specialists
Mark Leftly
Saturday 27 September 2014 22:15 Comments
Health experts are reporting disturbing increases in the number of people being diagnosed late with the HIV virus in England. They warn that healthcare reforms, which, they say, have "fragmented" a previously "seamless sexual health service", may be a major reason for the delays, and have called for an investigation.
Four in five Aids-related deaths in England and Wales are attributed to late diagnosis. Worryingly, experts say that late diagnosis also means the patient is unaware that they have had HIV for as long as 10 years, when they could have been spreading the virus.
Health charities and the Department of Health had previously welcomed a decline in late diagnoses. Numbers dropped from 52 per cent of overall new diagnoses in 2008-10 to 48 per cent in 2010-12.
But closer analysis of the figures shows that in 14 of the 20 areas in England most affected by late diagnosis, the problem had worsened. Barnsley had the highest percentage in the sample, at 77.1 per cent, up from 61.8 per cent two years earlier.
Jan Clarke, president of the British Association for Sexual Health and HIV, said the findings were "concerning and would have to be investigated". She observed that there used to be a "seamless service" from testing to treatment, but that health reforms had disrupted this.
Private companies can now bid to provide NHS services, including sexual healthcare. "If you're delivering down to price and then up to quality, you might see access [to testing] impaired, with fewer staff and capacity," said Dr Clarke.
The outsourcing of testing services is an added difficulty. Some consultants complain that there is little incentive for local authorities to invest in additional testing facilities, such as community outreach programmes, at a time of severe financial pressure. More tests would mean a greater number of earlier diagnoses, resulting in fewer cases of acute treatment, potentially saving millions of pounds a year, experts argue.
Mark Lawton, a senior sexual health and HIV consultant in Liverpool, where late diagnosis is nearly 71 per cent, warned: "We're concerned that fragmentation of services could lead to poorer outcomes. A clinician might spend Friday working for a company doing HIV and Monday to Thursday working for another company on sexual health services. What about HIV testing on those days?"
Luciana Berger, who speaks for Labour on public health, said: "It is highly regrettable that under this Tory-led government's unwanted reorganisation of the NHS, sexual health services have become fragmented and disjointed. The separation of HIV services from other sexual health services in some areas has disrupted clinical care, reduced the quality of the service and put HIV patients at risk."
Health minister Norman Lamb chalenged criticism of the coalition's HIV treatment policy. "In areas where there are delays in diagnosis then that needs to be tackled by organisations in that area," he said. "Many parts of the country are delivering good time periods of early diagnosis and there is pressure on every other area to achieve the same."
To blame the Government for increased late diagnoses was "a bit fanciful".
Register for free to continue reading
Registration is a free and easy way to support our truly independent journalism
By registering, you will also enjoy limited access to Premium articles, exclusive newsletters, commenting, and virtual events with our leading journalists
Already have an account? sign in
Join our new commenting forum
Join thought-provoking conversations, follow other Independent readers and see their replies