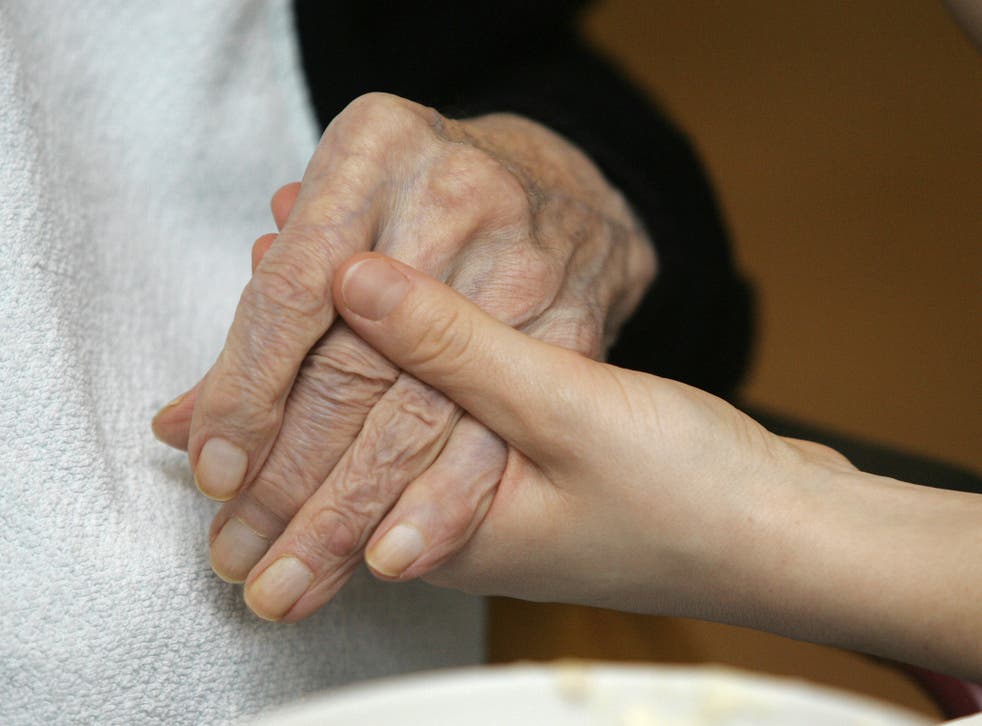 'Less than half' of dementia sufferers have 'good quality of life' in care homes
Charity warns 80 per cent of people in care have condition
Less than half of dementia sufferers living in care homes enjoy a good quality of life, a charity has warned as it revealed that record numbers of people in care homes have the condition.
An Alzheimer's Society report states that 80 per cent of people in residential care homes have either dementia or severe memory problems - a rise from previous estimates of 62 per cent.
But the charity said that while excellent care exists, less than 50 per cent of the 322,000 sufferers in care homes across the UK have a good quality of life.
It warned that society has such low expectations of care homes that people are "settling for average".
A spokesman said that 41 per cent of more than 1,000 relatives and carers surveyed by the charity believe their loved ones enjoyed good quality of life, but 28 per cent said it was poor.
And a separate poll of 2,000 UK adults found that two thirds do not feel the care sector is doing enough to tackle abuse in care homes, and many admitted they would be "scared" about moving into a care home in later life.
The charity called on ministers and the care sector to work together to strengthen existing minimum standards to boost quality of life for sufferers.
They should also improve public understanding about quality of care sufferers can be offered.
Jeremy Hughes, chief executive of the Alzheimer's Society, said: "When you walk into an excellent care home it's full of warmth, activities and interaction. But between these best examples and the worst, which often dominate headlines, there is a forgotten scandal of people with dementia who are failed and left living a life that can only be described as 'OK'.
"Society has such low expectations of care homes that people are settling for average. Throughout our lives we demand the best for ourselves and our children. Why do we expect less for our parents? We need Government and care homes to work together to lift up expectations so people know they have the right to demand the best."
Health Secretary Jeremy Hunt said: "No one should feel that they or their loved ones have to settle for poor quality care.
"Whilst many providers are delivering good quality care, this research clearly shows how more needs to be done to improve care across the board. There are no excuses for failing to keep people safe from abuse or not treating them with kindness, dignity and respect.
"This research shows the high prevalence in dementia is amongst people in residential care; it is essential that they are getting care that is right for them."
PA
Register for free to continue reading
Registration is a free and easy way to support our truly independent journalism
By registering, you will also enjoy limited access to Premium articles, exclusive newsletters, commenting, and virtual events with our leading journalists
Already have an account? sign in
Register for free to continue reading
Registration is a free and easy way to support our truly independent journalism
By registering, you will also enjoy limited access to Premium articles, exclusive newsletters, commenting, and virtual events with our leading journalists
Already have an account? sign in
Join our new commenting forum
Join thought-provoking conversations, follow other Independent readers and see their replies