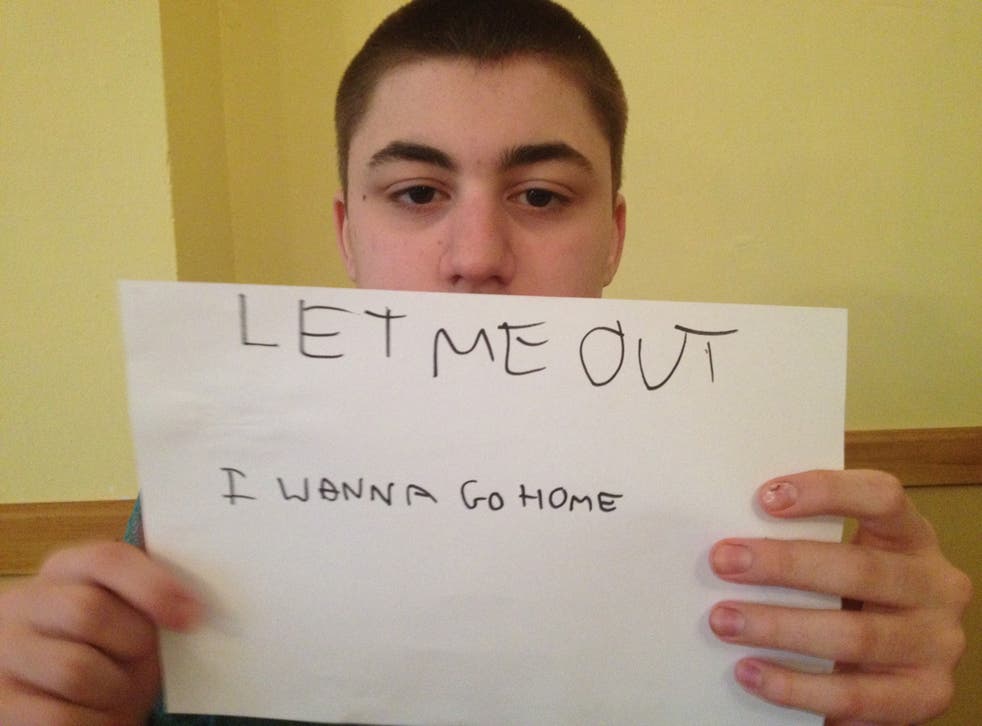 Matthew Garnett: Autistic teenager stuck inside psychiatric unit for six months 'is being kept like a prisoner'
Family of Matthew Garnett have started a petition calling for NHS bosses to find him a space at a specialist autistic unit
The family of an autistic teenager who has spent the last six months stuck inside a psychiatric unit say he is being kept "like a prisoner".
Matthew Garnett, 15, has autism, learning difficulties and ADHD, as well as mental health issues that are yet to be properly assessed.
He was sectioned under the mental health act in September and placed in a Psychiatric Intensive Care Unit (PICU), which is meant to provide emergency short term care and treatment for people suffering with mental illness.
But almost exactly six months on and Matthew is apparently still languishing in the PICU, as there are no beds available at any specialist autistic unit that could meet his needs.
Matthew's parents, Robin and Isabelle, have now started a petition calling for NHS bosses to find Matthew a space and release him from the unit.
It has so far attracted more than 52,000 signatures, and Robin and Isabelle say they have been inundated with messages from families with autistic children relaying similar horror stories.
Robin, 48, said the petition appeared to have raised a bigger question about the lack of specialist provision for people with autism and wider mental health issues.
"The system is just a maze," said Robin. "No one explains anything to you about what's going on, it's just a minefield.
"And that suits them quite well. Because that way, nobody is accountable and nobody is to blame. The status quo is upheld."
The PICU, in Woking, Surrey, is run by NHS contractors Cygnet Health. Last week Matthew fractured his wrist, after apparently getting into a fight with another child at the unit and falling over.
Robin said it took staff 24 hours to realise the seriousness of his injury before taking him to A&E.
"I don't want to do the staff down too much, some are better than others," said Robin.
"But they don't have any experience of autism. It is the wrong place for him."
Matthew was sectioned on September 4, 2015.
His behaviour had become increasingly erratic and violent, something Robin put down to a combination of autism, adolescent hormones and an undiagnosed mental health issue. .
"He's like a toddler in a huge body. I'm 6ft 3in, and Matthew's nearly as tall as me," said Robin.
"Obviously toddlers have tantrums and can hit out. When Matthew does it can be dangerous."
After a particularly violent outburst at home, Matthew was sectioned partly for the safety of Robin, Isabelle and their daughter.
"The psychiatric assessment team arrived and found me on the steps, bleeding and in tears, and Matthew sitting in handcuffs with two police officers standing over him," he said.
But what should have been the start of a treatment programme for Matthew has become a six month ordeal in which the teenager's mental health has only deteriorated.
Robin said: "Even when he does eventually come out, what's happened there means we will be starting at a worse point than when he went in.
"He used to twiddle his hair when he was anxious, but now he's started tearing it out with anxiety.
"We've had to give him a crew cut and now, as you can see in the picture, he's starting to look the prisoner he's being made into."
A spokesman for Cygnet Health said the average stay at the unit was between six to eight weeks, adding Matthew's case was "unusual".
He said: "Our primary purpose is to assist individuals with crisis support, stabilising them ahead of admission to a clinical mental health treatment and support service.
"Where a placement at a specialist service is not immediately available, a clinical decision is taken which may decide the most appropriate alternative is for the individual to remain in our care until a space does become available."
Register for free to continue reading
Registration is a free and easy way to support our truly independent journalism
By registering, you will also enjoy limited access to Premium articles, exclusive newsletters, commenting, and virtual events with our leading journalists
Already have an account? sign in
Register for free to continue reading
Registration is a free and easy way to support our truly independent journalism
By registering, you will also enjoy limited access to Premium articles, exclusive newsletters, commenting, and virtual events with our leading journalists
Already have an account? sign in
Join our new commenting forum
Join thought-provoking conversations, follow other Independent readers and see their replies