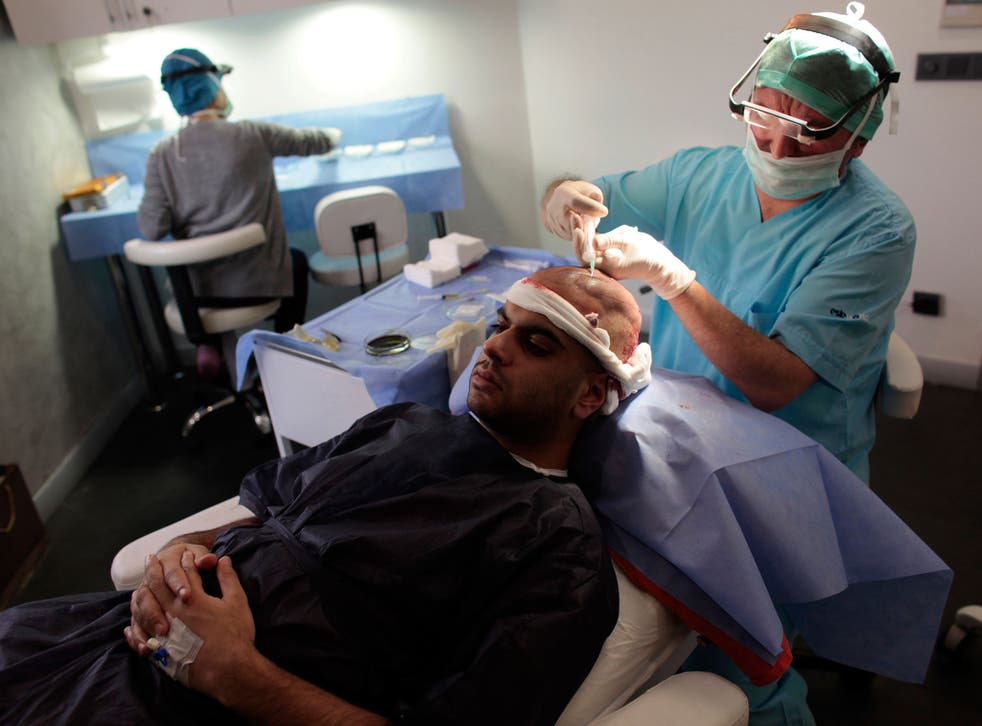 Medical tourism: Cut-price hair transplants deliver $1bn to Turkish economy
Hundreds of Britons are travelling there in a bid to regain a fulsome quiff or lustrous crown as well as for other types of cosmetic surgery. Laura Pitel meets one of them in Istanbul
Laura Pitel
Istanbul
Tuesday 26 January 2016 19:05 Comments
As he waits for an operation in a suburb of Istanbul, Ibrahim – a dentist from London – admits to some nerves.
Sitting in a medical gown and with a thick pen line drawn across the top of his bare head, he says: "Naturally you have anxiety."
However, the allure of a new head of hair at a bargain price was enough for the 30-year-old to set aside any misgivings. "I was having hair loss since I was about 16 or 17 years old. I was putting oil in my hair but it was getting thinner and thinner," he says. "In the UK, the places [clinics] are very expensive. So I looked abroad, did a bit of research and this place looked the best."
Ibrahim (surname withheld) is one of thousands of people flying to Turkey as part of its booming medical tourism industry, worth an annual $1bn (£700m). In December the country's health ministry said that over 200 hair transplants were carried out each day in Turkey, mostly on foreign visitors.
Drawn by geographical convenience and low prices, most patients come from the Gulf states, Egypt and Libya. But increasing numbers are European. In November, a balding French jihadist was arrested after stopping off for a quick transplant in the Turkish city of Izmir, having returned from fighting with Isis in Syria.
Mehdi Ben Said, allegedly planning a bomb attack on Turkish soil, is said to have told police that he needed to "look better" before blowing himself up.
With patients from all over the world, Dr Tayfun Oguzoglu has built up tropes of the different nationalities and their follicular foibles. "The most important thing that the British guys want is a natural look," said the surgeon.
"Arabs don't care about hair density but they want hair down to here," he says with a chuckle, placing his finger just above the bridge of his nose.
"Some of the guys coming from the US are scared of being in Turkey. Italians want huge density. Huge! Italians are very complicated. I love the Spanish. They say: 'Doctor, I trust you. Whatever you do, I accept it'."
His company, the straightforwardly-named GetHair, has seen a steady growth in British custom after setting up a London office five years ago. Last year it brought over 215 patients from London – up from 110 two years previously.
When they arrive, clients are collected from the airport by a chauffeur and driven to an all-inclusive hotel. Many turn the trip into a holiday, travelling to Istanbul a few days early to tour the Hagia Sophia and the Grand Bazaar before embarking on their scalpel makeover.
The surgery, known as follicular unit extraction, involves using what looks like a micro apple-corer to lift thousands of hairs and their follicles from the back of the head before replanting them on the bare or thinning patches. Patients are given only a local anaesthetic and can watch TV, snooze or stare out at the sprawling cityscape as the doctor and his team of nurses work away. By the end of the process the clients look like something out of a horror film, with up to 4,000 bloody globules across the top and sides of their head. They rest for a day after the operation before flying home. It takes six to eight months for the transplants to settle and for the bald patch to be consigned to history.
British cosmetic surgery associations urge caution when travelling overseas for surgery. Peek into the thousands of pages of online forums where bald men swap notes on clinics and you will find plenty of horror stories about surgeons who left all the work to technicians, gruesome post-operative infections, or simply disappointing results.
Ibrahim, the London dentist, did worry about travelling to a new country and placing his head in the hands of an unknown clinic.
"Coming from a medical background, you're a bit worried about complications; about what could happen," he says. "But this guy has been doing it a long time."
The whole endeavour, including flights, will have cost him £2,500, saving about £10,000 on the price tag in Britain.
This stark financial difference – and the prospect of regaining a fulsome quiff or lustrous crown – is ultimately what drives thousands of men each year to become transplant tourists. Ibrahim is no different. As he puts it: "Why would I go to Harley Street compared to this price?"
Register for free to continue reading
Registration is a free and easy way to support our truly independent journalism
By registering, you will also enjoy limited access to Premium articles, exclusive newsletters, commenting, and virtual events with our leading journalists
Already have an account? sign in
Join our new commenting forum
Join thought-provoking conversations, follow other Independent readers and see their replies