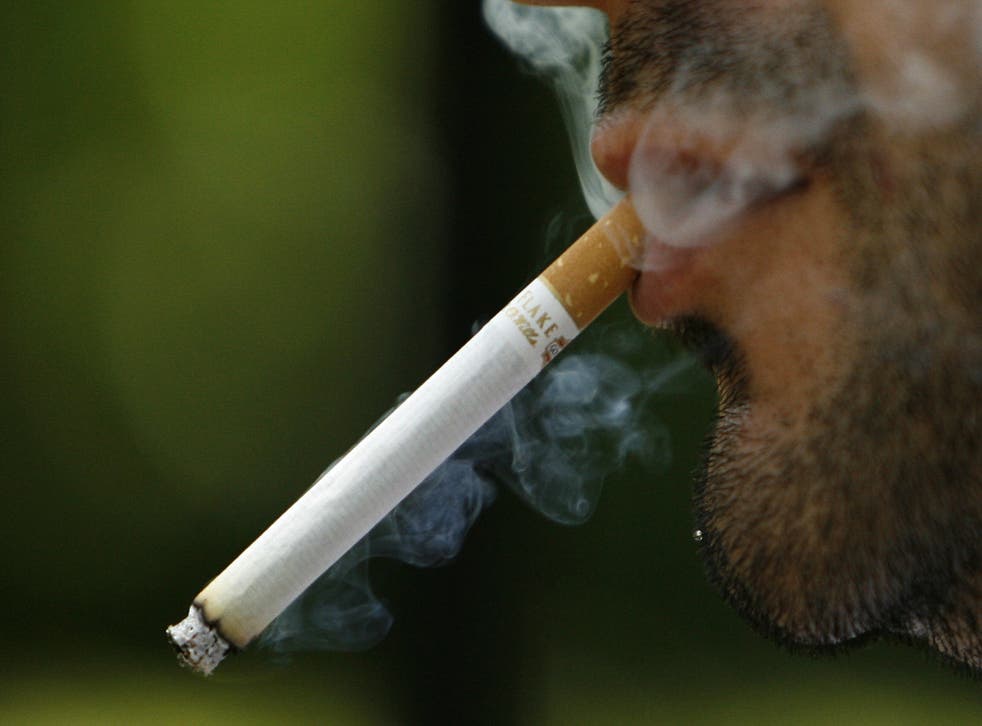 Millenial smokers more likely to describe themselves as hard-drinking and independent, YouGov poll says
Young smokers are also more likely to have less mainstream tastes in music than non-smoking millenials
Doug Bolton
Wednesday 28 October 2015 17:32 Comments
Young smokers are more likely to describe themselves as 'indvidualistic', have alternative tastes in music and be late more often than their non-smoking peers, according to polls of 13,000 young people by YouGov.
YouGov used data from their YouGov Profiles, which track individuals' tastes in brands, media and online behaviour to compile the report.
By comparing the self-described personality traits of 3,000 'millenial' smokers with those of 10,000 18-34-year-olds who had never smoked, they found a few significant differences.
For example, 31 per cent of regular smokers said they tended to be slightly late, compared to only 20 per cent of non-smokers. 58 per cent said they tended to be early, fewer than the 71 per cent of early non-smokers.
Many also appeared to enjoy a drink more than their smoke-free peers. 47 per cent of young smokers agreed with the statement: 'When I drink, I drink to get drunk,' far more than the 21 per cent of non-smokers who agreed.
Smoking rates have plummeted in the UK in the last few decades - raised taxes on tobacco, anti-smoking campaigns and the ban on lighting up indoors have resulted in the number of smokers dropping by more than half since 1974.
Now, around a sixth of the total population smoke - 22 per cent of adult men, and 17 per cent of adult women.
Along with other vices like crime and drug use, fewer young people smoke than ever before - and this outsider image is reflected in how the young smokers describe themselves.
As shown in the chart below, produced for The Independent by Statista, the top three personality traits that young smokers disproportionately said they had when compared to non-smokers were 'wacky', 'original' and 'a great performer'.
Also in the top 10 were 'individualistic', 'independent', 'thinker' and 'funny'.
There were also some negative qualities that a higher number of smokers said they had, such as 'big-headed', 'insecure', 'nervous' and 'careless'.
This self-image appears to match up with their tastes in music and film - young smokers disproportionately liked to listen to artists like Dr Dre, Slipknot and the Prodigy.

That music is far more underground compared to Taylor Swift, Coldplay and Tinie Tempah - the artists that were preferred by the smokers' more strait-laced counterparts.
Smokers also appeared to prefer actors known for playing hard-nosed, rebellous outsiders - their top three actors are Al Pacino, Idris Elba and Robert De Niro, while non-smokers liked more family-friedly stars like Emma Watson and Benedict Cumberbatch.
Education, poverty and general demography are the key indicators that many analysts look at when studying the smoking habits of young people - however, the polls go to show that the choice to smoke can can say something about your personality and how you present yourself to the world.
Register for free to continue reading
Registration is a free and easy way to support our truly independent journalism
By registering, you will also enjoy limited access to Premium articles, exclusive newsletters, commenting, and virtual events with our leading journalists
Already have an account? sign in
Join our new commenting forum
Join thought-provoking conversations, follow other Independent readers and see their replies