MPs to debate the growing problem of young girls being pressurised into 'sexting'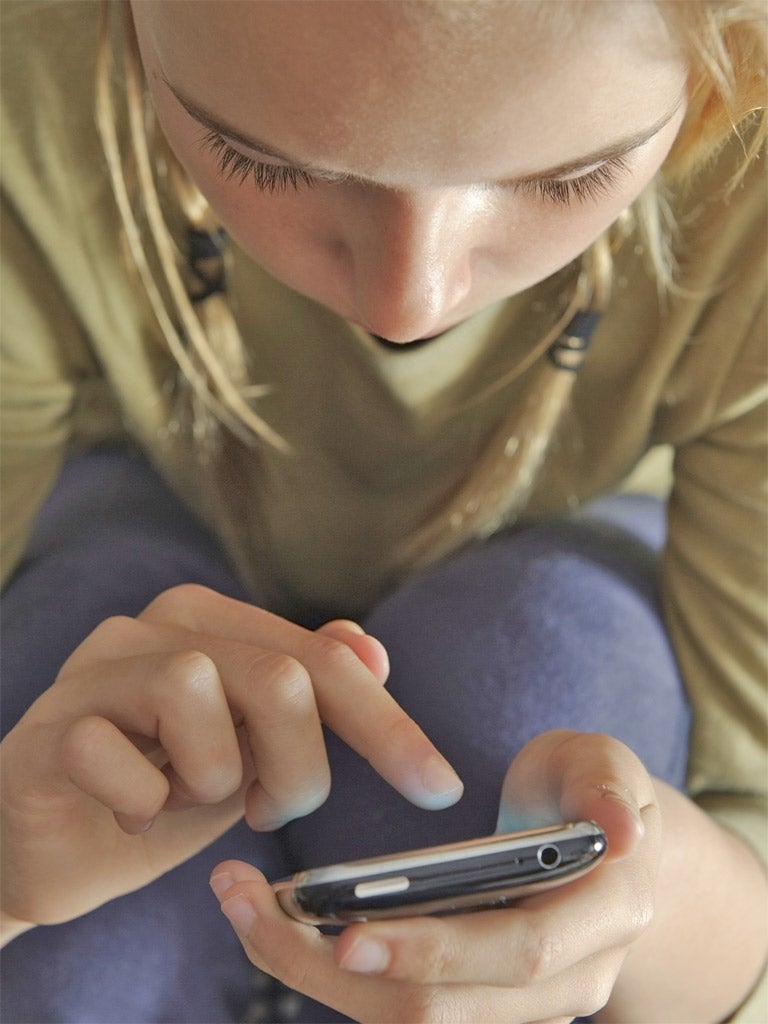 A teenage girl sends a naked image of herself to her boyfriend's mobile phone. It's not something she makes a habit of doing, but she wants to express the young couple's intimacy. They split up, and she soon discovers that he has circulated that private message to all his friends – even to her parents – with a few button clicks.
Her story, told by Richard Piggin, deputy chief executive of charity Beatbullying, is one of many.
"Sexting" – the peer-to-peer sharing of explicit images – is increasingly common among young people, but can be anything but harmless fun. Amid growing concern from parents and campaigners, one MP will today demand that mobile phone companies do more to educate them about the potential dangers of this most modern method of flirting.
Ann Coffey, the Labour MP for Stockport, has tabled a motion set to be heard this morning. Drawing parallels with alcohol and gambling industry-funded advertising campaigns about the safe use of their products, she will demand that companies fund advice for teenagers.
She is pushing for "sexting" information leaflets to be provided with new mobile phones and wants the industry to pay for TV and press advertising, and to promote ChildLine. Mrs Coffey will say that the leaflet should "explain how, at the click of a button an image intended for private use, can lead to public humiliation and even fall into the hands of sophisticated sexual predators".
The move follows the report by an independent parliamentary inquiry into online child protection, published last week, in which MPs wrote that "sexting" was of "great concern" to parents.
The problem is growing, according to Beatbullying, which carried out a survey in 2009 that showed 38 per cent of children aged 11-18 had received a sexually explicit or distressing text or email.
"The research back in 2009 uncovered for the first time the sorts of things young people were doing and the worrying nature of it," said Mr Piggin, "but it is concerning that young people are finding it increasingly normal".
This view is backed by research at Plymouth University which found that 40 per cent of 14 to 16-year-olds said their friends engaged in "sexting". Research by Andy Phippen, professor of social responsibility in IT, found that 40 per cent of teenagers saw nothing wrong with a topless image and 15 per cent had no problem with naked images.
All organisations agree that criminalising those involved is not viable, but that education is the only path. A majority of teachers are aware of the problem, said Jon Baggaley, of the Child Exploitation and Online Protection Centre, but the young people "didn't realise that adults knew this was going on" and they were able to discuss this.
Sexting by numbers
38 per cent The number of teenagers who have received a sexually explicit text or email.
27 per cent The percentage of young people who said sexting happens regularly or all the time.
1 in 4 Teenagers have received an offensive sexual image.
Figures from Beatbullying and Plymouth University
Join our commenting forum
Join thought-provoking conversations, follow other Independent readers and see their replies