Natural childbirth movement 'denies women choice'
Those who want Caesareans or pain relief are being discouraged from asking for them, say campaigners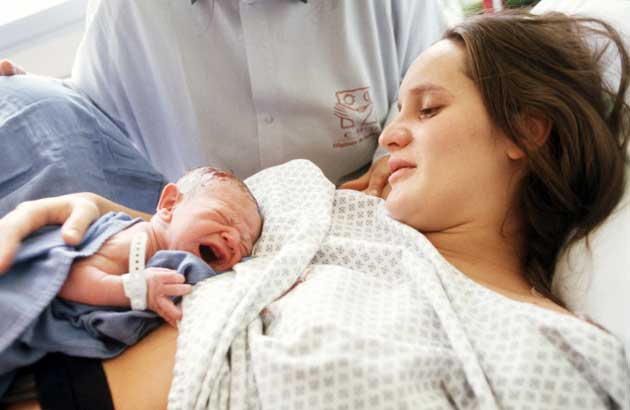 Campaigners will issue a stern warning tomorrow that childbirth has become a political football, with the Government pandering to the natural birth lobby and so denying women the freedom to have elective Caesareans and pain relief.
At a meeting with Kevin Barron MP, chair of the Commons Health Select Committee, the Birth Trauma Association (BTA) and other support groups will call for urgent action to ensure women are given a real choice of treatment. The campaigners accuse the Government of having allowed childbirth to be dominated by policies which suit some groups of women to the detriment of others, and are calling on ministers to create an inclusive maternity policy.
"We have swung from the extreme of over-medicalisation to the opposite of natural childbirth, rather than allowing women to have an informed choice," said Maureen Treadwell, co-founder of the BTA.
The battle lines are being drawn as some people within maternity services attempt to turn back the clock and reduce the number of Caesarean sections, currently a quarter of the 700,000 deliveries each year in the UK.
Louise Silverton, the outgoing general secretary of the Royal College of Midwives (RCM), said last month that the current Caesarean rate of 170,000 deliveries a year was "unacceptably and needlessly high". Only 9 per cent of women had a Caesarean section in the UK 30 years ago and Ms Silverton wants Britain to aim for no more than 15 per cent, in line with World Health Organisation recommendations. She criticised the pattern of women under 40 who are not prepared to deal with the agony of childbirth which, she believes, is driven by celebrity culture.
But campaigners argue that women are being short-changed by the new drive towards "natural" births with no pain relief and are suffering needlessly as a result. They claim that women carrying large babies of more than 4.5kg are not being offered enough choice and that this policy is leading to severe injuries of the colon.
"Childbirth has become a political football where women are often discouraged from having the sort of birth that they want in order to fulfil someone's idea of a 'normal' birth. Women don't want to have to go into childbirth and have to fight for pain relief," said Ms Treadwell. "There is a hidden agenda here, one that will result in women being made to feel failures just for asking for pain relief or other forms of medical intervention."
But RCM general secretary Professor Cathy Warwick said she saw no evidence that women were being pushed into particular choices. "We would certainly support reducing the number of epidurals and we want women to have pain relief based on informed choices," she said. "The final choice should be with the woman. If a woman remains determined, after proper discussion, it is my understanding she would be offered a Caesarean section."
Professor Warwick denied there was an obsession among midwives with "normal" births. "Too much intervention is leading to morbidity in women and babies, but we don't want obsession with normality to lead to women and babies suffering. Just because a baby is big does not automatically mean the mother should have a Caesarean section," she said.
Sheila Kitzinger, the natural-birth campaigner, said women were being duped into medical interventions by marketing. "I think the language of 'choice' derives from marketing, but it has now taken over in childbirth, and women have come to feel they can simply choose the product they prefer," she said. "Women can be vulnerable if it is their first baby, and they can be pushed into feeling that epidurals and Caesarean sections – both heavily marketed – are superior products."
A Department of Health spokesman said, "A doctor has to take responsibility for the clinical risks involved in a Caesarean section so the doctor could refuse, but would not do so without giving the mother a chance to get a second medical opinion."
To have your say on this or any other issue visit www.independent.co.uk/IoSblogs
Join our commenting forum
Join thought-provoking conversations, follow other Independent readers and see their replies