The Independent's journalism is supported by our readers. When you purchase through links on our site, we may earn commission.
New Year's resolutions: What your new gym doesn't want you to know
It's the time of year when many people realise they are pudgier than they ought to be and resolve to slim down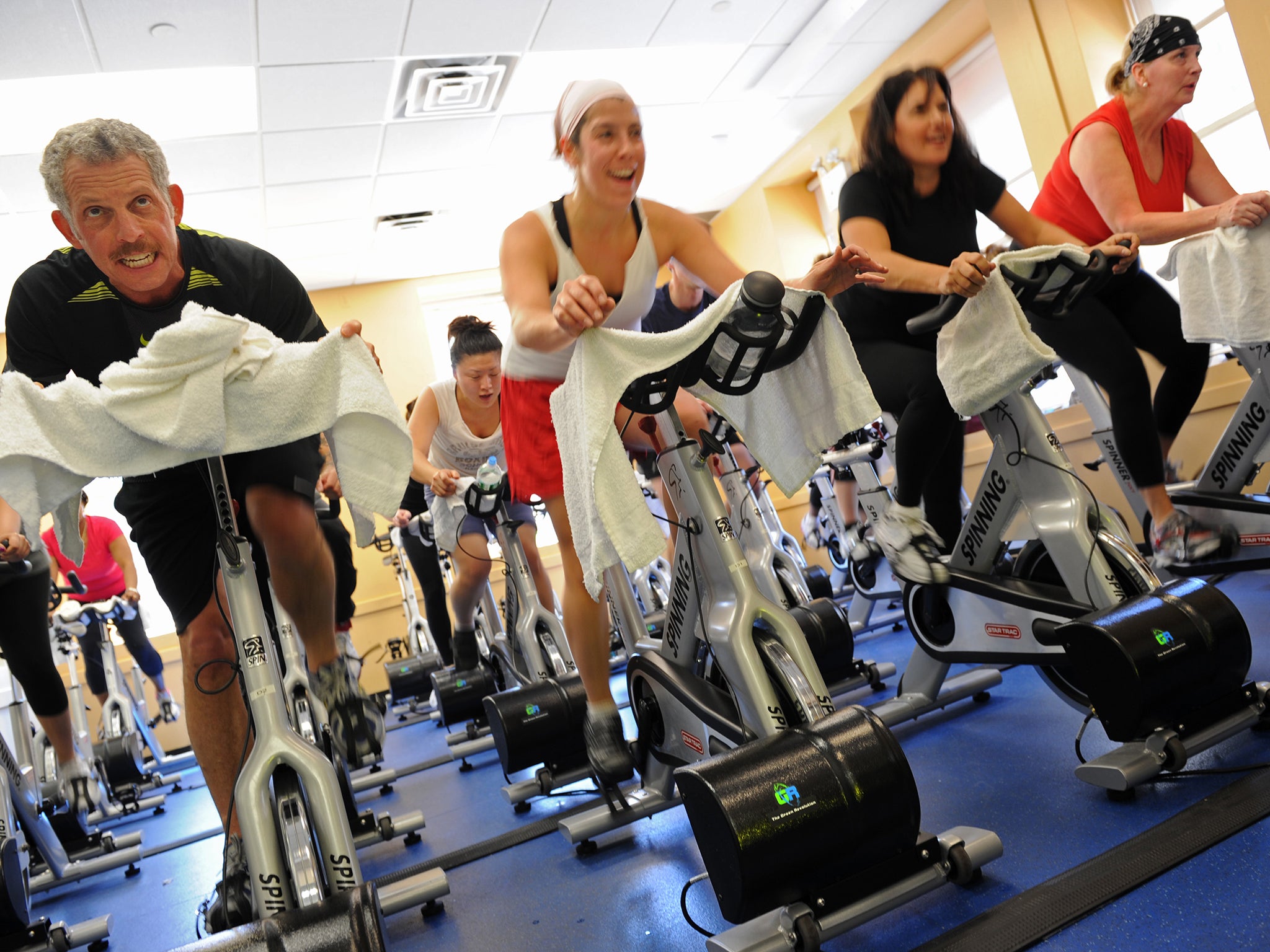 If you're thinking more these days about your fitness regimen – or lack thereof -- then you're not alone.
It's the time of year when many people realise they are a little pudgier than they ought to be and resolve to slim down. In other words, it's a money-making time for the gym industry.
Every year, Google searches for gyms spike every year in January, and membership purchases and foot traffic soar. According to Gold's Gym, its traffic jumps 40 percent between December and January. But just wait a few weeks – it won't be long before all those good intentions die.
In fact, the gym industry depends on it. Perhaps the most vivid reminder came in a 2014 episode of the podcast Planet Money. Planet Money visited Planet Fitness, one of the biggest gym chains in America. The gym had capacity to hold only about 300 people, but had signed up 6,000 total members. Half of the Planet Fitness members don't ever go to their gyms, Planet Money says.
It might seem like kind of a weird business model – a business that succeeds when their customers don't set foot in the door.
But it's also the way that health insurance works: depending on a large pool of healthy people to fund the higher health care costs of those who do get sick. Airlines these days count on some passengers not showing up when they overbook their flights. There's even an old saying that the founders of Colman's Mustard made their fortune based not on what people ate, but what they left on the side of their plates.
How Much Energy You Need To Burn Off 8 Junk Foods - in pictures
Show all 8
For gyms, the calculus between how many memberships are used and how many are wasted is particularly important, since gyms pay so much in rent. A gym needs a fair amount of space for its equipment, changing rooms and classrooms, but it also benefits from having conveniently located real estate. The bigger a gym is, the smaller its profits will be.
Hence a gym's mission to attract the perfect customer: People who intend to work out, but don't.
That could include many of us. But gyms have other techniques in hand to lure their perfect customers.
One is the annual contract. Most gyms offer lower prices if you sign up for longer-term contracts, banking that you probably won't get through the door. Planet Fitness and other chains, like LA Fitness and 24 Hour Fitness, offer frequent specials to entice people to pay now, and the occasional free pizza or bagels.
As Planet Money relates, these gyms are also designed to appeal to casual exercisers rather than fitness gurus. The chains incorporate lounges, smoothie shops, massage chairs and music, and hide all those intimidating weights and sweaty weight lifters away in the back.
If you're one of the few who really do go to these gyms, you end up getting a great deal. All the people who are at home sitting on the couch are essentially subsidizing your membership, allowing you to pay way less than what your gym services actually cost.
But again, most people who join gyms do not end up getting a good deal. One study of nearly 8,000 gym members published in 2006 found that gym members paid an average of more than $17 per visit, far more than they could have paid if they bought a 10-visit pass at $10 per visit.
Why are people so susceptible to this arrangement, year after year after year? According to behavioral economists, the reason is that people are prone to something called "projection bias," in which they tend to assume that their preferences in the future will be fairly similar to what they are right now. Projection bias is also why sales of convertibles and houses with pools spike during the summer – and why convertibles bought on days with abnormally nice weather are more likely to be returned quickly.
But while gyms may take advantage of our good intentions, they often do so with our permission. Many people often want to be locked into an annual gym contract, believing that paying a big sum up front will guilt them into going to the gym later.
Various new businesses have rose up in the last few years around this idea. Apps like Stickk or Pact pay you a small sum when you keep promises like going to the gym and eating healthier, and charge you a penalty fee if you don't.
Even if you don't sign up for one of these services, you may be able to achieve the same effect with other kinds of rewards. One study published in 2013 found that people who were allowed to listen to page-turning audio books in the gym but nowhere else visited the gym 51 percent more often than a control group. Though gym attendance tends to taper off somewhat over time, various studies have shown that people who offer themselves these types of incentives continue to go to the gym at higher rates even after the rewards cease.
So if you're trying to goad yourself into exercising, you might consider creating a contract with yourself and giving yourself a small, designated reward (probably not a cupcake) each time you go to the gym. Then you can gradually change or eliminate the rewards once your gym habit is firmly established. If you stop exercising for whatever reason, just repeat the process.
These approaches work, but there's a simple reason they aren't more common: Gyms can make far more money if you stay at home.
© Washington Post
Join our commenting forum
Join thought-provoking conversations, follow other Independent readers and see their replies