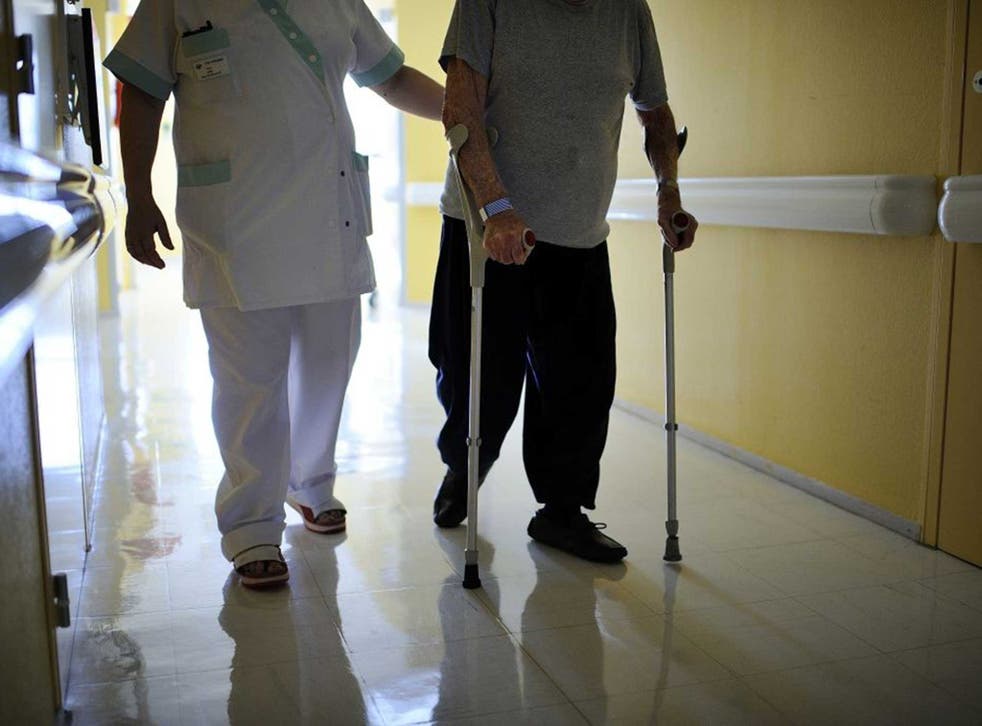 Newly qualified doctors failing elderly patients due to a lack of skills or training in their treatment
Medical students spend little more than a week learning about older people's ailments and needs
Jamie Merrill
Sunday 13 July 2014 01:47 Comments
Thousands of new doctors qualify to practise medicine without the skills or training to give frail elderly patients the respect and treatment they deserve, according to a major new study.
Britain is failing to train undergraduate medical students adequately to deal with the complex needs of older patients despite "a national scandal surrounding the quality of care for older people" and the fact that two‑thirds of acute hospital admissions are those of people over 65, according to research for the British Geriatrics Society.
The study, which included a major poll of British medical schools, reveals there is a "consummate mismatch between the proportion of the medical workloads made up by diagnosis and management of frail older people and the amount of undergraduate teaching devoted to it".
The report's author, Dr Adam Gordon, a consultant and lecturer in medicine of older people at the Nottingham University Hospital, said: "Many of the difficulties we have face in the past 10 years around the management of frail elderly patients are caused by inadequate communication, poor recognition of problems and by difficulties around communication around end of life, resuscitation and dementia." The main reason, he said, was "a consequence of the fact that doctors are not receiving the right sort of training at the right sort of intensity".
Some medical undergraduates receive as little as 55 hours of specialist training in this field over their five-year courses. As recently as 2008, key areas, including elderly abuse and pressure sores, were not on many medial school curriculums, despite being major NHS issues.
"Most medical school curriculums evolved in the last century, when the type of medicine we practised was very different. And the way to teach doctors of old was to teach them about the heart, lung and liver and hope that they'll somehow learn to join up the dots," said Dr Gordon.
"We know that this is where new doctors tend to fail in pulling those loose ends together and where we subsequently see scandals in older patient treatment."
This "disjointed, poorly co-ordinated and often poorly communicated care" results in distress and older patients "spending a lot time waiting around for various aspects of their care to come together".
Dr Gordon's work has been welcomed by campaign groups for older people. Janet Morrison, the chief executive of the charity Independent Age, said: "We need to tackle a culture of ageism in the NHS which means that many treatments, such as talking therapies for depression, are routinely prescribed to older people. We also need to turn gerontology into an attractive specialism for medical students, rather than the backwater that some consider it."
The research also found "significant evidence" of ageism in the healthcare sector, something that has been noted by Caroline Abrahams, director of Age UK, who added that poor care made older people "feel undervalued, unsupported and isolated" and result in more "avoidable and costly" treatments.
Published in the journal Age and Ageing, the research goes on to present an alternative curriculum of what "medical undergraduates ought to be taught about ageing" and explores how "to close the gap between aspiration and current practice".
It comes amid renewed criticism of elderly patient care after a Hillsborough-style inquiry was announced into the unexpected deaths of 100 elderly patients at Gosport War Memorial Hospital in the 1990s. This comes after the Government was forced abandon the so-called Liverpool Care Pathway for dictating care for someone at the end of their life.
Norman Lamb, the Care and Support minister, said: "There is nothing more important care for the elderly in hospital and end-of-life care. This is precisely why I challenged the system by establishing the independent review of the Liverpool Care Pathway and oversaw the new priorities for care guidelines. It is true this area has been neglected in the past … with stories of lack of compassion being a key issues as well as families not being kept informed and not involved in decision making. Now, though, we have a real opportunity to establish a standard of care for the frail elderly, across the board."
Andy Burnham, the Shadow Health Secretary, responded however: "Too many people, against their wishes, spend the last days of their life in hospital. Labour wants to work towards giving people the right to be at home, with their family around them and social care free as part of that."
Gosport inquiry
Relatives of 100 elderly people who died in unexpected circumstances at a Hampshire hospital have welcomed the Government's announcement of a Hillsborough-style inquiry into the deaths.
Gillian Mackenzie, whose 91-year-old mother Gladys died at the Gosport War Memorial Hospital, said she was "delighted" by the announcement and praised The Independent on Sunday and reporter Nina Lakhani who first reported on the scandal five years ago. The investigation will be led by the Right Rev James Jones, former Bishop of Liverpool. An earlier 2013 report by Professor Richard Baker of Leicester University focused on patient care and hospital records. His report found that morphine and other powerful sedatives were routinely prescribed to elderly patients in Gosport between 1988 and 2000, even if they were not in pain.
Mrs Mackenzie said: "I'm delighted the inquiry has been announced, and Bishop Jones has phoned me personally to keep me in the loop. That said, I would rather have seen a judge-led inquiry, but the most important thing for me is that I want this to end up in a criminal court."
Mrs Mackenzie also praised Care minister Norman Lamb who, she said, "had worked his socks off" on the issue, after the previous government said in 2009 that the deaths were not matter of "national importance".
Mr Lamb said: "It's really shocking this has dragged on for so long and that so many families have been left in the dark about what's happened to their loved ones."
Jamie Merrill
Register for free to continue reading
Registration is a free and easy way to support our truly independent journalism
By registering, you will also enjoy limited access to Premium articles, exclusive newsletters, commenting, and virtual events with our leading journalists
Already have an account? sign in
Register for free to continue reading
Registration is a free and easy way to support our truly independent journalism
By registering, you will also enjoy limited access to Premium articles, exclusive newsletters, commenting, and virtual events with our leading journalists
Already have an account? sign in
Join our new commenting forum
Join thought-provoking conversations, follow other Independent readers and see their replies