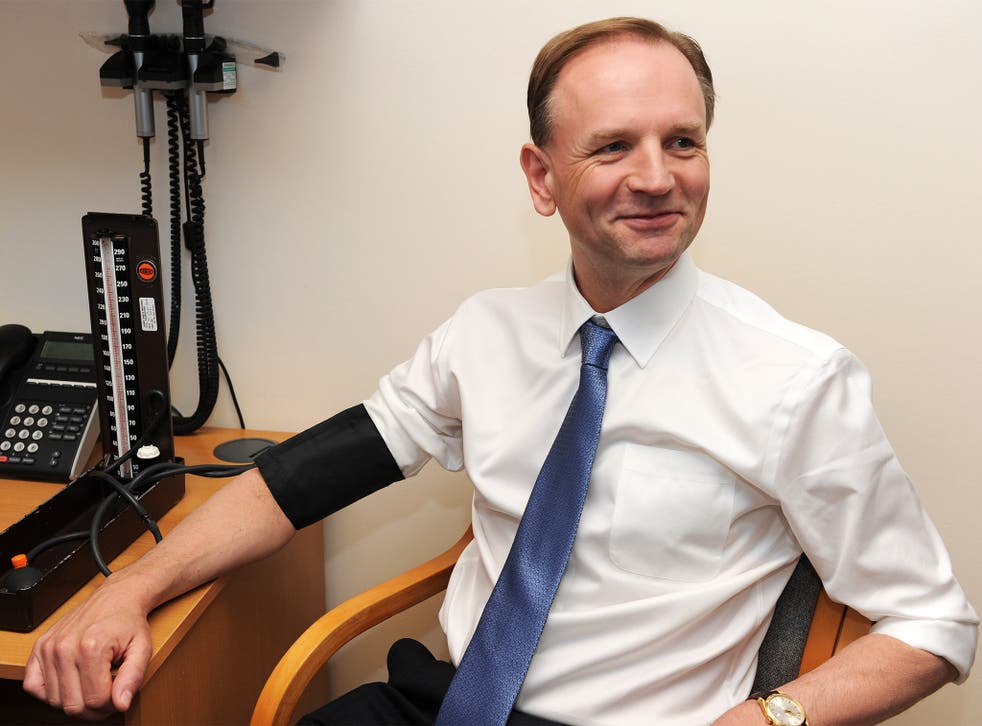 NHS chief unveils 29 'vanguard' areas in his new reforms
Simon Stevens starts pilot schemes in his five-year plan
Charlie Cooper
Tuesday 10 March 2015 19:51 Comments
Five million people in England will have their local NHS services transformed in the first wave of radical reforms aimed at preparing the health service for the burden of an ageing population.
Pilot schemes in 29 areas will involve three entirely new "care models" being rolled out. In some areas it will mean GPs working more closely with hospitals and local councils, while patients in other parts of the country will have specialist services such as chemotherapy and dialysis provided outside of hospitals, closer to their homes.
NHS England chief executive Simon Stevens said the "vanguard" areas would bring about change from the bottom up, led by "frontline" NHS staff.
The reforms, part of Mr Stevens's five-year plan for the NHS, which has the backing of the three main political parties, have been widely welcomed. However, they represent another significant reorganisation of the health service only two years after then Health Secretary Andrew Lansley's controversial overhaul led to significant disruption.
Mr Stevens said the latest changes were of a different order, adding that despite change being needed "for quite some time" the NHS now had "no choice".
"I think the key difference here compared to [the Lansley reforms in which Primary Care Trusts become Clinical Commissioning Groups] was that that was changing the administrative superstructure of the NHS," he told The Independent. "And clearly the reason why the NHS Five Year Forward View commanded support in the NHS and broadly beyond that was because it wasn't about changing the administrative deckchairs, it was about changing the way care is actually provided to patients."
The changes will be supported by a £200m transformation fund. Following the publication of Mr Stevens's plan, 269 different local plans were submitted, of which 29 have been chosen to pilot new ways of working, starting next month.
The announcement follows a landmark decision to hand over £5bn in NHS spending to a joint local council and NHS authority in Greater Manchester, dubbed "DevoManc".
However, Mr Stevens denied the new localised plans would "Balkanise" the NHS.
"The NHS will continue to be nationally tax-funded, accountable to the elected government of the day, who will set priorities for the NHS, but the reality is that right now the way care is provided in Gateshead is different to the way care is provided in Sutton," he said. "The route to improvement to meet those standards and deal with the different types of population in different parts of the country will be different."
The increasing strain on NHS resources

Show all 4
The current Health Secretary, Jeremy Hunt, called it a "pivotal moment for the NHS".
A core aim of the reforms is to break down the traditional barriers that have existed between GPs, hospitals and council-funded social care services, which have existed since the foundation of the NHS in 1948.
NHS England has pledged that patients in the pilot areas will see significant improvements in their experience of health services, with different organisations working more closely, sharing patient information and removing the need for repeated health assessments.
Labour's Shadow Health Secretary, Andy Burnham, while welcoming the reforms, said that Conservative plans to further reduce public spending could lead to cuts to council social-care budgets that would have a knock-on effect for the NHS.
Joint exercise: The new care models
Integrated primary and acute care systems (Pacs) will bring together GP, hospital, community and mental health services. Money will be directed from a joint budget to wherever patients are judged to need it most.
Multispecialty community providers (MCPs) will bring specialist services, such as chemotherapy and dialysis, out of the hospital and closer to people's homes in parts of the country where this is considered useful for patients.
Models of enhanced health in care homes will enable the NHS and councils to work together to provide more healthcare in care homes, and to provide better preventive services in the home.
'Vanguard areas': Where the new models of NHS care will be tested
Multispecialty Community Providers (MCPs)
Fylde Coast Local Health Economy; Calderdale Health and Social Care Economy; West Wakefield and Wellbeing Ltd; Sunderland CCG and Sunderland City Council; Stockport Together; NHS West Cheshire CCG/Primary Care Cheshire; Erewash clinical commissioning group and primary and community care providers; Vitality (Birmingham); Dudley CCG; Lakeside Healthcare (Northamptonshire); Principia (Rushcliffe); Tower Hamlets Integrated Provider Partnership; Whitstable Medical Practice, Northgate Medical Practice & Saddleton Road & Seasalter; Southern Health NHS Foundation Trust
Primary and Acute Care Services (Pacs)
Wirral Health and Social Care Economy; Northumbria Healthcare NHS Trust; Salford Royal Foundation Trust; Harrogate and Rural District CCG; Mid Nottinghamshire CCGs (Mansfield and Ashfield and Newark and Sherwood CCGs); Yeovil District Hospital NHS FT; North East Hampshire and Farnham CCG; Isle of Wight
Care Homes
Airedale NHS FT; NHS Wakefield CCG; NHS Gateshead CCG; Nottingham City CCG; East and North Hertfordshire Clinical Commissioning Group; Sutton CCG
MCPs and PACs: New acronyms decoded
The NHS is notorious for the bewildering array of organisational acronyms within its labyrinthine structure. Now we have two more.
Multispecialty community providers (MCPs) and integrated primary and acute care systems (Pacs) take their place alongside clinical commissioning groups (CCGs), commissioning support units (CSUs) and health and wellbeing boards (HWBs).
For the avoidance of confusion, the new care models are not replacing any existing organisations. CCGs – created by the Lansley reforms – are the GP-led groups that pay hospitals, GPs and other providers for healthcare in a local area. CSUs advise and support them. HWBs are forums where local NHS bosses and local council people can work together. They exist in all parts of England.
Whether your area is a Pacs or an MCP will have more to do with how the GPs, hospital doctors, nurses, and other health professionals work together, than it does with how the whole thing is paid for or managed.
NHS standards in all parts of the country will continue to be upheld by inspectors from the Care Quality Commission (CQC) and ultimate responsibility for health policy rests with NHS England (NHSE) and the Department of Health (DH). Confused yet?
Register for free to continue reading
Registration is a free and easy way to support our truly independent journalism
By registering, you will also enjoy limited access to Premium articles, exclusive newsletters, commenting, and virtual events with our leading journalists
Already have an account? sign in
Join our new commenting forum
Join thought-provoking conversations, follow other Independent readers and see their replies