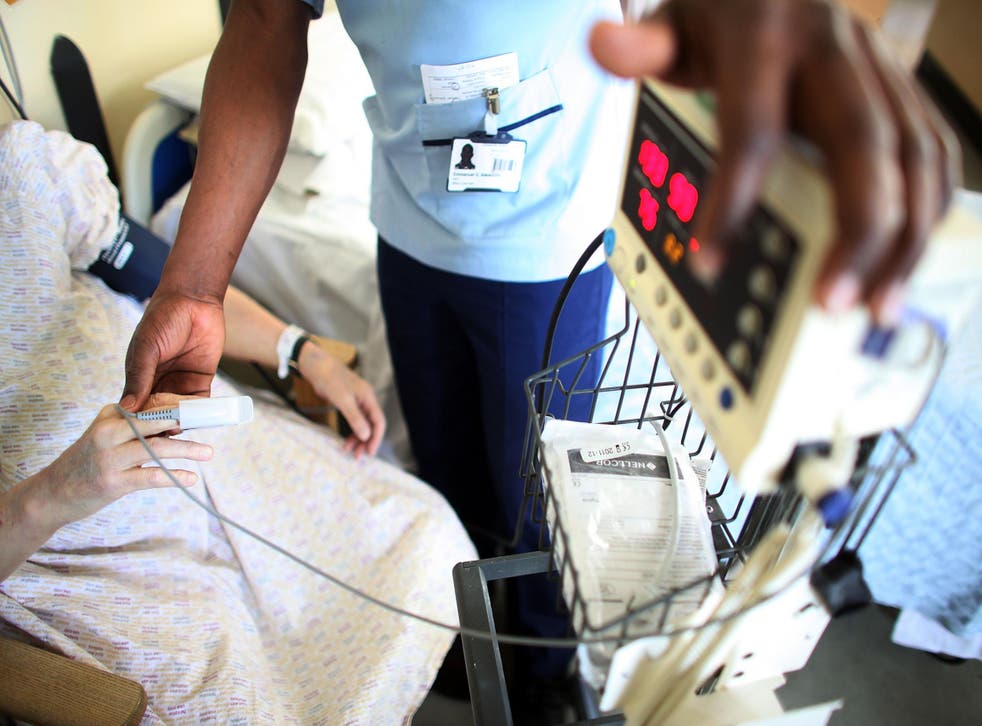 NHS cost-cutting plans 'could prompt staff reductions and rationing of care'
Nursing experts and former health minister warn new measures could lead to managers cutting staff to 'unsafe levels'
Charlie Cooper
Whitehall Correspondent
Saturday 06 February 2016 01:19 Comments
NHS cost-cutting plans could lead to reductions in staffing and care being rationed, nursing experts and a former health minister have warned.
Norman Lamb, who served in the coalition government, said that while there were reasonable savings to be made, "enormous pressure" from the Government to drive down hospital deficits would lead to "bad decisions" and "care and safety being compromised".
His warning came as healthcare experts said a new measure of how many nurses and care assistants should work on wards, proposed by Lord Carter this week in a report on how the NHS can save £5bn by 2020, could become an excuse for hospital managers to "drive down staffing numbers to unsafe levels". It also comes as a report from the National Audit Office this week warned that the NHS has a shortfall of 50,000 clinical staff and that hospitals trying to save cash risked "understating their true staff needs".
The new staffing benchmark proposed by Lord Carter would encourage hospitals to move towards average levels of staffing, leaving many wards understaffed, the Nuffield Trust think-tank said.
"We know NHS hospitals have historically been understaffed," the Nuffield Trust's senior policy analyst, Sally Gainsbury, told the Health Service Journal. "So using average levels as the basis for setting safe staffing levels risks continuing that trend into the future."
The cash crisis enveloping the health sector in England was laid bare this week as Whitehall sources reported the Department of Health (DH) is close to overspending its budget for this year, triggering a potential bailout from the Treasury. The DH is also planning to cut 650 civil service jobs by 2017 to reduce its running costs by 30 per cent.
Hospitals are anticipating a £2.2bn deficit this financial year, and have been ordered to balance their books next year or risk takeover by national regulators. Hospitals have already had to slash spending on expensive agency staff, leaving gaps in nursing and medical staffing rotas, as the NHS attempts to wipe out a £30bn deficit by 2020 – a consequence of years of government funding not keeping pace with rising demand.
Mr Lamb, the Liberal Democrat health spokesperson, told The Independent that the state of hospital finances in England had created an impression of "crisis management" at the DH.
"We can see that in the finances of [NHS] trusts around the country. We've also seen an increase in care commissioning groups [local health authorities] facing financial challenge as well."
He said that the Carter Review, which identified savings hospitals could make by ending variation in procurement practice and deployment of staff, would be unlikely to produce all the savings required.
"The real risk is that what happens in the real world is that bad decisions are made about how money is spent. Services are cut, rationing is introduced," he said. "If there is enormous pressure from on high to get finances in order, hospital managers may rush to the easiest thing to cut. It ends up with care and safety being compromised."
Mr Lamb, along with former Labour and Conservative Health Secretaries Alan Milburn and Stephen Dorrell, has called for a cross-party commission on health and care.
A DH spokesperson said that that patient safety was the Government's first priority.
Register for free to continue reading
Registration is a free and easy way to support our truly independent journalism
By registering, you will also enjoy limited access to Premium articles, exclusive newsletters, commenting, and virtual events with our leading journalists
Already have an account? sign in
Join our new commenting forum
Join thought-provoking conversations, follow other Independent readers and see their replies