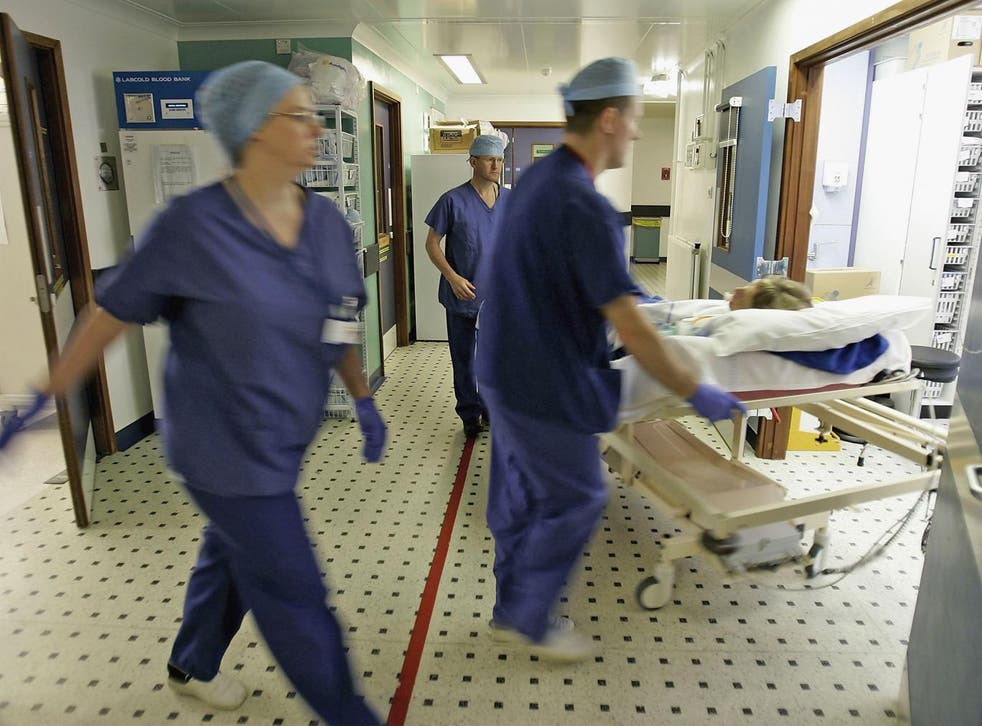 NHS hospitals had to provide 4,500 extra beds a day over winter period
Overwhelming demand 'distressing and potentially dangerous for patients', say health trusts
Tens of thousands of extra hospital beds had to be provided each week by NHS trusts to cope with exceptional demand this winter – the equivalent of opening eight additional hospitals, analysis of official data has shown.
In the busiest week of the winter period between 30 January and 5 February, 32,558 temporary beds, more than 4,500 a day, were made available to hospital patients, according to NHS Providers.
The organisation, which represents nearly every health trust in the country, said the NHS had experienced its busiest winter ever, contributing to the worst A&E performance figures on record.
NHS Providers research analyst Deborah Gulliver said overwhelming demand was "distressing and potentially dangerous for patients".
Hospitals are "operating at capacity levels beyond those which other international health systems would regard as acceptable", she added.
When patient safety is at risk due to bed shortages, hospitals open temporary wards and provide 'escalation beds', at an extra cost to the trust. These are sometimes in areas not usually used for hospital patients, such as day care centres or rehabilitation gyms.
A high number of escalated beds shows a hospital is facing increased pressure, said a House of Commons report that found the number of escalation beds in use last week had dropped from January's peak but were still higher than in December.
John McDonnell says the NHS crisis is now and requires emergency funding
The number of extra beds available for both general and acute patients almost doubled from 18,794 in the last week of December to 31,337 – 4,476 extra beds a day – between 2 and 8 January, showed NHS performance data.
This equates to the opening of around eight additional hospitals because the average trust has 550 available beds each day, said NHS Providers.
During the same period last year, 4,390 extra beds were opened on 26 January, the day with the single highest number of escalation beds in use, according to the Nuffield Trust.
"This winter has – in many respects – been the worst for many years. Demand has climbed to record levels in the midst of the longest and deepest financial squeeze in the history of the health service," said Ms Gulliver.
Chris Hopson, chief executive of NHS Providers, called the situation "unsustainable", adding: "We must plan now to ensure we don't put staff and patients under such intolerable pressure next year."
"These figures show a system running hot, and – in particular times and places – overwhelmed by the demands placed on it, risking patient safety," he said.
Doctors have called for increased funding for the health service in response to unprecedented demand, following repeated reports of patients being diverted from overstretched A&E departments and being seen to in corridors due to a lack of beds.
Screaming blue murder: We join a London Ambulance crew for the busiest nightshift of the year

Show all 4
The number of seriously ill patients diverted to an A&E department at a different hospital nearly doubled this winter compared to last year, according to the NHS Providers report.
Between December and February this year, there were 476 A&E diverts, compared to 266 in the same three months in 2015/16.
Shadow Chancellor John McDonnell said the NHS should be given an extra £12bn in tomorrow's budget, as "the crisis is here now".
But while Chancellor Philip Hammond is expected to announce an extra £1.3bn for social care, he will use rising tax revenues to build a £60bn reserve to deal with Brexit uncertainty instead of increasing spending on the health service.
Mr McDonnell told the BBC's Andrew Marr : "The independent estimate now on [how much is needed for the] NHS and social care is between £8bn and £12bn.
"We believe that the Government now put aside, as is reported, £60bn – increased tax receipts have contributed to this as well – for a crisis in case of Brexit.
"The crisis is here now. We should prepare for Brexit but some of that money now needs to deal with the crisis in the NHS and social care."
Join our new commenting forum
Join thought-provoking conversations, follow other Independent readers and see their replies