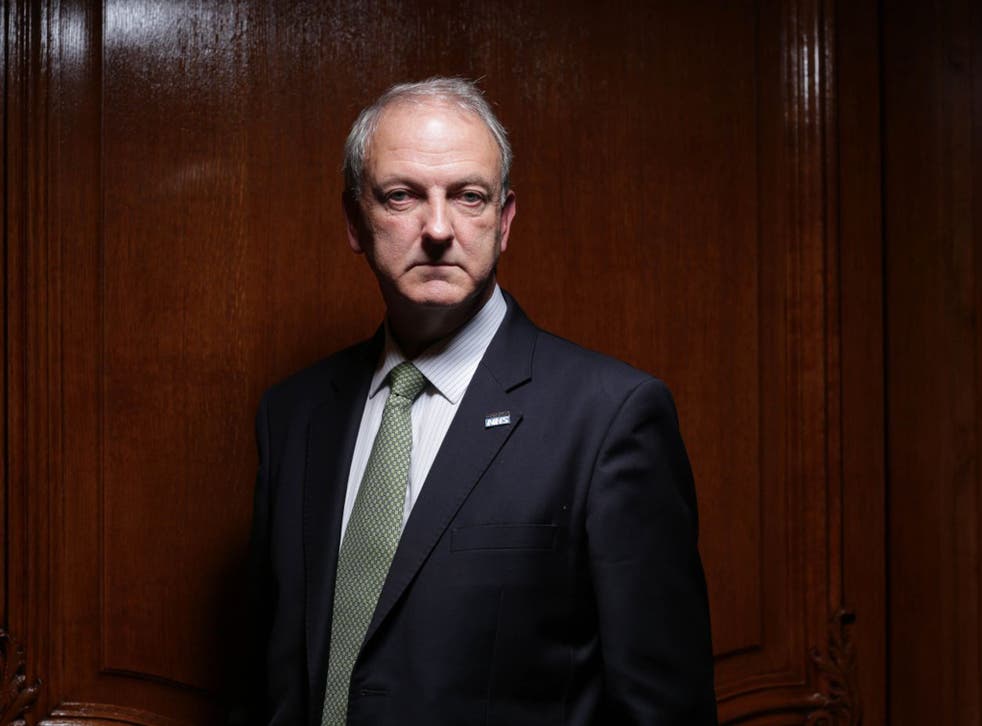 NHS hospitals must share staff and resources to reduce deaths of patients admitted on weekends, says top doctor
Government's promised seven-day health service cannot be achieved on reduced budgets
Charlie Cooper
Sunday 06 September 2015 00:21 Comments
Hospitals will have to share staff and resources to reduce higher death rates among patients admitted on Saturday and Sunday, the NHS's top doctor has said. There is new evidence that the so-called "weekend effect" contributes to thousands of deaths year.
Professor Sir Bruce Keogh, medical director of NHS England, said the "moral and social" case for improving weekend care was now "unassailable", as he and other leading doctors published a comprehensive analysis of weekend death rates.
The new study, which looked at a nearly 15 million admissions in England in 2013-14, confirms that for patients admitted on a Sunday, the relative risk of death within 30 days is 15 per cent higher than for admission on a Wednesday.
For those admitted on a Saturday the risk is 10 per cent higher. The effect even extends to Friday, which carried a 2 per cent increased risk, and Monday, with a 5 per cent increase. Overall, 11,000 more patients die each year within 30 days if admitted Friday to Monday than on other days, the report concludes.
Weekend patients are more likely to be admitted in an emergency, the study confirmed – partly explaining the effect – but Sir Bruce said it was now abundantly clear hospitals were "not as well-equipped at the weekend to deal with very sick patients".
The report, published in the BMJ, also highlights evidence that junior doctors feel "clinically exposed" during the weekends and that services inside and outside hospitals are reduced on Saturdays and Sundays.
Sir Bruce's intervention could mark a turning point in the bitter row between Jeremy Hunt, the Health Secretary, and the British Medical Association, the doctors' union, over seven-day services and the consultant contract.
While the Government and the BMA have been at loggerheads, with Mr Hunt claiming senior doctors have too much power to "opt-out" of weekend work, the NHS has quietly set in motion plans to improve urgent and emergency care at the weekend. The BMA has asked the Government to clarify what it means by "a truly seven-day NHS" and has questioned how cash-strapped hospitals will be able to afford increases in weekend staffing without cutting weekday rotas.
Sir Bruce said costs could be kept down if hospitals pooled their staff to fill up weekend rotas, and shared access to key resources such as diagnostic scanners. "Not everybody will have to employ more staff," he said. "For example, there's no need for every hospital to provide vascular surgery at the weekend. You quite often see, in a city, hospitals only a few miles apart all competing to provide the same service at the weekend."
Mr Hunt has also acknowledged in recent days that seven-day services will require "up-front costs" of hundreds of millions of pounds.
Hospitals throughout England were given a deadline of last Friday to submit data on how they are performing against four key standards of weekend care: the availability of diagnostic equipment and staff; consultant and senior doctor cover; access to specialist treatments; and capacity for continued, consultant-led assessment of patients. The information will be used to set a national standard for weekend care.
The pooling of resources has also been applied by GP surgeries attempting to meet government demands of seven-day access to appointments. But many doctors remain unconvinced that the Government's ambitious plans for round-the-clock care are achievable at a time when the NHS has to cut £22bn from its budget.
Dr Maureen Baker, chair of the Royal College of General Practitioners told the Government that plans for GP appointments to be available seven days a week were "unachievable" in this Parliament and risked destabilising care.
"Doctors up and down the country routinely go the extra mile, well beyond any contractual duty, to save and improve lives, day-in, day-out, around the clock," Sir Bruce said. "But the idea that patients are being harmed because of the way we organise our services is quite simply beyond what any of us can regard as acceptable.
"The moral and social case for action is simply unassailable and there is widespread clinical consensus about that … Change always brings practical difficulties that must be tackled, but we cannot duck the facts."
Mr Hunt said the BMJ study was a "wake-up call" and insisted on the "urgent" need to modernise consultant contracts "to make sure NHS patients do not have to worry about a lack of senior clinical presence if they are admitted to hospital on a Saturday or Sunday".
Dr Mark Porter, the BMA's chair of council, said that the union wanted to see urgent and emergency care at the weekend improve.
However, he added, "Given the current funding squeeze on NHS Trusts, the only way for many hospitals to increase the number of doctors over the weekend would be to reduce the number providing care during the week."
Register for free to continue reading
Registration is a free and easy way to support our truly independent journalism
By registering, you will also enjoy limited access to Premium articles, exclusive newsletters, commenting, and virtual events with our leading journalists
Already have an account? sign in
Join our new commenting forum
Join thought-provoking conversations, follow other Independent readers and see their replies