Junior doctors to proceed with strike ballot after Jeremy Hunt's last-minute proposals branded 'misleading'
The BMA said the amended proposals also failed to address concerns around the removal of safeguards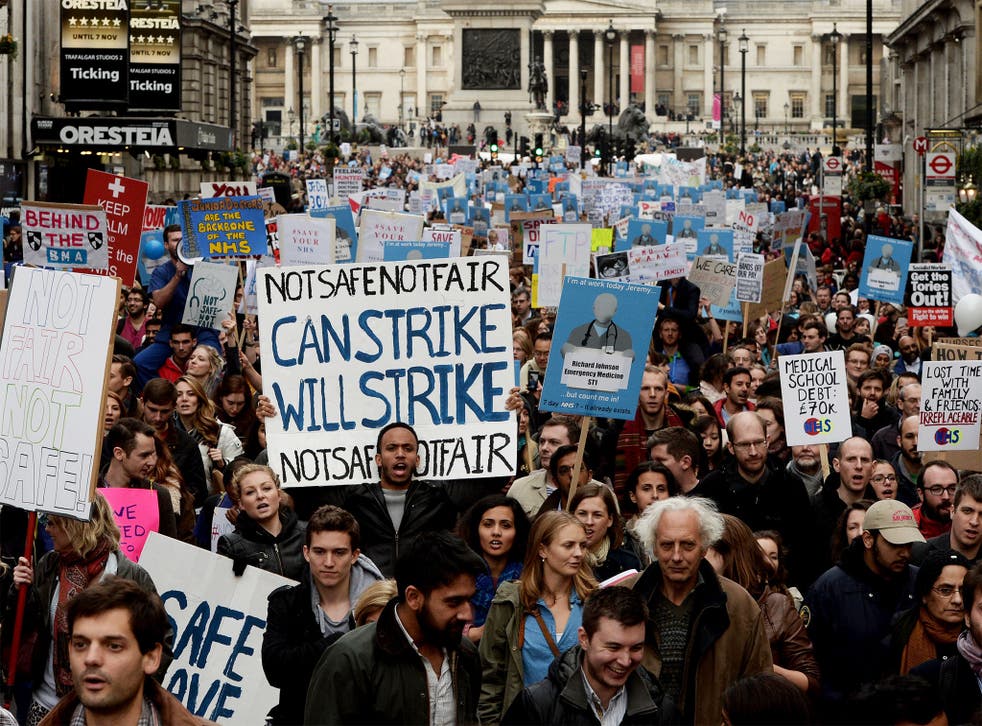 Junior doctors will proceed with a ballot for industrial action after Jeremy Hunt's eleventh hour proposals to avert a strike were branded "misleading" and unsafe.
Despite reports on 4 November that junior doctors would be offered an 11 per cent pay rise, it soon emerged that the increase in basic pay contained in the new offer was actually less than that previously offered by NHS Employers.
Doctors union the British Medical Association (BMA) said the amended proposals also failed to address medics' concerns around the removal of safeguards, which they say prevent doctors from being overworked.
Nor do the new proposals contain any withdrawal of the Government's threat to impose the new contract from August 2016. The BMA has said it will not return to the negotiating table till this threat is removed.
The new offer does include some changes to contract proposals which have infuriated junior doctors and led the profession to the brink of the most serious medical strike action since the 1970s.
UK news in pictures

Show all 50
The pay of existing junior doctors who might have lost out will be protected until 2019, and hospital inspectorate the Care Quality Commission will be given new powers to monitor junior doctor hours to ensure they are within safe limits.
On one of the most contentious issues, out of hours pay, the proposal to reclassify Saturdays and weekday evenings as ordinary working hours, with no extra pay, has been amended slightly,
Junior doctors will work an average 40 to 48 hour week, with a new 72 hour limit on any week, Mr Hunt said.
But Dr Johann Malawana, chair of the BMA's junior doctor committee said: "Crucially, the proposals fail to deliver safeguards with real teeth to protect safe working patterns and, with it, patient and doctor safety. Furthermore, the proposals on pay, not for the first time, appear to be misleading."
A Department of Health spokesperson said: "Strike action always puts patients at risk – so this blinkered and persistent refusal by the BMA to engage with the Government is extremely disappointing."
As strike ballots go out on 5 November, a group of 900 junior doctors have written to patient safety expert Sir Robert Francis, who led the landmark inquiry into patient care at Mid Staffordshire NHS Foundation Trust, to raise their concerns that the new contract would have "grave implications" for patient safety.
Register for free to continue reading
Registration is a free and easy way to support our truly independent journalism
By registering, you will also enjoy limited access to Premium articles, exclusive newsletters, commenting, and virtual events with our leading journalists
Already have an account? sign in
Register for free to continue reading
Registration is a free and easy way to support our truly independent journalism
By registering, you will also enjoy limited access to Premium articles, exclusive newsletters, commenting, and virtual events with our leading journalists
Already have an account? sign in
Join our new commenting forum
Join thought-provoking conversations, follow other Independent readers and see their replies