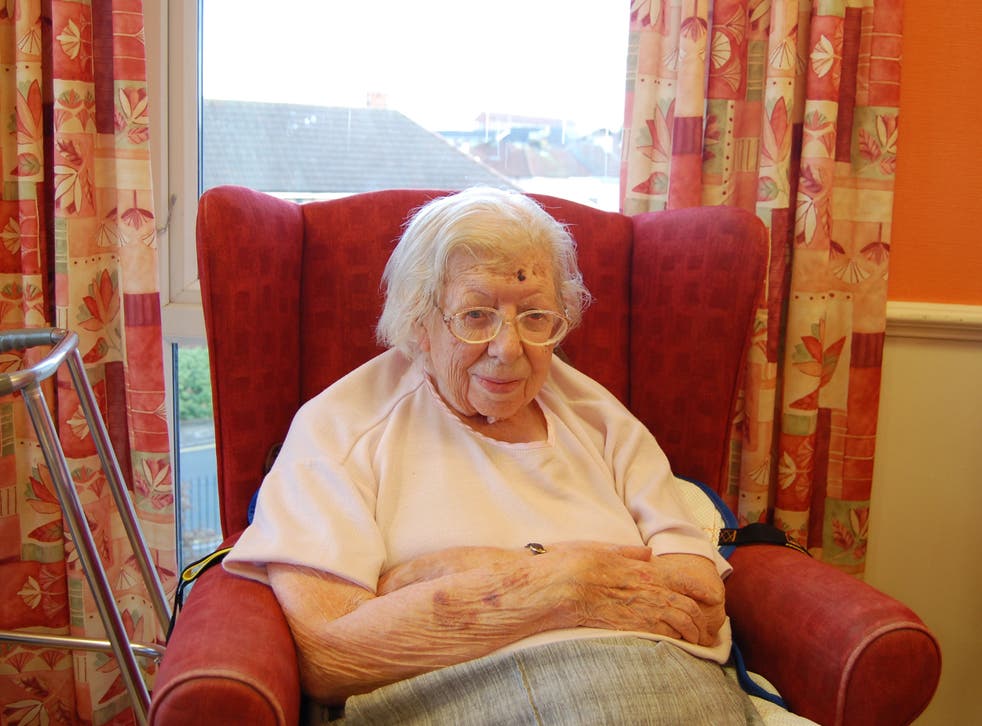 'Somebody has to admit the system is broken': The 89-year-old woman who sums up the NHS crisis
Iris Sibley was fit to leave hospital after a month but no suitable place to live was available
The son of an 89-year-old woman who spent six months in a hospital ward despite being medically fit to leave has called the situation "ridiculous".
Iris Sibley was admitted to Bristol Royal Infirmary hospital in June after she fell and fractured her leg at her residential home.
While in hospital, Ms Sibley was assessed by a local healthcare body, who said she needed to live with round-the-clock care due to her dementia and other complex needs.
However, she was still waiting for a place in a suitable nursing home in January, reported The Guardian.
John Sibley told The Independent a "total shortage of places" in nursing homes had left his mother and several other patients stuck in the ward for months.
When Ms Sibley was told she could be discharged around a month after she had first arrived at the hospital, her mental condition had deteriorated, he said. While in hospital, she was kept isolated in a side room because it was found she was carrying a bacteria that can cause diarrhoea.
"She was physically able to be discharged, but not mentally. She wasn't eating, because she was somewhere different. She couldn't go back home; she was technically homeless," said Mr Sibley.
"Because it's a hospital, [the staff] don't have time to sit and talk to her on an individual basis. They looked after her brilliantly, but they didn't have time to stimulate her mentally. She needed to be in a dementia-specialist care home."
Jeremy Corbyn confronts Theresa May on how much social care budget has been cut
Budget cuts, staff shortages and an ageing population have placed immense pressure on the social care system.
The knock-on effect is overstretched A&E and hospital wards, with thousands of elderly people at risk of being forced into hospital beds by 2020, at a cost of billions to the NHS.
Mr Sibley said he had to chase the healthcare team responsible for finding a care home place for his mother.
"There wasn't much communication coming. A month goes by, and you think, 'that's funny, I haven't heard anything', and they say, 'we're trying, doing our best'. It's not until you get involved in the system that you realise how bad it is."
"It's ridiculous; it costs the NHS £90,000 to look after my mum all that time. She's in a nursing home now, it's fantastic," he said. "She's so much happier. She's laughing, smiling, she was even knitting the other day, which she hasn't done in years."
Ms Sibley was offered places in two different nursing homes in September and October, but these were too far for her husband, 90-year-old former actor Arthur Sibley, to visit, according to The Guardian.
The first home the family visited "smelt of urine, the paper was peeling off the wall… it was disgusting," Mr Sibley told the newspaper. South Gloucestershire Clinical Commissioning Group and Bristol Community Health said both care homes had been rated 'good' by independent regulator the Care Quality Commission.
Six ways to help reduce the risk of dementia

Show all 6
Bristol Community Health, which assessed Ms Sibley, contacted 24 care homes to try and find her a place, of which 11 had no vacancies and 11 were unable to meet her needs, according to the BBC.
"Somebody has to have the guts to admit the system is broken. Until they do that, nothing will change," said Mr Sibley. "Visiting my mum stuck in hospital all that time, there were other old people stuck in the ward; not quite as long, but for three or four months. It's not uncommon."
"It's dreadful," he said. "My mum worked all her life. When me and my sister were born, she didn't stop working. She was a legal cleric," he added. "We haven't got the money to pay privately, you're talking £1,500, £2,000 a week. That's absolutely crazy."
Ms Sibley's nursing home place is currently being funded by the NHS, but Mr Sibley said if the funding was taken up by the local authority instead, the family may have to make top-up payments.
Bristol Community Health, who assessed Ms Sibley, said she "should have been discharged from hospital much sooner" in a joint statement with the University Hospitals Bristol NHS Foundation Trust and the South Gloucestershire Clinical Commissioning Group.
"We understand how frustrating and upsetting it can be for patients and their families when their discharge is delayed and are extremely sorry when any patient is kept in hospital any longer than they need to be," they said.
"Although a local nursing home has now been found for Mrs Sibley, she should have been discharged from hospital much sooner and we are working together to review her case and understand the reasons for the delay."
They added: "Like many areas of the country we have a growing population of older people with multiple, complex health and social care needs and at times finding a suitable placement that provides both the appropriate level of care and is within acceptable distance of the family home, can be a challenge.
"There is no easy short-term solution to this, but we are working together to shift more resources into community health and social care in order to support people when they are ready to leave hospital and to help avoid the crises and injuries that can lead to emergency hospital admissions in the first place."
Join our new commenting forum
Join thought-provoking conversations, follow other Independent readers and see their replies