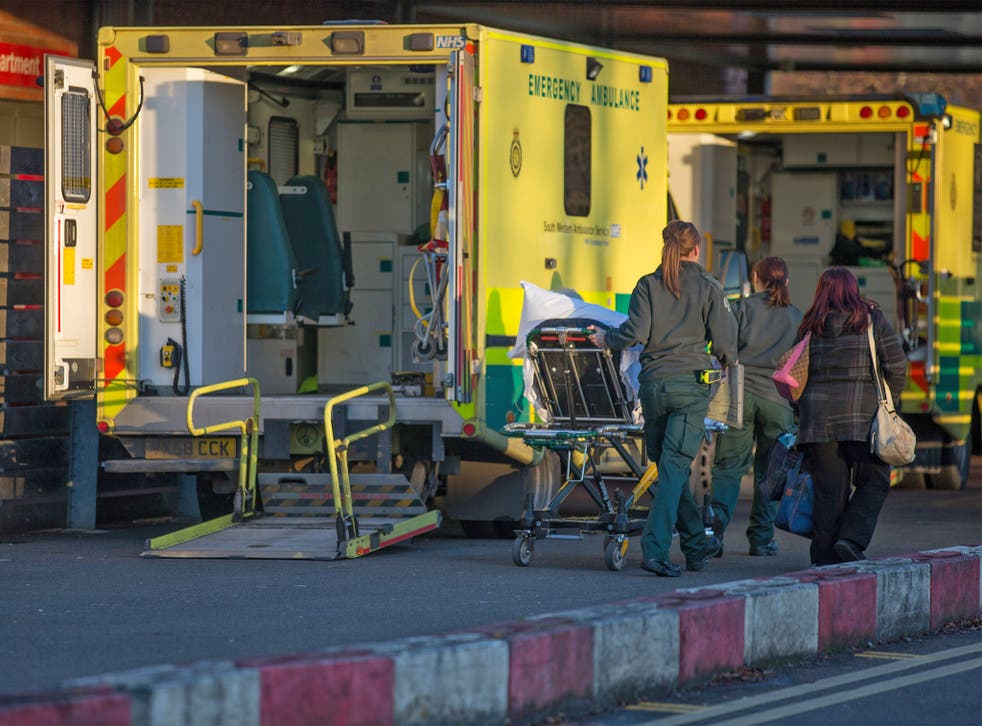 NHS crisis Q&A: What's happened to Britain's health service - and what are the solutions?
Five experts give their take on the current situation
Wednesday 07 January 2015 20:01 Comments
Dr Peter Carter, general secretary of the Royal College of Nursing
What caused it?
Poor strategic decisions and budget cuts to care services have exacerbated pressures on emergency care.
Dismantling NHS Direct and replacing it with NHS 111 was a massive mistake. NHS Direct was properly staffed with nurses and was well-placed to provide patients with appropriate advice. That clinical expertise has now been lost and it looks as though the service is sending people to A&E who do not need to be there. It's also been foolhardy to let the number of district nurses decline, as they are crucial for helping to care for people in their homes and keeping them out of hospital. In England, the numbers have decreased from 12,000 in 2003 to 5,500 today.
How long might it last?
Too many parts of the health service feel like they're in a permanent state of crisis. Frontline nursing staff are working incredibly hard to care for record numbers of patients, but a flu pandemic or a cold snap could make the pressures on A&E even worse.
What are the solutions?
There needs to be other ways for patients to access care. This requires work across the whole health and care system and addressing the chronic under resourcing of community and social care services. The Government has to invest in the existing nursing workforce and increase the number of training places. The fundamental issue is that the NHS isn't receiving the resources it needs.
The increasing strain on NHS resources

Show all 4
Chris Ham, chief executive of the King's Fund think tank
What caused it?
More people attending hospitals and more of them are older and sicker. In many hospitals, beds are fully occupied, making it difficult to admit patients and causing waiting times in A&E to lengthen.
Cuts in social care funding have contributed to delays in discharging patients back home in a timely way.
The emergency care system is confusing and fragmented and many people use A&E because the alternatives are not always clear or available to them. Difficulties in seeing a GP add to the pressures faced by hospitals.
How long might it last?
These pressures will continue throughout the winter and may get worse if the weather turns colder or if there is an outbreak of flu. Many hospitals this year have been busy during the summer months as well.
What are the solutions?
A: More money on its own will not help when the current system is fundamentally flawed and needs to be redesigned from scratch. Admissions should be prevented through early intervention and supporting people in their homes by anticipating their needs before they experience a crisis. Access to GPs alongside A&E and investing in community nurses and social care will also help, as will well-run out-of-hours services. Urgent and emergency care should work as a single system in which patients are signposted to pharmacists, NHS 111 and the ambulance service.
Dr Mark Porter, chair of the British Medical Association
What caused it?
What's happening in A&E reflects wider pressures across the NHS. Demand is so great that hospitals are now full all year around, meaning there is no spare capacity to deal with a seasonal spike in demand. This is compounded by the problem of 'exit block' where patients can't be discharged because of a shortage of social care beds and community care. This gets worse over the Christmas period as social care runs a reduced service.
How long might it last?
There may be some let up during the summer months as milder weather reduces admissions from flu, and serious illness rates go down. But this is likely to be only minor and temporary respite. The system is struggling to keep up with the sheer number of patients. If you look at the figures, targets have been consistently missed over the course of the last 12 months – meaning the NHS in effect suffered a spring, summer and autumn crisis in 2014.
What are the solutions?
Investment needs to keep up with demand. Every part of the system – from GPs to hospitals to community care – needs to be supported. We also need to address recruitment and retention crisis in both emergency medicine and general practice. These measures will prevent a crisis in one area having a ripple effect on other areas. And NHS 111 is not a doctor-and nurse-led service – this needs to change.
Dr Maureen Baker, chair of the Royal College of General Practitioners
What caused it?
Cold weather inevitably brings more illness. But while we hear a lot about the crisis in our A&E departments, the explosion in demand for GPs is being overlooked or ignored. GPs and their teams are working harder than ever – there are 1.3 million GP consultations every day and GPs are seeing 120,000 more patients per day than we were five years ago. Yet as demand has risen, funding for GPs has fallen to an all-time low of just over 8 per cent of the NHS budget. We have a severe shortage of GPs and there are simply not enough to cope with growing demand.
How long might it last?
Christmas and New Year were always going to be the pinnacle of demand and the ability of the NHS to cope with growing pressures will start to ease. However, we need to see sustainable solutions put in place so that we don't have similar situations in future winters.
What are the solutions?
If resourced properly, GPs have the potential to prevent people going to hospital apart from when it is absolutely necessary, therefore easing the pressures in A&E and elsewhere. In England, the government put aside £700m to help the NHS cope with winter pressures yet only £25m of this went into general practice – this is despite GPs and their teams making 90 per cent of all NHS patient contacts. What we really need is long-term investment in general practice.
Dr Clifford Mann, president of the College of Emergency Medicine
Increases in patient numbers combined with workforce shortages are having a squeeze effect. The issues this winter are notwithstanding the £700m additional funding put in by the Government to help address pressures over the winter months. But where this money is being and has been spent is a key question – because GPs and emergency medicine doctors are reporting that it has not been reaching them effectively. It is not inappropriate patient attendances that are causing this; it is simply the volume of ill, elderly people made more complex with the wide range of existing medical conditions many suffer from. This year in some areas norovirus levels are rising and this further reduces the number of acute beds available.
How long might it last?
As care services return to normal after the Christmas break, the pressure on A&Es should reduce. However, the relentless pressure on A&Es is taking its toll on staff. This is already reflected in problems of recruitment and retention and will create a much greater risk to patients than the current issues.
What are the solutions?
The cost of plugging gaps with locum doctors is over £150m per year, which is more than enough to double the consultant workforce. The present situation wastes more than sufficient money to solve the problems. The College of Emergency Medicine is calling for four steps to solve the problems: safe and sustainable staffing levels must be achieved; tariffs and funding must be fair and effective; exit block and overcrowding must be tackled; primary care [GP] facilities must be co-located with A&E services.
Register for free to continue reading
Registration is a free and easy way to support our truly independent journalism
By registering, you will also enjoy limited access to Premium articles, exclusive newsletters, commenting, and virtual events with our leading journalists
Already have an account? sign in
Join our new commenting forum
Join thought-provoking conversations, follow other Independent readers and see their replies