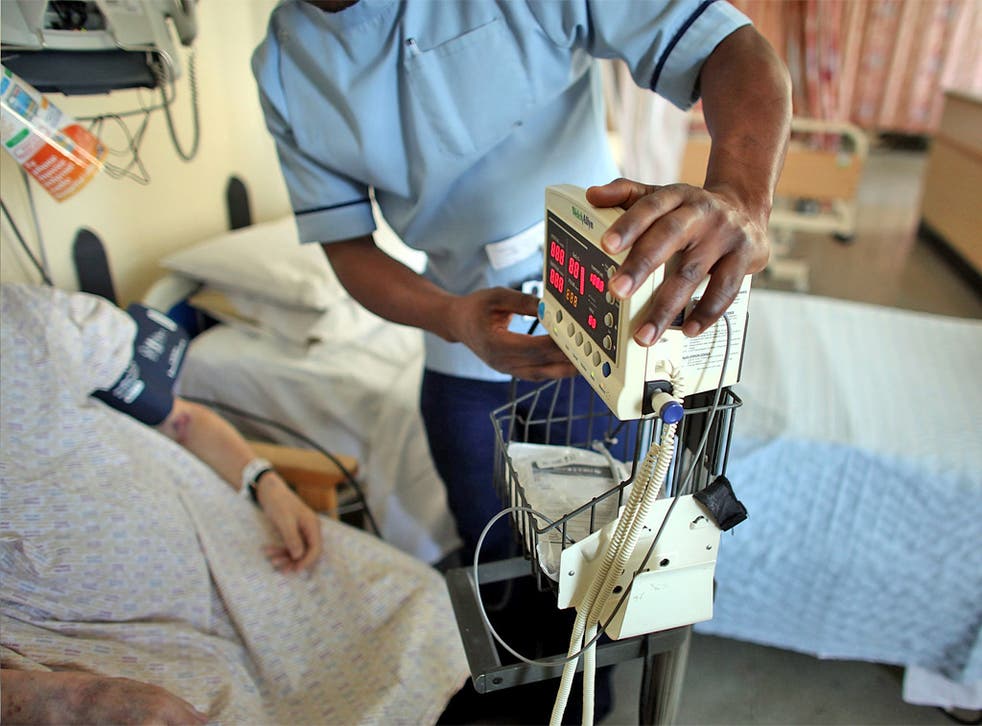 NHS reforms to improve safety and patient care after the Mid Staffordshire scandal are unsustainable without proper funding, hospitals warn
Health Secretary hails "encouraging signs" but hospitals remain under "huge financial pressure"
Charlie Cooper
Thursday 06 February 2014 01:43 Comments
The NHS is recruiting more nurses to make care safer and encouraging honesty and openness about mistakes, one year on from a landmark report into the Mid Staffordshire hospital scandal, health experts have said.
Jeremy Hunt, the Health Secretary, hailed the "encouraging signs" and said that the Francis Report "will mark a turning point in the history of the NHS".
However, hospital managers warned that any improvements would be unsustainable because of the "huge financial pressure" faced by the NHS because of a slow-down in Government health spending and Robert Francis QC, the author of the Mid Staffs report, called on NHS leaders to speak out if they were finding it impossible to deliver good care with current resources.
In an investigation into the impact of Mr Francis 1,800 page report, which outlined a catalogue of care failings and avoidable patient suffering, and called for a culture change in the NHS, the Nuffield Trust found that 82 per cent of NHS hospitals had brought in reforms since the report's publication in February last year.
The Government adopted most of the report's recommendations for improving patient care and hospital safety.
The Nuffield Trust surveyed senior managers at one in three hospital trusts and conducted direct interviews with 50 members of staff across five trusts and found that key themes of the Francis Report, including the importance of openness, adequate staffing levels and the creation of a patient-centred, rather than target-let, culture had resonated with most hospitals.
One hospital manager told the think tank that Francis had switched hospitals' priorities from balancing the books to improving patient care, adding: "I'd rather be hung for money than for quality and safety".
But Ruth Thorlby, senior fellow in health policy at the Nuffield Trust, said hospital bosses were concerned that many of the changes being made, in particular the recruitment of more nurses, were "resource intensive" at a time when the health service faces a major funding crisis.
Almost half of NHS hospitals expect to end the year in deficit, as Government funding slows down. The NHS will get a funding increase of only 0.1 per cent in 2015-16 – a real terms cut.
Robert Francis himself said that the investigation revealed "inevitable tension between finance and quality" at some hospitals.
"If it is impossible, even with good practice, to provide the service required within the resources allocated then it is incumbent on leaders to communicate that openly to those responsible for commissioning and funding services…" he said. "It is unacceptable to pretend that all can be provided to an acceptable standard when that is not true."
In a separate investigation to mark the first anniversary of the Francis Report, the Health Service Journal found that a quarter of hospitals were still not giving healthcare assistants any training before their first ward shift.
The regulation of healthcare assistants, who support nurses with some basic elements of patient care, was one of the key recommendations in the Francis Report which the Government rejected.
Health Secretary Jeremy Hunt said that hospitals were improving thanks to the report.
"There are encouraging signs that a 'Francis Effect' is underway in our hospitals, with more nurses, greater transparency, and compassionate care replacing tick-box targets as the major focus on boards and wards," he said. "I believe the Francis Inquiry will mark a turning point in the history of the NHS."
However, Labour's shadow health minister Jamie Reed said that the Government had adopted "a pick and mix approach" to Francis' recommendations and said that they should be implemented in full.
Register for free to continue reading
Registration is a free and easy way to support our truly independent journalism
By registering, you will also enjoy limited access to Premium articles, exclusive newsletters, commenting, and virtual events with our leading journalists
Already have an account? sign in
Join our new commenting forum
Join thought-provoking conversations, follow other Independent readers and see their replies