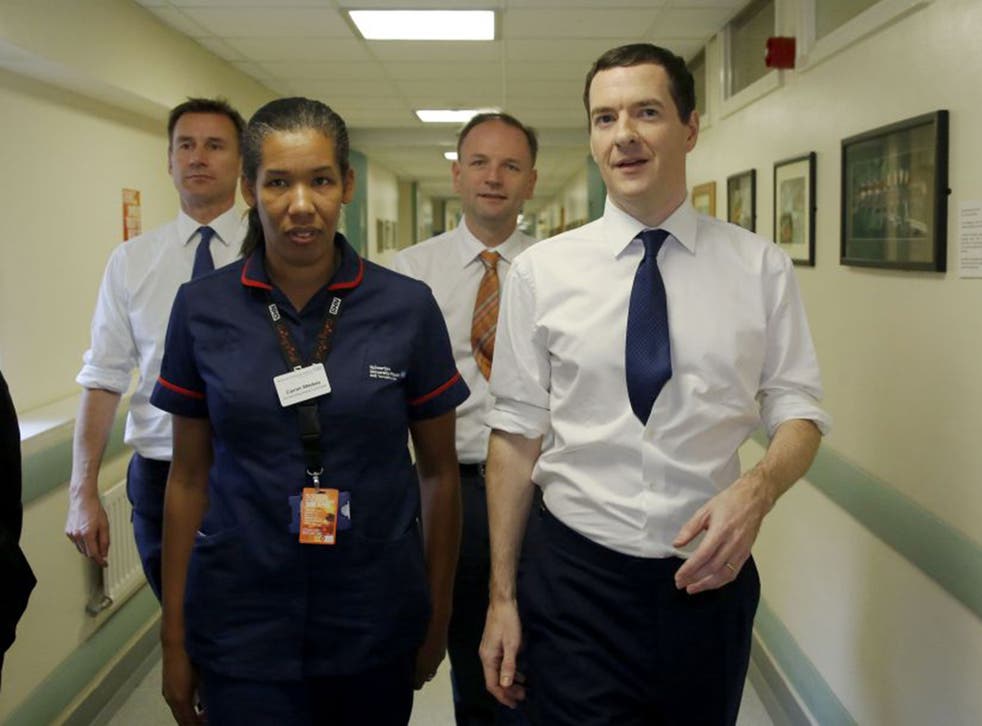 George Osborne accused of presiding over 'largest funding squeeze in NHS history'
Given economic forecasts and present spending,  it is estimated £20bn less a year will be being spent on health by 2020
Labour has accused George Osborne of being on course to preside over a decade of the "largest sustained funding squeeze in NHS history".
Analysis from the House of Commons' Library estimates how much would have been spent on the health service had Labour's spending levels been maintained: based on a percentage of overall spending, there will been an aggregate fall of almost £90bn by 2020.
The figure is based on spending levels set during the last year of Gordon Brown's administration, when 6.28 per cent of GDP was spent on the NHS. Given current forecasts for UK economic growth and the present level of NHS spending, it is estimated that £20bn less a year will be being spent on health by 2020.
Although health spending in the first six years of David Cameron's premiership has been constant, as a proportion of GDP it has been falling. The UK is currently spending less on health than many of its larger European neighbours.
Heidi Alexander, Labour's shadow Health Secretary, said that throughout both the Blair and Brown years, chronic NHS underfunding was addressed. She accused both the current PM and the Chancellor of presiding over "a new NHS spending crisis – one of their own making".
She said: "Patients are facing longer waits and poorer care, with hospitals overcrowded, understaffed and facing financial crises. Ministers have failed to give the NHS the money it needs."
Ms Alexander said the Chancellor should acknowledge in his Budget speech this week that unless there is a substantial change of course, "patients will continue to pay a high price".
Before last year's election, Mr Osborne pledged to protect "our precious NHS" by guaranteeing an £8bn increase in real terms by 2020. The Government later confirmed that by 2020-21 there would effectively be an additional annual boost of £10bn.
Last week Lord Kerslake, the former head of the civil service, said that current financial pressures on the NHS meant the Government needed to bring health spending back "in line with GDP", and potentially increase income tax to pay for it.
Join our new commenting forum
Join thought-provoking conversations, follow other Independent readers and see their replies