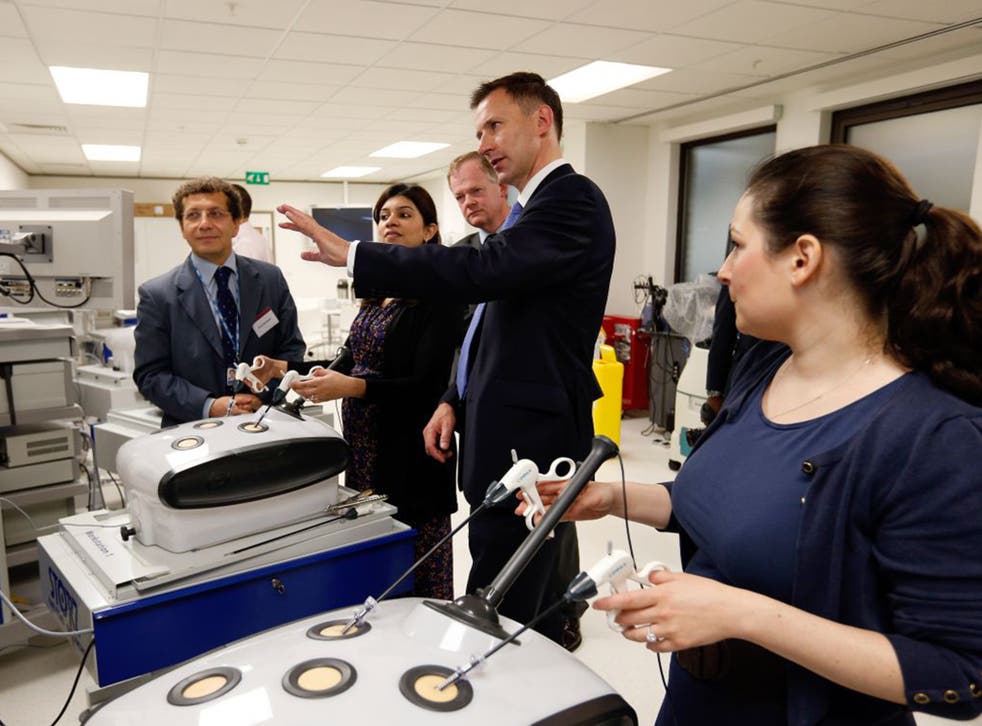 NHS struggling to monitor the safety and efficacy of its services outsourced to private providers
Report finds that companies are not being properly assessed for their quality of care
Paul Gallagher
Sunday 19 April 2015 00:00 Comments
The NHS is struggling to monitor and assess the safety and efficacy of services it has outsourced to private providers, according to a report published this week.
Local clinical commissioning groups (CCGs) now spend 16 per cent of their care budget in the private sector and need to manage, monitor and enforce some 15,000 contracts with private providers.
A growing number of the contracts are with large multinationals and companies backed by private equity, of which only seven have been terminated due to failings, a report by the independent think-tank Centre for Health and the Public Interest (CHPI) discovered.
It said the abuse at Winterbourne View Hospital, which was run by Castlebeck Care until it went into administration, and Serco's out-of-hours primary care contract in Cornwall, which was taken back by GPs in February, were just some of the high-profile cases where the NHS failed to manage contracts with private providers effectively.
The increasing strain on NHS resources

Show all 4
The CHPI sent Freedom of Information requests to all 211 CCGs, seeking information about how they monitor contracts with private providers. Only 12 either did not record the information or did not answer.
Its report, "The Contracting NHS: Can the NHS Handle the Outsourcing of Clinical Services", found that 60 per cent of CCGs surveyed did not record how many site inspections they undertook, or were unable to say how many they had done. Of even greater concern is the fact that 12 per cent had not carried out any site inspections.
The CHPI said there is also a reluctance among CCGs to enforce their contracts with the private sector – just 16 CCGs out of 181 surveyed had imposed any financial sanctions due to poor performance.
The think-tank called on NHS England to make a number of recommendations which it says will improve public safety, including commissioning an independent audit of the CCGs' capacity to monitor and manage contracts with non-NHS providers before any more major contracts are signed.
CCGs should also be required to publish regular performance data on the number and value of contracts they hold, the authors said, so they could evaluate whether contracts are performing well.
At the launch of Labour's campaign, Ed Miliband promised that as prime minister he would impose a 5 per cent profit cap when private companies provide NHS services, so that fewer contracts are awarded and "patients are always put before profit".
Colin Leys, the report's co-author, said: "The picture that is emerging is of an NHS poorly equipped to ensure that healthcare services outsourced to for-profit providers will provide safe, high-quality care and good value for money."
Julie Bailey, from campaign group Cure the NHS, said: "This is a common theme within the NHS – if they can't do a job, they outsource it. That's why the NHS spends so much money on consultancy. The report is evidence that the CCGs haven't got the skills to undertake their statutory roles. Surely it would make sense to appoint competent staff to the CCGs in the first place, who could fulfil their statutory responsibilities and their job descriptions."
The use of private providers within the NHS has more than doubled in the past eight years from just under 3 per cent in 2007 to just over 6 per cent today, according to the campaign group People's NHS.
Responding to a written parliamentary question on the use of private providers within the NHS, Jeremy Hunt, the Health Secretary, said: "Under this Government, competition between providers of NHS services has been pursued on the basis of competition for quality through a system of fixed national tariffs. Our neutral position on who should provide services is taken to ensure patients receive the best possible services and outcomes. These decisions are taken by the local clinicians, who are best placed to act for the benefit of their patients."
NHS at the crossroads
Doctors and nurses have done as much as they can to protect and improve patient care, but rising demand and underfunding have left services close to breaking point, according to the head of the British Medical Association.
Writing in The Independent on Sunday, Dr Mark Porter says the question we need to face up to is simple: "Do we want to protect an NHS true to its founding principles – among which is a service that is universal, free and based not on ability to pay but on need? If we do, we need more than the vague promises outlined in party manifestos last week and an end to the shameless game-playing with the NHS that we've seen during this election campaign."
Register for free to continue reading
Registration is a free and easy way to support our truly independent journalism
By registering, you will also enjoy limited access to Premium articles, exclusive newsletters, commenting, and virtual events with our leading journalists
Already have an account? sign in
Join our new commenting forum
Join thought-provoking conversations, follow other Independent readers and see their replies