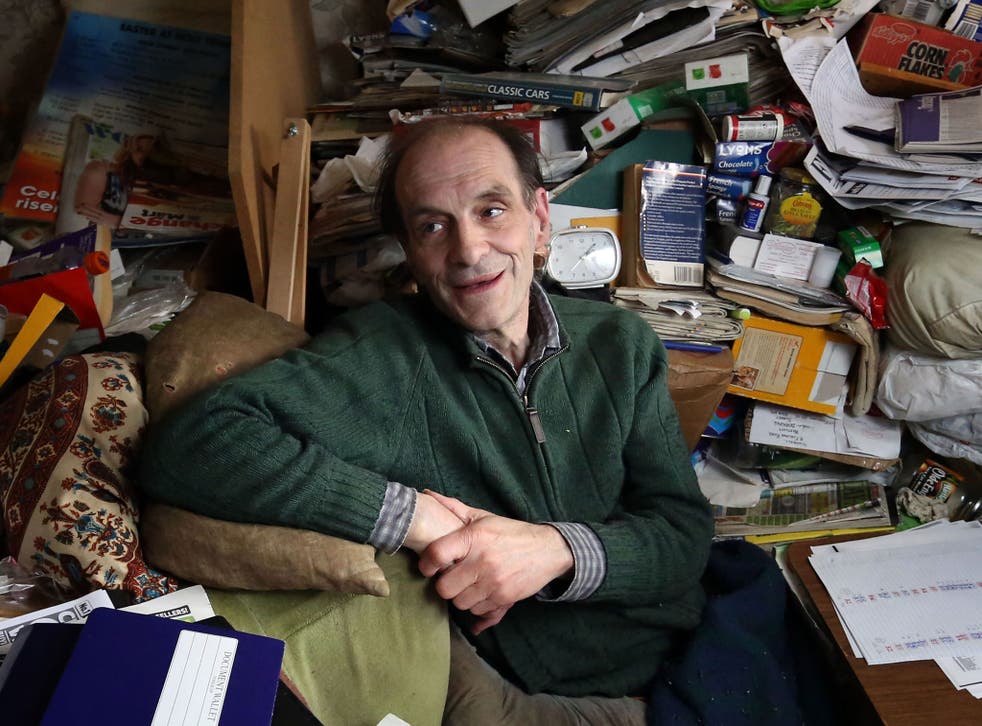 Obsessive compulsive hoarding: A serious health risk in store
The condition has just been reclassified as a psychiatric disorder, but how common is it? Jonathan Brown talks to a sufferer
Jonathan Brown
Saturday 18 May 2013 23:47 Comments
Richard Wallace is making great strides. "I have no problem with discarding things that are of no further use and I recognise that you can't keep everything," he says. "It's just not possible."
The sunny 63-year-old former television engineer now stores far less clutter. His quarter-acre garden in the pretty village of Westcott, Surrey, now holds the rotting hulks of only 16 cars, surrounded by tyres, walking frames, shopping trolleys and chairs. A marquee holds some of his collection of 36 years of newspapers and magazines.
Inside the house, three fridges, old TV sets, drinks cans and milk bottles compete with other relics.
It is possible, just, to enter four rooms of the family bungalow – the bathroom, lavatory, kitchen and a bedroom, where he has carved himself a tiny space among the towers of back copies of The Daily Telegraph. There he eats his staple diet of boiled eggs and sleeps upright in a chair.
Since appearing on the Channel 4 documentary Obsessive Compulsive Hoarder, Mr Wallace has become Britain's (if not the world's) most famous sufferer from a condition that is said to affect up 3 per cent of the population.
As of this weekend, there is new hope for those afflicted. The latest edition of the Diagnostic and Statistical Manual of Mental Disorders – the bible of psychiatric illnesses – recategorises hoarding in its own right, after previously treating it as a symptom of obsessive compulsive disorder. This will result in more cash and research into the condition, boosting hopes for more effective treatment.
Since his first appearance on TV, Mr Wallace has been receiving help from a psychologist and from Andy Honey, his friend who lives next door with his wife and two children. With Mr Honey's help, more than 100 tonnes of jumble has been removed from the house and garden, while therapy has helped him turn a crucial corner.
"The biggest progress that I have made is that I am not collecting on the same scale as I was," he explains. But the hoard is not going down as fast as Mr Honey would like. "Richard is looking at a five-year programme," Mr Honey said. "But I'd like to think it will be under control in another 18 months. He doesn't need to clear every single room, but I would like to see the things that he needs become accessible to him and the papers stored in a way that he can get to them."
The extraordinary relationship between the two men has already been the subject of an acclaimed play, The Hoarder, which is now set to tour nationally. Mr Honey is also in talks with a production company in the US that wants to turn their story into a feature film.
Hoarding, meanwhile, has become the subject of a growing number of spin-off reality TV programmes as well as spawning a decluttering industry – its annual conference is being held in London on Monday.
Mr Wallace and Mr Honey are trying to help other sufferers. On Thursday they held their first group session with a local charity and NHS Trust, which was attended by 12 people – although few of them can compare to Mr Wallace. "Richard is the top of the tree. He is the king of the hoarders," says Mr Honey.
Mr Wallace stopped throwing away newspapers when his father died in 1976 and completely lost control of his hoard in 2005 on the death of his mother. While he recognises that he has allowed himself to be dominated by the items he keeps, he insists that everything he does retain contains either useful "data" or, like the cars in the garden, will one day be used.
Yet he has a more detached view of other hoarders he meets: "Some of them are in a real pickle. They realise they have a problem and they admit they need help but they won't do anything about it.
"When I watched the programme [Obsessive Compulsive Hoarder] I thought: 'You bloody fool, why don't you do this?' Then I realise I'm the same – it's me."
Dr Stephen Kellett, a psychologist from Sheffield University, says that reclassification of the illness may bring more research and funding. "No one knows the answer to what causes it," he says. "There is some evidence about the role of childhood trauma – loss, neglect, separation – and to some degree there is a genetic component there." But there is no hard evidence to quantify its prevalence. "It tends to be seen as treatment-resistant," Dr Kellett says. "Normally outcomes are not brilliant; levels of relapse are very high."
Mr Honey says he found watching himself portrayed on the stage as "surreal" and "emotional". Mr Wallace is more sanguine: "I don't seek fame and notoriety, but if it is foisted on me I could deal with it. I'd be happy if it persuades fellow hoarders to drop the habit."
Extreme hoarders
Edmund Trebus was featured in the BBC's Life of Grime series. He lived alone in a rubbish-strewn home in north London and battled against the local environmental health department. He was eventually rehoused and died aged 83 in 2002.
Duncan Scott, 47 and partner Claire Anderson, 46, pleaded guilty this month to four charges of child cruelty by providing inappropriate living conditions for four children, who ate on the stairs as it was the only clear space in their Bedfordshire house.
Firefighters took seven hours last week to rescue a vulnerable mother from a tiny flat in Romford, Essex, which was stuffed with hoarded items. The bedsit above a takeaway was piled with rubbish accumulated by the woman and her son.
In January emergency services in Vancouver, Canada, had to cut their way into an elderly man's home after he became trapped for three days behind a vast hoard of rubbish. He had no heating or electricity and was suffering from severe dehydration.
Are you a hoarder?
1. Do you have difficulty using the rooms in your home because of clutter?
2. Do you have a problem discarding, recycling or giving away things that other people would get rid of?
3. Do you collect free things or buy more than you need or can afford?
4. Are you experiencing emotional distress because of your clutter?
5. Is your failure to get rid of unwanted items having an adverse impact on your work/social life or having an impact on relationships?
If you answered yes to more than four of the above questions, you may have a problem with hoarding.
Register for free to continue reading
Registration is a free and easy way to support our truly independent journalism
By registering, you will also enjoy limited access to Premium articles, exclusive newsletters, commenting, and virtual events with our leading journalists
Already have an account? sign in
Join our new commenting forum
Join thought-provoking conversations, follow other Independent readers and see their replies