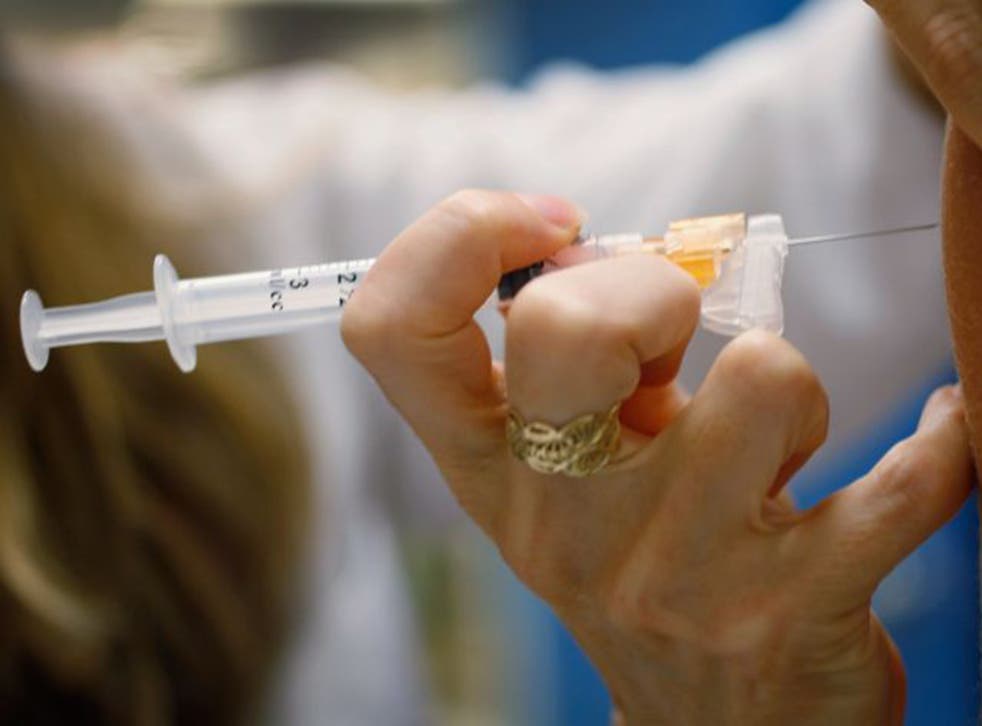 Professor Harald zur Hausen: Nobel scientist calls for HPV vaccination for boys
Experts fear full immunisation scheme may be the only way to prevent cancer 'time bomb' caused by changing sexual habits
The UK should vaccinate all boys against the cancer-causing human papilloma virus (HPV), the Nobel Prize-winning scientist who discovered the link between HPV and cancer has said.
Professor Harald zur Hausen, the German virologist whose theory that HPV could be a cause of cervical cancers led to global efforts to vaccinate girls against the virus, said that boys should also be protected.
There is now a wealth of evidence that HPV also causes cancers in men, including anal, penile and throat cancer. Professor zur Hausen added that there was now a chance to "eradicate" HPV viruses altogether if the world developed global vaccination programmes for all children.
Since 2008 the UK has offered free vaccinations against HPV to girls aged 12 to 13 – a programme that had an almost 87 per cent uptake from 2013 to 2014 and has led to falls in the number of pre-cancerous abnormalities of the cervix, according to research carried out among vaccinated girls in Scotland.
Vaccine authorities in the UK, traditionally an international leader in the field of immunisation, are yet to make a judgement on a publicly funded vaccination programme for boys, which would follow in the wake of those already in place in Australia, Austria, Israel and parts of Canada.
HPV is the name for a common group of viruses that can affect the moist membranes of the cervix, anus, mouth and throat. It is usually spread through sexual contact.
Most sexually active people will contract it in their lifetime but usually it causes no ill-effects. However, in some cases it causes changes to cells, which can become cancerous. It is the cause of almost all cases of cervical cancer, a discovery made by Professor zur Hausen in the 1970s, for which he won the Nobel Prize in physiology or medicine in 2008.
Speaking to HPV Action, in an interview to be published by the campaign group this week, Professor zur Hausen said that vaccinating boys was of "the utmost importance", not only because boys can also contract HPV-related cancers of the throat, anus and penis, but because protecting boys is key to ending transmission of the virus altogether.
"The vaccination programme for girls [in the UK] is marvellous – it reaches a very high proportion," he said. "In my opinion, the vaccination of boys is also of the utmost importance because virus transmission is due to male partners and men are affected by oropharyngeal [cancers of the throat], anal and penile cancers as well as genital warts."
Last year the UK's vaccination authority, the Joint Committee on Vaccination and Immunisation (JCVI), recommended that the UK introduce a vaccination programme for gay men, to be delivered via sexual health clinics. The rationale behind the recommendation is that heterosexual men will be protected from HPV infection because most women will have been immunised, but that men who have sex with men will miss out on "herd immunity".
Health news: in pictures

Show all 104
However, campaigners and some experts say this reasoning is flawed, as many gay men will have been sexually active before their first visit to a sexual health clinic, and would most likely have already contracted or transmitted the virus.
The JCVI is due to consider the cost-effectiveness of vaccination for boys but campaigners do not anticipate any decision until 2017.
However, the NHS in London is currently planning what would be the first pilot of routine HPV vaccination for boys, with a likely start date of February 2016. The "field test" will work across four sites to establish whether school-age young males would "embrace the uptake of HPV vaccination as part of a community programme", NHS England's London office said.
Rolling out the vaccine to boys would require a public-information campaign because it has previously been presented to parents and children as a girls-only jab to prevent cervical cancer.
Scientists say changes in sexual behaviour – with more couples having oral and anal sex – may be the cause of increased cases of anal and throat cancers in both men and women in recent decades.
Margaret Stanley, emeritus professor at the University of Cambridge and a leading expert on HPV, said that cases could continue to rise. "It's very much under-thirties [having more anal and oral sex] so you can predict there will be a rise in both those cancers. It's a time bomb," she said. "Wider exposure to different sexual practices – in other words porn on the internet – is also changing sexual behaviour in teenagers."
HPV is also the cause of genital warts, the second-most common sexually transmitted infection in the UK. There are nearly 90,000 cases annually, costing the NHS around £55m. Campaigners hope that figure will be taken into account when the JCVI weighs up the cost-effectiveness of a vaccination programme.
Despite safety concerns being raised about the vaccine's alleged side effects in some parts of the world, including Japan, no causal links have been established between the vaccine and reported long-term health problems. It is approved by the World Health Organisation, as well as European and UK vaccine-safety authorities. Professor zur Hausen added that it was "one of the safest vaccines we have".
A Department of Health spokesperson said: "The HPV-prevention programme is key in helping us prevent cervical cancer. We have successfully given more than a million doses in the UK since 2008.
"Our independent vaccination experts are assessing whether it should be extended to prevent cancers in adolescent boys, men who have sex with men, or both."
Time for an update?
Parents are currently advised and asked for consent for their daughters to have the HPV vaccination through a form and information leaflet sent out via schools.
The vaccine's preventative effects against cervical cancer and the protection it offers against genital warts are explained. The protection against other cancers is not mentioned.
Parents and children are told that the vaccine, which is now given in just two doses instead of three, protects against 70 per cent of cervical cancers and that girls will still require cervical screening tests when they are older. Newer versions of the vaccine may protect against more cases in the future.
Parents are told that the vaccine may cause "soreness, swelling and redness in the arm" that will wear off in a couple of days. The leaflet states that "more serious side effects are extremely rare" and reassures parents that it meets European and UK safety standards. However, parents have the option to deny permission for their daughters to have the jab – and are told it would be "helpful" if they gave reasons for refusal.
The leaflet is directly targeted at girls and their parents and focuses on cervical cancer. If the Government were to extend the HPV-vaccination programme to boys, they would have to reconsider how the vaccine was presented to parents and children. The current programme has had impressive uptake, possibly in part because the key reason for taking the vaccine – to prevent cervical cancer – is straightforward and well understood. It may be that in a new HPV vaccination programme, the jab could be presented more broadly as protection against "a range of cancers".
Charlie Cooper
Register for free to continue reading
Registration is a free and easy way to support our truly independent journalism
By registering, you will also enjoy limited access to Premium articles, exclusive newsletters, commenting, and virtual events with our leading journalists
Already have an account? sign in
Register for free to continue reading
Registration is a free and easy way to support our truly independent journalism
By registering, you will also enjoy limited access to Premium articles, exclusive newsletters, commenting, and virtual events with our leading journalists
Already have an account? sign in
Join our new commenting forum
Join thought-provoking conversations, follow other Independent readers and see their replies