Prosthetic hands: How Disney teamed up with a Bristol-based bionics firm to transform children's lives
Disney technicians and Open Bionics have created a range with designs based on Star Wars, Iron Man and Frozen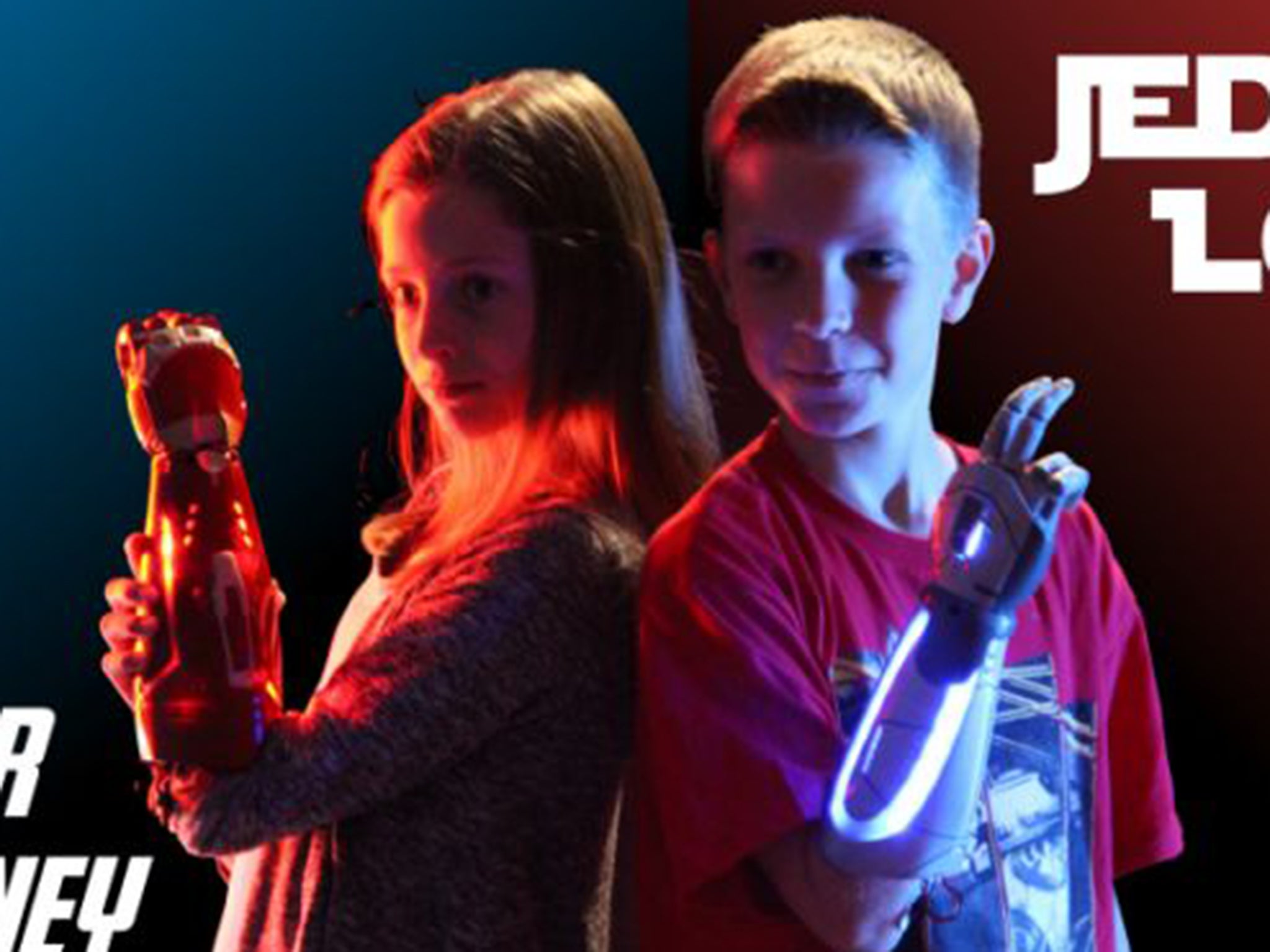 It is the lightsabre hand that tends to get children and adults most excited. When you turn it on a set of LEDs illuminates the menacing black gauntlet which also emits the threatening electronic buzz familiar to millions of Star Wars fans.
The fun doesn't stop there. A button allows the user to change the sabre's colour because, as every Star Wars fan knows, the likes of Yoda, Luke Skywalker and Darth Maul favour different coloured blades. "We've already had several requests for the lightsabre from people who aren't kids," said Joel Gibbard, 25, the British robotics engineer who has spent the past three months on a Disney campus in Los Angeles developing a new generation of low-cost prosthetics for children.
As well as the lightsabre, there's an Iron Man hand fitted with a pulsar blaster and a glittery hand inspired by Elsa, the star of the insanely popular animated film Frozen. At first glance the hands –controlled by electric signals sent by the user's muscles – look like expensive toys. They're not. They may bestow a hefty dose of pop cultural cred on their young owners, but they are primarily designed to transform lives, giving amputees and children born without a hand a sophisticated, but affordable robotic hand that also allows them to undergo physical therapy while having fun.
"Kids absolutely love them," said Mr Gibbard whose Bristol-based company, Open Bionics, has spent the past three months working with Disney technicians and designers at the entertainment giant's Glendale campus. "They pick it up straight away. To them, the most exciting thing is the lights and the look of it, but once they start using it they start challenging themselves to pick up small objects and start stacking things."
Children who are missing a hand are often stigmatised, a situation an industrial-looking prosthetic won't rectify, said Mr Gibbard. "Young kids are mostly born with a limb difference. One of the things that upsets them is when people ask 'how did you lose your hand'. It makes them feel there's something missing," he explained.
"The power of these prosthetics is that the public perception is completely different. All of a sudden they're not being asked how they lost their hand, they're being asked where they got their cool robot hand, how does it feel, and how does it work? It completely flips the perception 180 degrees. What might have been perceived as their greatest weakness is seen as their greatest strength."
As well as providing fun and functionality, the prosthetics are able to monitor the child's muscle development allowing them to build up strength and dexterity. The Iron Man hand, for example, has a mode that uses the LEDs mounted in its surface to display the muscle signals the child is sending to the device. To the child it's a cool light display, but it means parents or health professionals "can see what's happening under the surface," said Mr Gibbard. "Over time you can see if a child's muscles are getting stronger."
A vibration motor in the Iron Man prosthetic also has a double function. If the child fires a rocket the hand shudders like a recoiling weapon. But the motor can also communicate the strength of the child's grip, providing feedback to the wearer and their parents.
The three prosthetics were developed during a three-month programme that pairs start-ups and entrepreneurs with large corporations. Open Bionics was given access to designers and technicians who have worked on Iron Man, Frozen and the forthcoming Star Wars movie. Disney also provided royalty-free licences which – combined with Open Bionics expertise in low-cost prosthetics – will keep prices down. Mr Gibbard expects them to cost less than $3,000 each and hopes to have them on sale "before the end of 2016".
Join our commenting forum
Join thought-provoking conversations, follow other Independent readers and see their replies