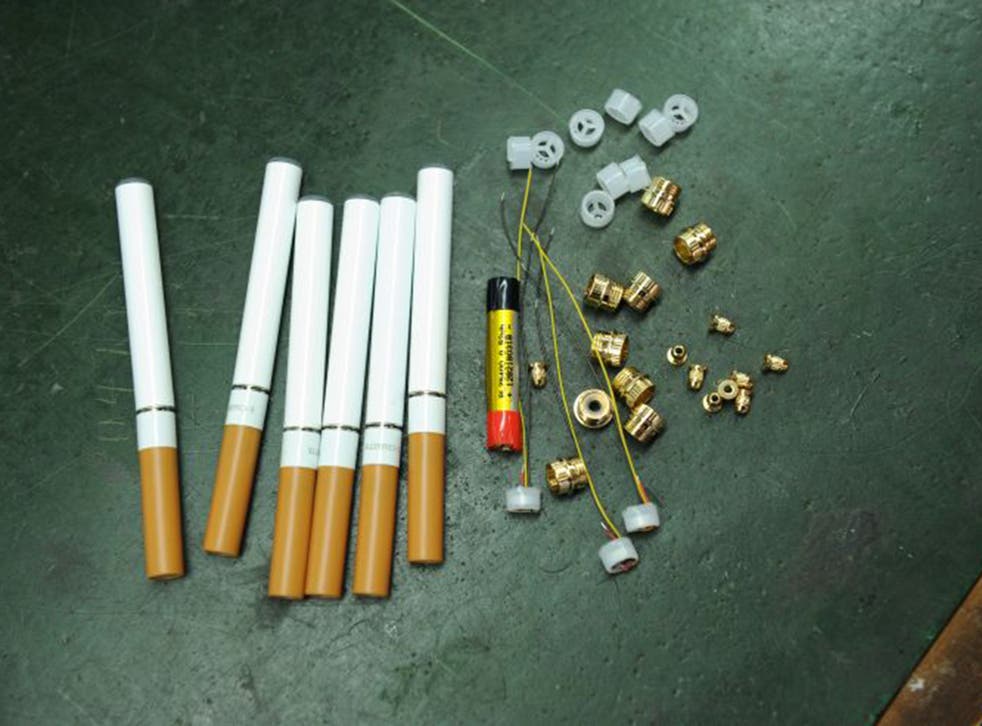 Realistic-looking E-cigarettes less likely to help smokers quit, study claims
'Cigalikes' are usually designed to look and feel like the real thing
Charlie Cooper
Tuesday 21 April 2015 00:02 Comments
More realistic-looking brands of e-cigarettes may be less likely to lead people to quit smoking, according to a new study.
In a year-long survey, researchers found that, overall, e-cigarette users were no more likely to quit smoking than non-users. However, nearly a third of smokers who used "tank"-style e-cigarettes every day quit smoking, compared with only 11 per cent of "cigalike" e-cigarette users, and 13 per cent of non-users.
Tank e-cigarettes have refillable containers, and generally do not resemble tobacco cigarettes, whereas cigalikes, the more commonly used kind, are usually designed to be as close as possible to the look and feel of the real thing.
The findings, from two new studies by researchers at King's College and University College London, shine a new light on the heated debate around e-cigarettes.
While some public health experts point to studies that show the nicotine-containing products are effective quit-smoking aids, and significantly less harmful than tobacco, others fear that their growing popularity could be "normalising" smoking behaviour.
E-cigarettes work by heating a nicotine-containing liquid, the vapour of which is then inhaled. There are now estimated to be 2.1 million users in the UK.
Based on a survey of more than 1,500 smokers recruited in late 2012 and followed up a year later, the latest studies also found that smokers who use e-cigarettes daily are more likely to cut back on tobacco cigarettes than those who use e-cigs less regularly.
After a year, 14 per cent of daily e-cigarette users had cut back on their smoking, compared with six per cent of non-users. However, non-daily e-cigarette users were no more likely to quit, attempt to quit or cut back than people who did not use the devices at all.
The survey's most intriguing findings relate to the impact of different types of e-cigarettes. Although cigalikes, which resemble tobacco cigarettes and are either disposable or use disposable cartridges, were used by three-quarters of the e-cig users in the study, only 11 per cent of those who used them daily had quit smoking at the one-year follow-up.
In contrast, 28 per cent of smokers who used tank e-cigarettes daily had quit within the year.
Experts behind the study said that the results around cigalikes were cause for concern because many of the most prominent brands in the UK are owned by tobacco companies, firms which have been making inroads into the £2bn global e-cigarette market.
Register for free to continue reading
Registration is a free and easy way to support our truly independent journalism
By registering, you will also enjoy limited access to Premium articles, exclusive newsletters, commenting, and virtual events with our leading journalists
Already have an account? sign in
Join our new commenting forum
Join thought-provoking conversations, follow other Independent readers and see their replies