'No proof' salt is bad for your health
Health officials simply say there is 'robust evidence' linking high sodium intake to higher blood pressure. But the view among the scientific community is less clear-cut, according to a new review of the studies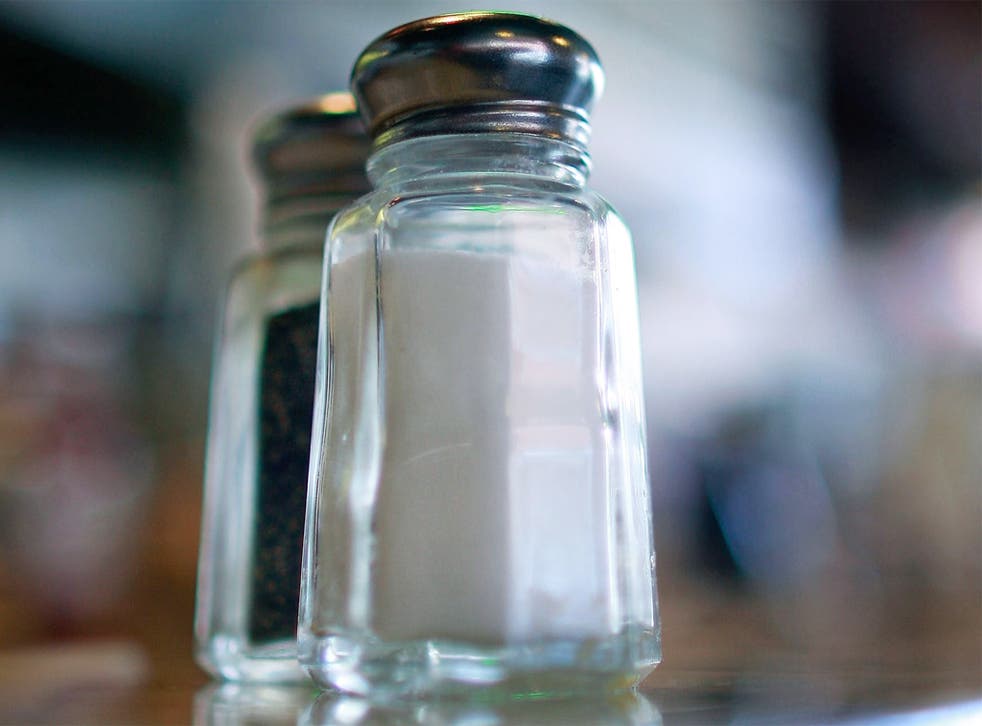 A group of scientists are challenging the now conventional wisdom that a low-sodium diet is better for your long-term health, asking whether people should take official advice on the matter with a pinch of salt.
In a new review of the evidence, a team of experts from Columbia University found there were "two distinct bodies of scholarship" on the matter – those who believe reducing salt intake will improve the overall health of the population, and those who don't.
Watching your salt intake has become one of the core pieces of dietary advice in the UK in recent years, and in the US it has got to the point where New York is requiring by law that restaurants label salt content in their food.
So it will be a surprise to many to find that just 54 per cent of the 269 academic reports included in the review found in favour of a salt reduction hypothesis.
Of the rest, a sizeable 33 per cent came to the conclusion that reducing salt makes no difference to long-term health, while 13 per cent were inconclusive.
That's not to say there isn't plenty of evidence linking salt intake to high blood pressure over time.
But, report co-author Ludovic Trinquart told the New York Post: "We simply found no definitive proof that cutting salt intake reduces the risk for heart attacks or strokes for people with normal blood pressure."
The matter has come to a head in New York where, on Monday, a judge ordered a delay to the new labelling law which had been branded "arbitrary and capricious" by the National Restaurant Association.
But don't expect public health advice on the matter to change in the UK any time soon.
Food trends in 2016

Show all 11
Public Health England runs its own long-term studies on salt intake, based on 24-hour urine analyses, with the latest results due soon.
And the government body's chief nutritionist, Dr Alison Tedstone, questioned reviews which drew on studies that were not based on such strong measuring techniques.
She told The Independent: "There is robust evidence showing that eating less salt lowers the risk of high blood pressure, which increases the risk of a heart attack or stroke.
"The conclusions drawn by reviews always depend on the quality of studies included in them. In this area especially, it is really important that only studies that have accurately assessed salt intake are included."
PHE has very specific daily guidelines, recommending salt intake no greater than 6g per day (the most recent national average was actually 7.2g).
And Mr Trinquart said it was not surprising that public officials issued such advice in spite of the lack of certainty among the scientific community.
"Decision-makers often must choose a course of action in the face of conflicting, uncertain evidence," he said.
"Both the misuse of uncertainty and the exaggeration of certainty can shape the outcomes of public health decision-making processes."
Register for free to continue reading
Registration is a free and easy way to support our truly independent journalism
By registering, you will also enjoy limited access to Premium articles, exclusive newsletters, commenting, and virtual events with our leading journalists
Already have an account? sign in
Register for free to continue reading
Registration is a free and easy way to support our truly independent journalism
By registering, you will also enjoy limited access to Premium articles, exclusive newsletters, commenting, and virtual events with our leading journalists
Already have an account? sign in
Join our new commenting forum
Join thought-provoking conversations, follow other Independent readers and see their replies