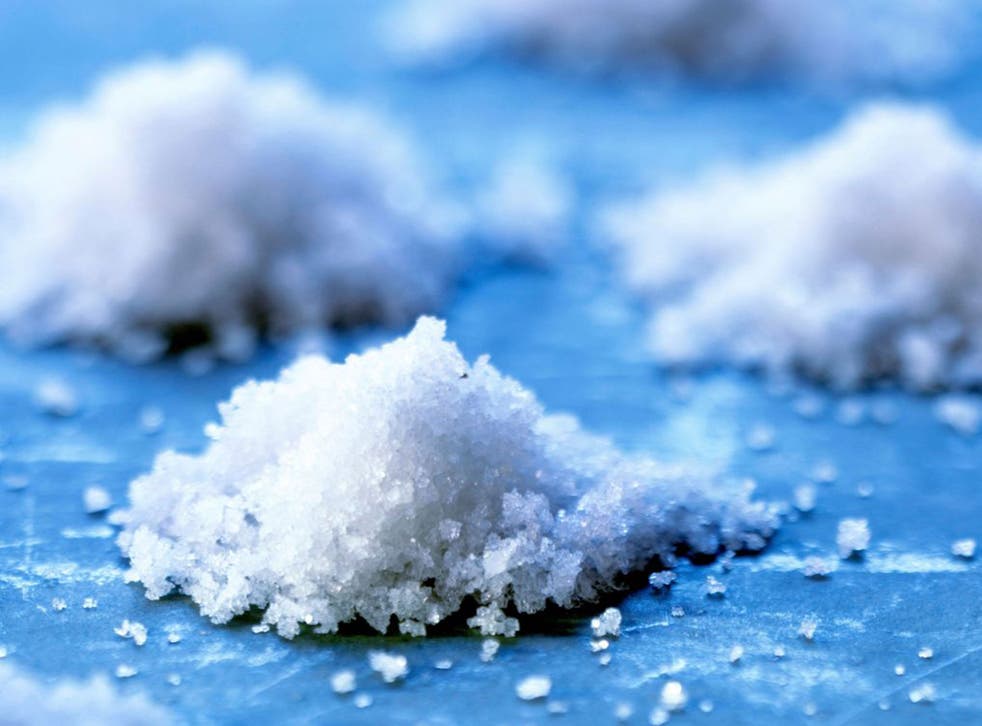 Salt levels in everyday foods have soared in recent years, research reveals
Manufacturers accused of exploiting voluntary regulation system to increase salt levels in items like soup and ready meals
Supermarkets and food manufacturers have been accused of exploiting the Government's shift to a system of voluntary regulation to increase salt levels in many popular products.
Campaigners are demanding "urgent action" from ministers as new research shows the levels of salt in many everyday items such as soup, cheddar cheese and ready meals have shot up in recent years.
In many cases salt levels have increased since 2010, when then Health Secretary Andrew Lansley removed responsibility for salt reduction from the Food Standards Agency (FSA) and handed it back to the food industry. Under the so-called Responsibility Deal, firms signed up to a voluntary code to cut salt in food.
Research from Consensus Action on Salt and Health (Cash), published on Tuesday, found 55 per cent of 45 tinned tomato soups tested in 2016 contained the same amount of salt or more than in 2010. With 3.5g salt per 400g can, Baxters vegetarian Italian tomato and basil, contains more salt than a McDonald's Big Mac and large fries, the research found.
Levels of salt in Sainsbury's Basics cottage pie have shot up by 186 per cent, from 0.5g to 1.43g per 300g serving, and the amount of salt in Morrisons medium cheddar has increased by 13 per cent from 1.6g per 100g to 1.8g per 100g.
"It is a tragedy for public health that the coalition government in 2010 seized responsibility for nutrition from the FSA to the Department of Health where they made the food industry responsible for policing themselves," said Graham MacGregor, professor of cardiovascular medicine at Queen Mary University of London and chairman of Cash. "Unsurprisingly, this has failed and has resulted in many thousands of unnecessary deaths from strokes and heart disease.
"It's imperative that responsibility for nutrition be handed back to an independent agency where it is not affected by changes in g overnment, ministers, political lobbying and pressure from the food industry," Mr MacGregor added.
Cash argues that the FSA's previous salt reduction programme was a globally recognised success, with strict monitoring of the food industry resulting in the prevention of 9,000 deaths a year.
The campaign group's call for tighter regulation was backed by the Faculty of Public Health. A spokesman for the standard-setting body said: "FPH withdrew from the Responsibility Deal because we felt that there was little evidence that it was improving people's health more quickly and more effectively than legislative and regulatory measures."
Supermarkets defended their commitment to salt reduction. A spokeswoman for Sainsbury's said: "Salt reduction is an important part of our ongoing programme of reformulation and all the products referenced meet the Government's 2017 salt targets, with the exception of Sainsbury's cornflakes – which are being redeveloped.
Janet Taylor, diet and health manager at Co-op Food, said: "Some 87 per cent of our own brand products already meet the 2017 salt targets and we are working hard to increase this figure."
Register for free to continue reading
Registration is a free and easy way to support our truly independent journalism
By registering, you will also enjoy limited access to Premium articles, exclusive newsletters, commenting, and virtual events with our leading journalists
Already have an account? sign in
Register for free to continue reading
Registration is a free and easy way to support our truly independent journalism
By registering, you will also enjoy limited access to Premium articles, exclusive newsletters, commenting, and virtual events with our leading journalists
Already have an account? sign in
Join our new commenting forum
Join thought-provoking conversations, follow other Independent readers and see their replies